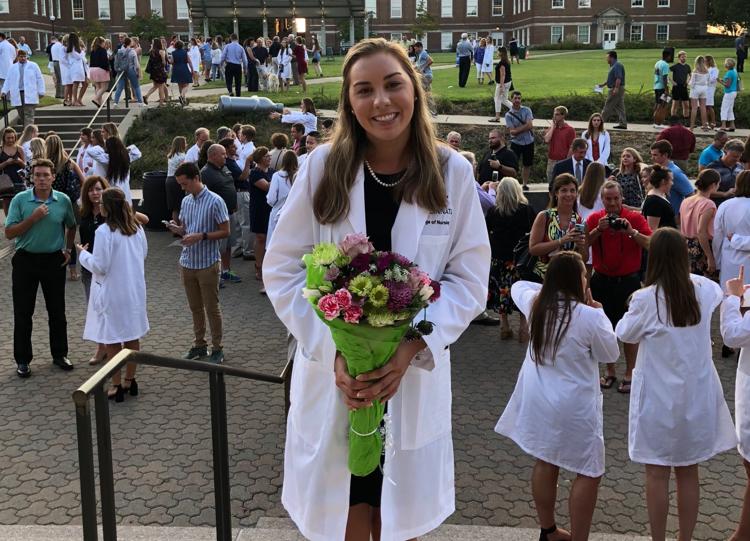 Due to the coronavirus, healthcare workers nationwide are working longer hours and struggling to acquire adequate personal protective equipment. Of Ohio's 88 counties, Hamilton ranks No. 3 for the most cases of the virus, according to Ohio's Department of Health.
While Cincinnati's nurses and doctors stand on the front lines of combating the coronavirus, alongside them are some unlikely heroes — UC students.
Bailey Baker is a junior currently pursuing her Bachelor of Science in Nursing degree at UC. In addition to school, she also works as a patient care assistant (PCA) on the UC Medical Center's sixth floor. A level that used to be littered with orthopedic surgery patients but is now one of four hosting those with and the 70 suspected to have COVID-19.
Since the emergence of the coronavirus in the Cincinnati area, the hospital has implemented new schedules, processes and rules. One of these being that nurses are restricted to caring for only a maximum of three either negative or positive patients. On the other hand, PCAs are still required to go into an unlimited amount of rooms if instructed to. The lack of minimized exposure, coupled with the nature of the care they provide (giving baths, helping people to the restroom, taking blood sugars, etc.), continuously puts them more at risk, Baker said. 
"Taking care of patients with COVID-19 is more difficult than people think," she said. "The entire time you're always worried about your safety, but you don't have a choice but to be right next to them taking care of them and it definitely takes a toll."
Along with increased direct exposure, lack of personal protective equipment is also an issue. Baker's floor is almost out of bleach wipes, which enables staff to clean door handles, beds and equipment that is regularly handled. Additionally, N95 masks are being reused and the hospital's stock of basic surgical masks is dwindling.
"We have to save [N95 masks] in a bag, and re-wear them throughout the day, into different rooms, carrying bacteria and organisms with us," Baker said. "Then at the end of the day, they do some type of sterilization on the masks so they can be reused again and again. The simple masks that we wear into every room will soon run out if we don't get donations and more shipments every day."
The floor below Baker houses the hospital's orthopedic trauma and surgery patients and is the workplace of PCA Corinne Schuermann – a junior at UC studying nursing.
Since there are no coronavirus patients on the floor, her risk of exposure is less than Baker's, but still a concern. In an effort to keep its staff safe, employees must have their temperature taken before coming into work and patients are not permitted to have visitors.
"I am exposing myself each week to possibly having the virus, so it definitely has put me on edge," Schuermann said. "Each time I go into work I just try to remember the importance of taking care of people in a time of need and providing compassion to everyone no matter how I am feeling."
Less than 10 miles from Baker and Schuermann is Mercy West Hospital, where UC nursing student Hailey Young works in the hospital's progressive care unit as a PCA.
Within the two weeks of spring break, Young worked a total of 77 hours after she was asked to pick up more hours. While as of April 3 there are no confirmed coronavirus cases at the hospital, the north wing of Young's floor has been designated for possible cases. Due to a shortage of supplies, only nurses are allowed within those rooms.
Along with their work, many critical aspects of these nursing students' educations have changed because of the coronavirus. Like the rest of UC, all their tests and quizzes are now online, in addition to their clinicals — the most important part of nursing school, Young said.
Since clinicals are required by the Ohio Board of Nursing, they are now being carried out online via simulations.
"The online simulations don't offer nearly anything close to what you would learn at a real clinical," Baker said. "I am very upset that we cannot attend our clinicals this semester especially because I am in my OB rotation and there is no way to actually learn how to deliver and care for newborn babies and moms from a computer screen. Our level of education has definitely been dampened and its upsetting for a lot of nursing students."