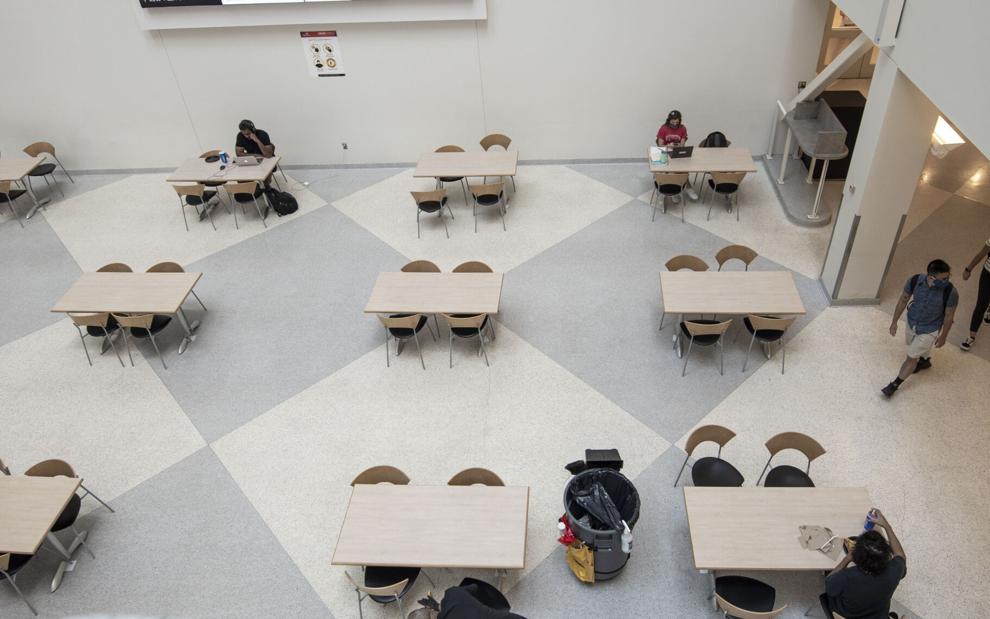 The process of transferring to a new school is daunting under normal circumstances. From having to meet new people in a completely unfamiliar environment to navigating the in's and out's of a school that could be entirely different from the previous to trying to rationalize the invasive feelings of having to "start over," the process is one that can take a lot of getting used to.
Now, under the dark cloud of the COVID-19 pandemic, transfer students may find themselves facing new obstacles that they could never have even considered when starting their transition. The fall semester was not one that followed the traditional college experience. While everyone has had to suffer the consequences in one way or another, transfer students, in particular, may have found themselves challenged in even greater ways when accommodating to a new school and a new way of life simultaneously.
Second-year student Savanah Howard transferred to UC from Kent State last fall to save money. She's currently enrolled in the exploratory program while she waits to see if the university will allow her to become a speech-language pathology major, as some of her credits didn't transfer in the process. If the school decides that she doesn't qualify, she says she'll be a semester behind.
For Howard, the transfer process was rocky. She wasn't assigned an advisor to help schedule her classes until a week before her first semester. With all communication confined to virtual platforms, she found it difficult to contact anyone that could help her. 
"I called back and forth with the student office for a week trying to figure out who my advisor was," Howard said. "And then they finally gave me an advisor, and she has however many other people, so she didn't reach out to me to actually schedule my classes until three days before classes started."
On top of that, Howard says that her advisor seemingly vanished without explanation just two weeks into the semester. "The classes were now starting, and I didn't know anything and I couldn't get ahold of her because she had COVID, and she didn't tell us that she had COVID until after she recovered from COVID, which was like two and a half weeks later."
Problems in communication seemed to be a prevalent issue among other transfer students as well. Second-year neuroscience and chemistry student Gillian Miller transferred from the University of Toledo to be closer to home and save money. Miller says that although she felt the transfer process wasn't too complicated, it wasn't well-supported.
"It was a cluster to find out who I was actually supposed to talk to," Miller said. "My actual major advisor is excellent, but the people that were talking about how to transfer credits kind of made me nervous. I don't wanna minimize what they did, maybe they were helping people, but I just felt like there wasn't adequate help for me."
One of Miller's biggest problems with transferring has been getting adjusted socially. For her, being involved in academics and clubs is important, and with most school and club activities taking place virtually, opportunities to meet people have been slim. 
"I'm hoping once everything can be more in-person, I'll feel more involved with the community," Miller said. "However, it's hard for me to gauge what's actually the community and what's more just the surrounding area of campus. I feel like that's where I meet most people anyways since I live off-campus."
Howard has experienced feeling distanced from the rest of UC's student body after transferring to a school under lockdown. "It's hard to say you're a part of the community when you don't know anything about the community," she said. 
Despite the adversities that transfer students might have faced, they still hold hope that the university could make changes in the future to help other prospective students.
"I wish they had more advisors, I wish that each advisor didn't have so many students," Howard said of her transfer experience altogether. "Maybe they need more advisors. Maybe they need better advisors."
"I'd hope that over the coming years, it gets better each time," Miller said. "UC is very promising. I'm already loving the environment more."