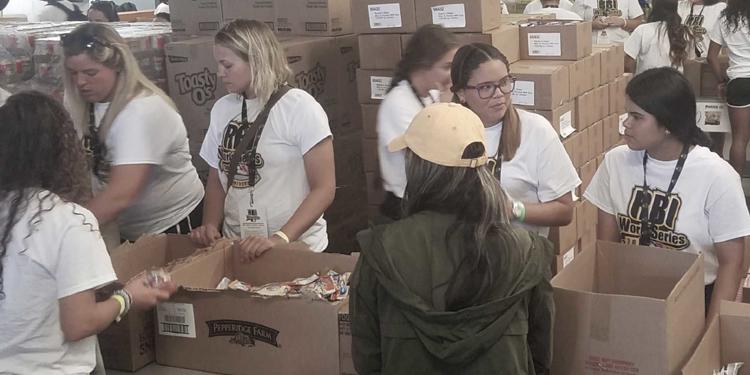 It's the season of giving. The best way to celebrate this time of year is to give back to the community. As we approach the end of the semester, we also inch closer to service hour deadlines.
Get involved and get volunteering at one of these non-profit organizations this holiday season:
---
The Ronald McDonald House
The Ronald McDonald House is a national nonprofit aimed at making families with children who are hospitalized feel safe and comfortable while staying close to the hospital where their children are being treated. Families may stay at the Ronald McDonald house for days, weeks, months or even longer while their child is being treated in the Hospital. The Ronald McDonald house seeks volunteers to keep these families' home away from home clean and comfortable. Volunteer opportunities are available weekly for people of all ages. Volunteers can expect to do some cleaning and housekeeping as well as interacting with families and children staying at the Ronald McDonald house.
Head to the Ronald McDonald House website to sign up and volunteer. 
---
FreeStore Food Bank
The FreeStore Food Bank is one of the largest emergency food providers in Cincinnati, Northern Kentucky and Southeast Indiana. The organization distributes 27 million meals annually to low-income individuals and families.
"Volunteers are a vital part of the Freestore Foodbank's strategic plan to provide 50 million meals by the year 2020," reads the organizations website. "Every time you volunteer, you will leave knowing that you have helped to provide food, connection and hope for our neighbors in need."
Volunteers can expect to help sort and package donated food and supplies for distribution. Visit Freestore's website to schedule a time to volunteer.
---
The University of Cincinnati Knitting Club
The knitting club here at the University of Cincinnati offers several opportunities to earn service hours while learning a valuable skill and having fun with fellow students. No experience is necessary to join, and new members are provided with knitting needles and yarn so long as they agree to donate the scarves, hats, blankets or other projects made with the yarn back to the club to be donated to the homeless in the Cincinnati area. Knitting club also makes sleeping mats for the homeless out of recycled plastic bags. Knitting an adult scarf that is at least 5 feet long will earn you three service hours, and a 4-foot child scarf will earn you two service hours.
Join the knitting club on Thursday evenings from 7-8 p.m. on the top floor of TUC for knitting and Netflix to earn your service hours and have fun at the same time.