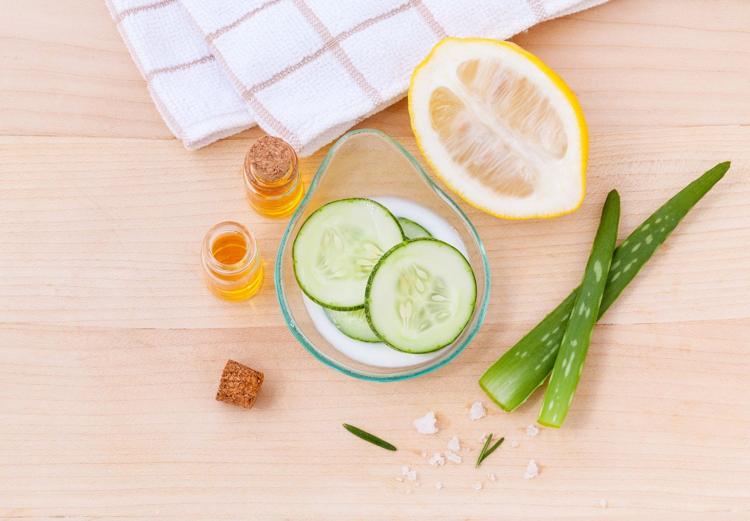 Winter is hopefully on its way out the door, but it is leaving behind all the dry skin these cold winds have wreaked havoc on all season. How do you stay fresh-faced and possess the right amount of dew heading into spring and summer? Leave it to the TNR staff to fill you in on our skincare tips and tricks.
---
Anne Simendinger | Life and Arts Editor
I'm relatively new to the whole self-care in terms of skincare moment. My routine is not complex, but it's been a game changer. To start my day, I wash my face with Cera Ve's foaming facial wash. If I am washing my face while showering, I make sure to wash it first so that other products don't contaminate, and then dry off like usual. If I am washing my face on its own, I find it important to dab, not wipe, with my towel. Air drying is great if you have time, but I don't usually, so a towel is my go-to drying method. After my cleanser, I apply Thayer's rose petal scented witch hazel with a cotton pad. I let this airdry while I brush my teeth before applying my Neutrogena Oil-Free moisturizer. I had tried several moisturizers before landing on this one, and I truly believe it was worth the wait. It has SPF in it already, so you get your daily dose of sunscreen while also feeling refreshed and fully hydrated. This same routine is repeated at night, but without the moisturizer. 
---
Kathleen Hornstra | Digital Producer
I wear makeup pretty much every day, so I take off my mascara and any other eye makeup with oil free makeup remover and a cotton round. Next, I use a Neutrogena makeup remover cleansing wipe to take off the rest of my face makeup. I use Cetaphil daily facial cleanser all over my face and wash it off. Then comes Dickinson's original witch hazel on a cotton round all over my face. Finally, I apply a generous amount of CeraVe daily moisturizing lotion on my face, apply some chapstick and go to bed. About once a week I also do a face mask to clear up any breakouts or moisturize my face a little extra.
---
Keely Brown | Multimedia Producer
I have super sensitive skin, so I need to make sure I take good care of it. After I'm home from classes and work, I'll take off my makeup with Garnier's Micellar Cleansing Water. Next, I wash my face with Philosophy's Purity Made Simple One-Step Facial Cleanser. To ensure all my makeup is off and my skin is clean, I'll use toner (that I find for super cheap at TJ Maxx because I'm a broke college student) all over my face. After I'm confident all my makeup is off and my skin is clean, it's time to moisturize. I'll use a few drops of whatever vitamin C serum I found recently, let it dry, and finish with Clinique's Dramatically Different Moisturizing Gel. 
---
Shannon Smith | News Editor
In the morning, I use Neutrogena's Pink Grapefruit Oil-Free Acne Wash, followed by Botanics Organic Toning Facial Spritz. The toning facial spritz is a quick and easy way to ensure your skin will feel revitalized with minimal effort. After toning, I use IT Cosmetics Confidence in a Cream Moisturizer, then I finish the morning routine with Neutrogena's Hydro Boost Water Gel.
Nighttime is a little simpler. I wash my face with Cetaphil daily facial cleanser, then tone with Thayer's Witch Hazel and finish with H2O+ moisturizers. In addition to the every-day routine, I use St. Ive's Skin Brightening Exfoliator four times a week in the shower, then Skinfood's Black Sugar Strawberry Wash-Off Face Mask the other three days. Every other day I use Gold Snail Under Eye Patches to reduce dark circles. The skincare and makeup industry has me to thank for pretty much single-handedly keeping them in business.
---
Alex Martin | Art Director
Every morning I rinse with water, then I use First Aid Beauty's acne cleansing pads for my toner. For my moisturizer I use First Aid Beauty's ultra-repair cream. Every night I use the Drunk Elephant Cleanser #9, and then I go back to the First Aid Beauty acne cleansing pads and the ultra-repair cream for toner and moisturizer. Every five days I use Lush's cup o' coffee face mask because it's an exfoliant. It's made up of coffee grounds, so it's basically rubbing coffee grounds into your face to exfoliate. I shave every five days, so I like to exfoliate before using Cremo Coconut Mango Moisturizing Shave Cream. On these days, I use the face mask, shave, tone, then moisturize in that order. It's also important to keep your lips conditioned, so I use Caudalíe's lip conditioner.
---
David Rees | Features Editor
I begin every morning and every night by cleansing with the Squalane and Tea Tree Cleansing Gel from Biossance. I have very oily skin, so this cleanser is great at removing excess oil, while not stripping my face. Every three days, I follow my cleanser with the Squalane and Tea Tree Detox Mask, also from Biossance - I'm a big fan of Biossance. Then I go in with Biossance Squalane and Priobiotic Gel Moisturizer. I lock in all that moisture with the Squalane and Tea Tree Balancing Oil, again, from Biossance. If it's the morning, I top everything off with the Squalane and Zinc Sheer Mineral Sunscreen. Guess where it is from. Biossance.