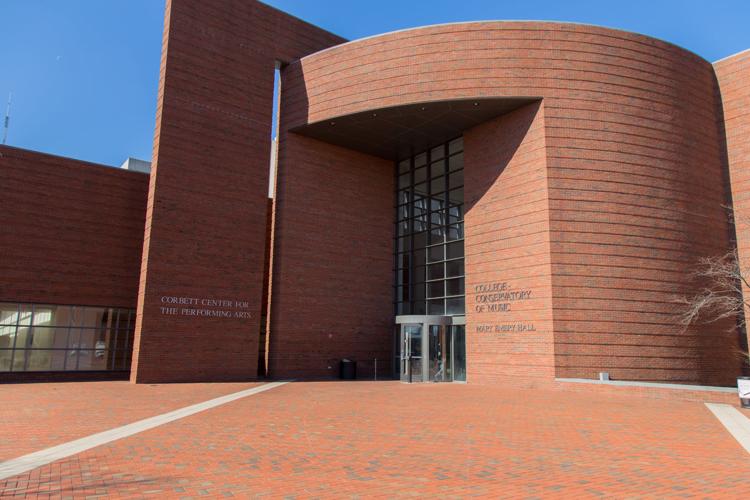 When a problem arises in the theatre industry, there is a well-known platitude used to provide encouragement and perseverance: "The show must go on." If a performer gets sick, another performer, the understudy, is ready to go on at a moment's notice to make sure the curtain still rises and the audience is still entertained.
However, when the world faces a global pandemic, theatre folks are trying to find new meaning for this often-used phrase.
In the wake of COVID-19, people are no longer gathering in public places in order to preserve the safety and health of everyone. The University of Cincinnati has shifted to remote learning through summer, suspending all campus events. Students in the College-Conservatory of Music (CCM) have to cope with their performance opportunities being cancelled or postponed, and arts majors are now taking classes online that are structured specifically for in-person needs.
"I think the weirdest part is having many of the aspects of college now a part of my life that never were before," said Elle Zambarano, a junior musical theatre student. "When I was at school, my life was almost all spent doing work at CCM: classes from 9-5, and then rehearsing from 6-11. We definitely had homework, but it was much more about being prepared for the work you'd be doing in class, then actually having a deadline to turn something in."
When school is in session, many CCM students say their lives are extremely structured and scheduled for them. Zambarano explains that there was never a large need for time management because of this.
Now, these students are having class meetings online once or twice a week and are expected to complete various projects, take time to watch and participate in dance classes online, and, of course, tons of self-tapes, all before the next class meeting.
"It's a lot of videotaping: we tape ourselves doing tap, jazz, modern and voice," said Camila Paquet, a junior musical theatre student.  "It's been an interesting experience having to adapt to online learning especially for such a collaborative art form, but it's also been a fun challenge."
CCM students are now having to take dance classes — which they would normally have in gorgeous dance studios with big mirrors and a spring floor — in their living rooms or bedrooms, navigating around furniture, but still trying to get the most out of their classes.
"It's forced me to be better at technology and be a problem solver," said Katie Johannigman, an adjunct assistant professor of musical theatre. "Teaching tap online when sounds do not sync up over Zoom has been a challenge and has forced me to come up with creative assignments that I wouldn't normally give in class, and I think that's made me a better teacher."
In addition to teaching dance classes, Johannigman directed the musical theatre senior showcase in partnership with Denton Yockey — Head of the division of Theatre Arts, Production and Arts Administration — and is the director and choreographer of CCM's second spring musical for the 2019-2020 season, "Bright Star." Because of the university closing and statewide restrictions, the musical has been postponed until fall.
Paquet, Zambarano and Johannigman will return to the stage in fall along with the rest of the cast and crew with a heightened sense of joy to be able to perform the musical at all, while so many shows both at CCM and around the world have been closed permanently.
"Although I wish we could be opening our show right now, I am ultimately so grateful that we still get to perform it," said Paquet, who will play the lead character, Alice. "So many other shows had to get canceled without the opportunity to postpone. My initial sadness has shifted to immense gratitude. I'm excited about the challenge of putting this show back together in a week [in fall semester] and I'm also excited for the extra time I now have to perfect my work and brainstorm more about my character."
"'Bright Star' is a story of resilience and perseverance and that is exactly what we are going to do," added Johannigman. "We will come out of this hard time stronger, more flexible, patient and kind. Alice's story is one of strength, patience, legacy and family, and those are the lessons we are learning now."
Strength and flexibility are also being embodied by CCM's musical theatre senior class as they continue to bound over a series of unexpected hurdles during their final few weeks of their last year as CCM students. At the end of every musical theatre student's time at CCM, the class performs in a showcase for agents, casting directors and other industry professionals to kickstart the students' next chapter.
On March 14, the senior class performed their showcase for a small audience of peers, family and faculty, and the performance was recorded in the likelihood of a cancellation of the live performance.
In partnering with The Network, a consulting firm founded by CCM musical theatre alumni, Victoria Cook and Chris Blem, CCM has created a virtual showcase, which has made it possible for the seniors to still be seen by industry professionals in a way that keeps everyone's health and safety as first priority.
"We were the first [and] only school to do this and we have had a huge response," said Johannigman. "It's really fun to see alumni coming together to help this current class. It affirms that the Bearcat Bond is strong and in this chaotic time, people want to help."
"Of course, none of us could prepare for this kind of interruption to our plans for the future," said Sam Pickart, a senior musical theatre student. "As a class, we were planning on moving to New York City in mid-April, where we would then showcase for industry professionals and hopefully begin establishing relationships with agents, managers, casting directors, etc. Because of the pandemic, we are unable to move to the city — or to move anywhere, for that matter — but we are very lucky to go to a school that takes care of its students and alumni."
While none of this is ideal, CCM's faculty and students are undoubtedly trying to make the best out of the situation. In addition to the virtual showcases, the faculty set up Zoom conferences for the seniors and the other classes to still be able to interact with industry professionals and not lose out on any opportunities that they can control.
"While difficult to find silver linings following a four-year rev up coming to a dramatic and screeching halt, this situation has created a scenario where we have gotten to talk to some incredible artists and come together as a community in ways we never have before," said Erich Schleck, a senior musical theatre student. "The MT [musical theatre] classes have been having Zoom sessions with Andy Blankenbuehler, who choreographed 'In the Heights' and 'Hamilton,' among many other things, and that conversation was so inspiring."
Schleck and other musical theatre students are looking at this time as a kind of reset. So much of their lives while school is in session, as Zambarano said, is extremely busy and structured. Time to sit and reflect can lead to creations that might have happened if things would have stayed business as usual, almost like a "creative retreat," Schleck said.
Now, students and faculty are able to spend unexpected time with their loved ones and hit the reset button before jumping into their next adventure.
"It's times like these that we see what is truly important — health family, friends and creating art that brings people together," Johannigman said. "So, use this time to make art. Create. If you want to create today, do it. If you need to sit on the couch today, that's ok too. Be kind to yourselves and take care of those around you. There's nothing more important than that."