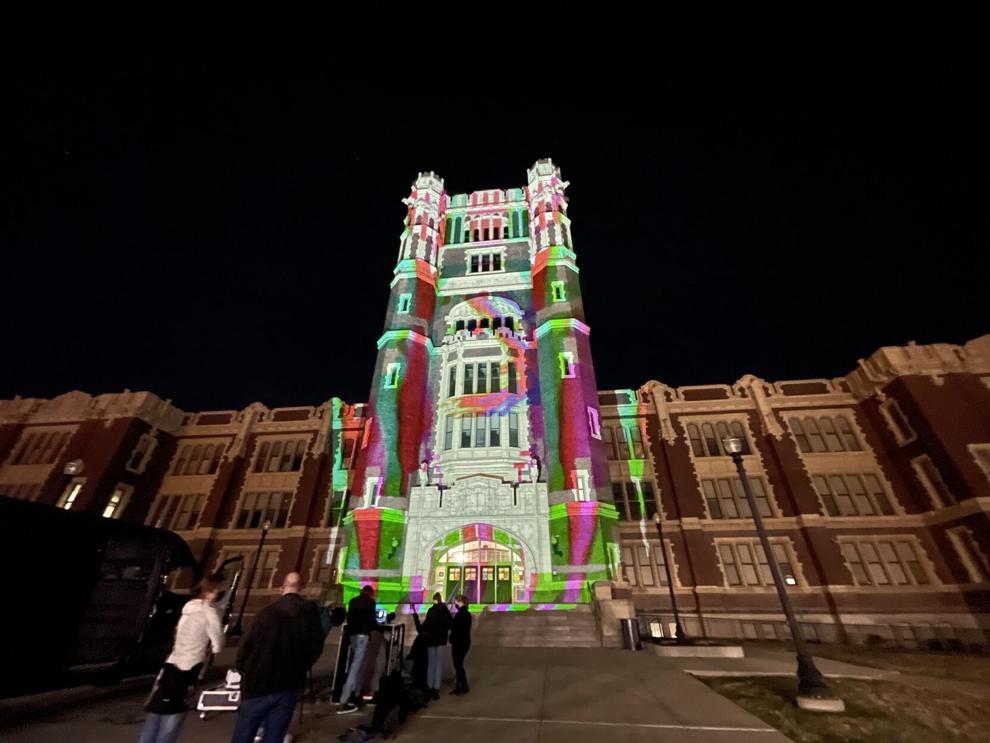 University of Cincinnati (UC) College Conservatory of Music (CCM) theatre design and production students are collaborating with art students from Hughes High School on "The Hughes Project," a light show that will be displayed on April 2. 
The show will display artwork that the Hughes students created, transformed into brilliant light projections cast onto the 145-foot tower of the high school using two 30,000 lumen projectors. The entire show will be themed around the ideas of Afrofuturism and visions of the future. 
The project originated with CCM Lighting Design and Technology Professor Sharon Huizinga, who aimed to discuss"how to make careers accessible to those may dream of working in the arts, but don't know where to begin." Her intention to reach out to middle and high school-age students was to provide them information about the different career possibilities that exist in the arts and give them an idea of the selection of jobs available in the industry.
When considering professions in the arts, many frequently find themselves thinking of stage actors or performers. However, there are many other opportunities available both on and off stage that have to do with everything from lighting to production to stage equipment, all of which are vital to the success of any artistic show. 
Huizinga's aspirations for creating such a project came to fruition when she began working alongside Hughes High School Visual Arts Coordinator Mary Green and her group of seventh-grade art students.
"Since moving to Cincinnati last year and attending the BLINK Festival, I dreamed of doing a project with my students to light up the tower," Green said. "Little did I know that we would be able to realize such a dream through the UC partnership."
Green had her students create artwork inspired by visual artist and graphic designer Kaylan Michel, otherwise known as Lost in the Island. Michel is known for her work creating Afrofuturism collages, which frequently "explore themes of spirituality and feminity with an African touch." Students created their pieces based on these ideas, some of which included self-portraits.
Further drawing from these themes, CCM students were then asked to consider visions of the future when transforming the art, sent as a Google slideshow, into vivid light projections.
"CCM students took those digital assets and figured out how to best fit them onto the surface of the Hughes tower, as well as how to animate pieces of them, create interesting transitions, and create motion graphics of their own that fit with the look and feel of the student's artwork," Huizinga said. "What you will see on Friday is half from Hughes students and half from CCM students."
CCM students have been working on creating the projections since the beginning of the 2020 fall semester, coming together from the college's lighting design and technology, technical direction and stage management majors to put it all together.
"The Hughes Project" will have three shows at 8:30 p.m., 9 p.m. and 9:30 p.m. The event is free and has standing room only. Face masks and social distancing will be required.