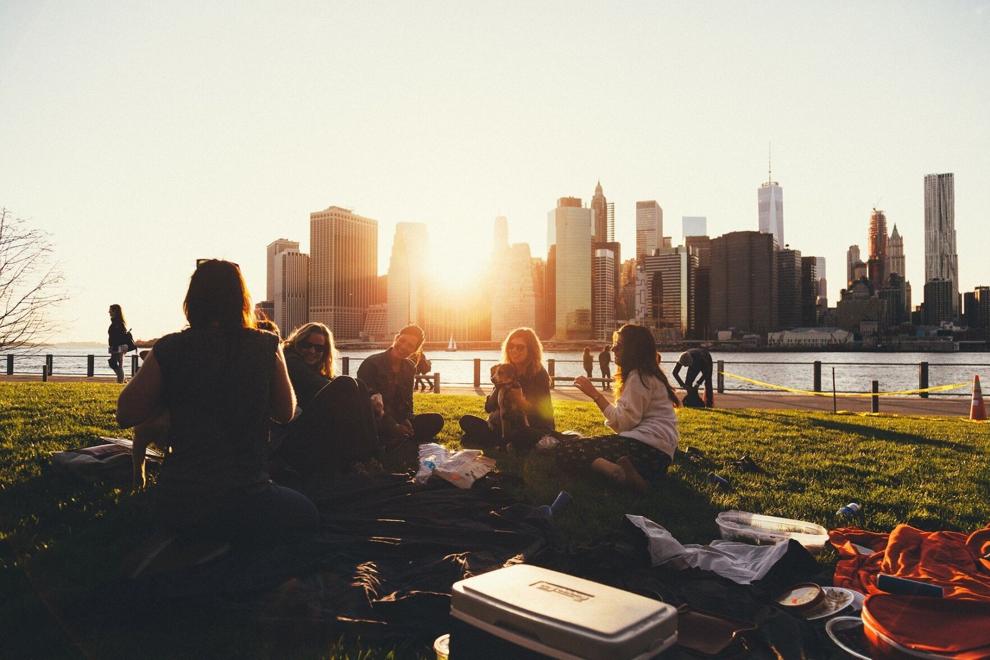 Packing up a picnic basket for a sunny day out with your friends is bound to be one of the greatest joys we'll share this summer. To make sure you're doing your picnics right and to help you celebrate the end of the semester, we've gathered some delectable meals you should be packing in your basket.
---
Italian Sub
Ditch the basic PB&J and start creating your own delicious sandwiches, such as this scrumptious Italian sub.
Ingredients:
1 large Italian sub roll
1 tablespoon Italian vinaigrette
½ tablespoon balsamic vinegar
4 slices provolone cheese
4 slices rosemary ham
4 slices mortadella
4 slices hot soppressata
Tomato, thickly sliced
¼ small onion, thinly sliced
1 cup baby arugula
2 tablespoons chopped banana peppers
Salt and pepper to taste
Instructions:
Use a serrated knife to cut the Italian sub roll in half lengthwise.
Drizzle the inside of the bread with Italian vinaigrette and balsamic vinegar.
Add provolone, ham, mortadella, soppressata, tomatoes, onion, arugula and banana peppers to sandwich.
Sprinkle salt and pepper to taste over the top.
Wrap sandwich tightly in parchment or butcher paper and slice in half.
---
Fruit Salad
Nothing says summer quite like the refreshing taste of fresh fruit on a hot day. This fruit salad is the perfect side dish to accompany any sunny picnic.
Ingredients:
¾ cup fresh orange juice
½ cup fresh pineapple juice
2 cups cubed fresh pineapple
2 cups sliced strawberries
3 large ripe bananas, sliced
2 cups grapes
2 cups blueberries
4 kiwis, sliced
3 apples, sliced
3 tangerines, sliced 
Instructions:
In a bowl, mix orange and pineapple juices until combined.
Add fruits into a large serving bowl and mix thoroughly.
Pour juice mixture over the top of the fruit and toss until well-coated.
Chill for two hours and serve.
---
Raspberry Lemonade Slushy
Take your lemonade to the next level with the sweet and tangy taste of these summer slushies.
Ingredients:
2 cups frozen raspberries
Juice of two lemons
½ cup sugar
2 cups ice cubes
Instructions:
Toss all ingredients in blender. 
Blend on high until all ingredients are combined. If the slushy consistency is too thin, add more ice cubes and blend again.
---
Spinach Hummus Wrap
This healthy spinach wrap is the perfect snack to keep you full and energized.
Ingredients:
For wrap
4 large tortillas
8 cup spinach leaves
1 cucumber, sliced lengthwise
2-3 mixed mild bell peppers, sliced
Fresh parsley
For hummus
1 can chickpeas, drained and rinsed
¼ cup vegetable broth
3 tablespoons fresh lemon juice
2 tablespoons tahini
1 garlic clove
½ teaspoon sea salt
¼ cup fresh parsley
⅛ teaspoon cumin
⅛ teaspoon smoked paprika
1½ cup fresh spinach
Black pepper, to taste
Instructions:
In a food processor, combine the chickpeas, vegetable broth, lemon juice, tahini, garlic, salt, parsley, cumin, paprika and pepper and blend well.
Add spinach to processor and blend again.
Chill hummus until ready to use.
To assemble the wraps, spread about ¼ c hummus on each.
Add 2 cups spinach leaves to each wrap.
Add 2 slices of cucumber and six slices of pepper to each wrap.
Top wraps with parsley, wrap in foil and refrigerate until ready to use. 
---
Cookies and Cream Cheesecake Cookies
For a sweet dessert, these Oreo cheesecake cookies are hard to beat.
Ingredients:
4 ounces cream cheese, softened
8 tablespoons salted butter, softened
¾ cup sugar
1 cup flour
10 Oreo cookies, crushed
Instructions:
In a large bowl, blend cream cheese, butter and sugar until combined.
Add flour to cream cheese mixture and blend until combined.
Add crushed cookies to the mixture and gently fold together until fully mixed.
Cover bowl with plastic wrap and chill for 30 minutes. Batter should be firm to touch.
Preheat oven to 350 degrees.
Roll batter into small balls and place on a parchment-lined baking sheet.
Bake for 12-15 minutes or until cookies turn golden brown on the bottoms.
Let cool on a cooling rack for at least five minutes before serving.