Situated in the cozy little square of Hyde Park sits one of two Macaron Bar locations. With its clean, minimalist interior, it's the perfect spot for a low-key hangout or date night if you're on the prowl for a sweet treat.
The Macaron Bar specializes in French macarons, which are different from macaroons. The shop has two locations in Cincinnati (the other is in Over-the-Rhine), as well as stores in Louisville, Indianapolis and Pittsburgh. It's also the only bakery in each city dedicated exclusively to French macarons. Plus, all their macarons are gluten free.
Related: Cincinnati's first macaron shop is about to open in OTR
At any given time, the Macaron Bar offers 12-15 flavors, at least two of which are seasonal each month. Macarons can be purchased in boxes of six for $13 or 12 for $25.
I decided to try some of the most popular flavors for spring and summer. There's a key factor I was looking for in each macaron — I call it the "crunch and squish" factor. There should be a satisfying break of the shell that leads you into the soft embrace of the interior and filling. Aside from that, there's the aesthetic appeal — and, of course, flavor.
Birthday Cake
Crunch and squish: 4 out of 5.
Rank: So sweet, it made my teeth hurt.
Don't get me wrong, my diabetic body loves sweets — but this macaron was a lot. With its festive sprinkles and bright pink color, it reminds me of an animal cookie.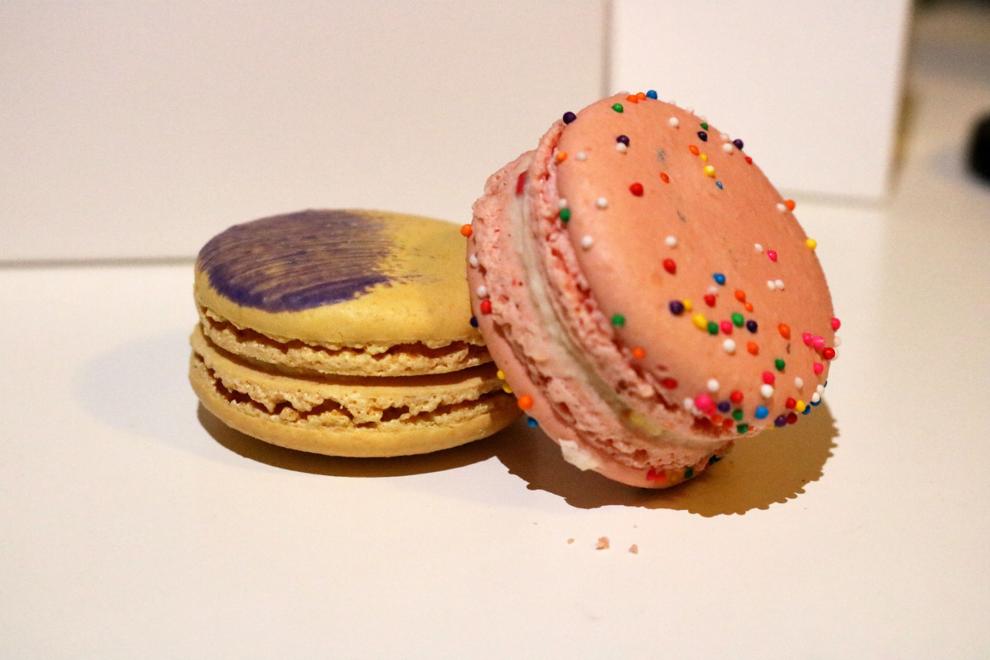 The filling is what made this one so sweet. I'd recommend seriously limiting yourself on these, because it almost deterred me from eating any other macarons … But of course, I ate more anyway.
Madagascar Vanilla
Crunch and squish: 4 out of 5.
Rank: She ain't no basic b***h.
I know what you're thinking: vanilla seems boring and not very summer-y. Well, you're wrong. What goes better with sunshine than a nice bowl of vanilla ice cream? (A lot of things, but that's not the point.)
This basic little tan disk of goodness was a surprising favorite. The flavor wasn't overpowering, and the sweetness was just right. I could definitely eat a box of six and not think twice about it.
Earl Grey Tea
Crunch and squish: 5 out of 5.
Rank: Yo, I want all of these.
Let me preface this by saying I absolutely love tea, but I hate Earl Grey. I don't like the bergamot. But when you turn this into a macaron that looks like a robin's egg, I will eat it all day, every day.
This macaron looks like spring, and the colors alone make me happy. It smelled subtly of spice, and the flavor hits you as soon as you take a bite. I highly recommend everyone try this one — especially if you're a tea fan.
Chocolate Strawberry
Crunch and squish: 2 out of 5.
Rank: Probs pass on another.
I didn't have high hopes for this because I'm not a big chocolate-covered strawberry fan, but I gave it try because it was pretty. It has a pink shell with chocolate filling, but the strawberry flavor was seriously lacking. The shell was a bit too crunchy, too — it crumbled and fell apart for me.
Black Raspberry Chocolate
Crunch and squish: 3 out of 5.
Rank: Do you like Graeter's? Get this one.
So, I only picked this one because I was told it tastes like Graeter's black raspberry chip ice cream. Graeter's is local, and I like to keep it in the family. The aesthetic was similar too, with a distinguished purple shell and brown/chocolate accents.
The flavor is prominent from the first bite. I want to say the raspberry flavor is in the shell, and the filling is the chocolate, but I'm not entirely sure. The shell was a bit too crumbly for my liking, but overall, this macaron still boasts that unbeatable Graeter's flavor.
Lemon Lavender
Crunch and squish: 5 out of 5.
Rank: Eh, I had higher hopes.
I had this macaron on a pedestal before I had a chance to eat it. The colors are magical; it's yellow with a purple brush stroke across the top. It's so pretty, and it reminds me of summer.
The smell was a subtle lemony fragrance, but the flavor didn't live up to expectations. It was much more lavender-forward, which threw me off. The balance just wasn't there.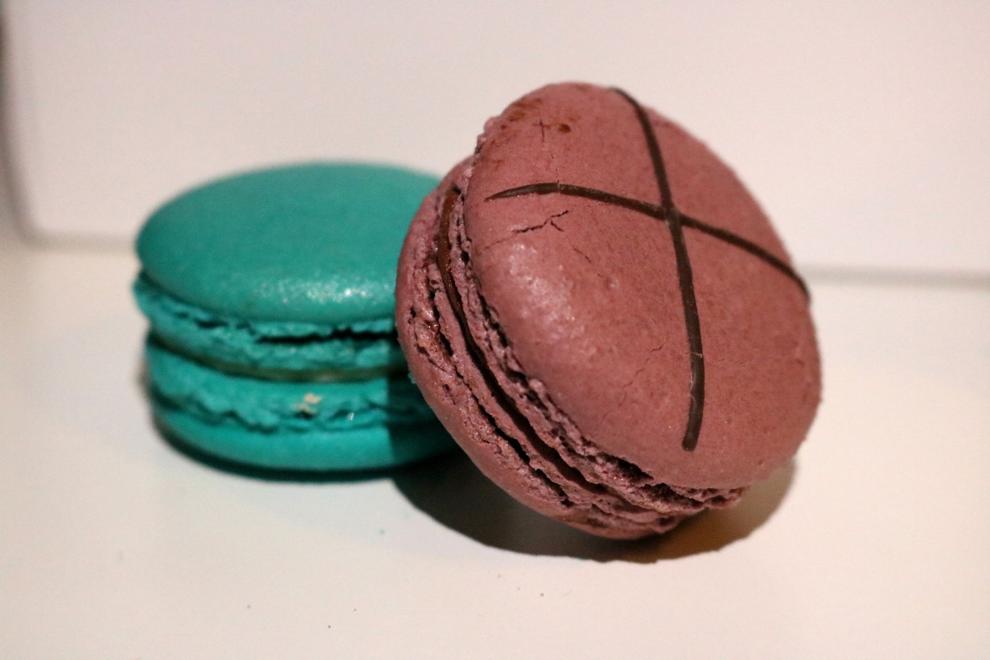 Swizzle
Crunch and squish: 4 out of 5.
Rank: Fun to try, but what did I just eat?
This macaron came from a partnership with Rhinegeist (again, keeping it in the family). Swizzle is Rhinegeist's cider made from ginger, apple and lemon. The same flavors are used in the macaron.
Aesthetically, the cider and macaron are the same – a vibrant teal color with silver shimmer. There wasn't anything special about this one, though. The first bite left me confused, because no specific flavor came through at all. Second and third bites led me to a subtle ginger flavor — and the filling tasted a bit like ginger and lemon — but it wasn't anything spectacular. I'd say go try this if you really like cider (or if you simply want to support local brands).