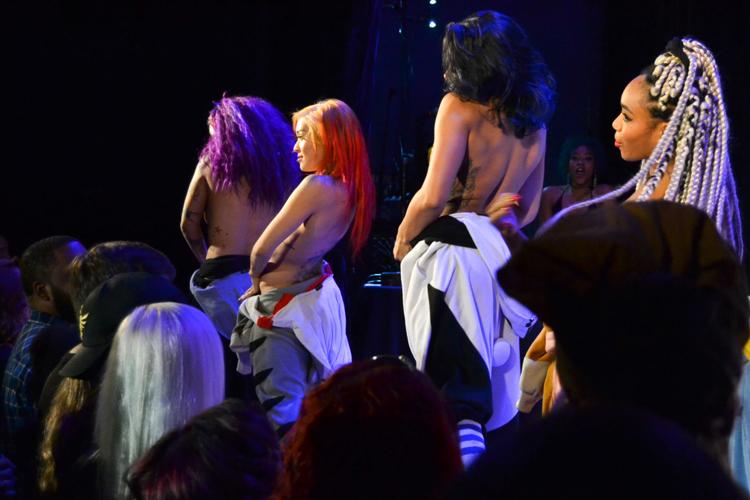 A massive curtain depicting two stylized nude women served as the stage backdrop of the 20th Century Theatre Sunday. Disco balls glistened in the rafters of the building as a crowd gathered in the venue, awaiting an evening of sexual self-expression at SuicideGirls' Blackheart Burlesque.
The show travels around the world spreading ideas about positive body image through incredibly well choreographed dance acts, showing off and exemplifying the beauty of the female body.
Tour Manager Sunshine Suicide said the term SuicideGirls is derived from the idea of "social suicide." According to Sunshine, a SuicideGirl is someone who branches away from traditional forms of beauty to embrace alternative ways of self-expression such as tattoos, piercings and dyed hair.
With no barriers in place, the crowd was able to stand right against the stage, making for an even more intimate setting in which the stage performers could easily interact with the crowd.
Sunny Suicide arrived with overpowering charisma, announcing her role as the evening's hostess.
She introduced the opening act Cin City Burlesque, stressing that everyone should know Cincinnati has its very own burlesque troop.
The Cin City girls began the show with a series of solo dances.
Sassy Frass sensually broke out of a straight jacket to strobe lights and Buckcherry's "Crazy B–ch." Pumpkin Pie then graced the stage with a "Pulp Fiction" themed dance, rocking the Uma Thurman hairdo. The tall and talented Sugar then came on stage, slowly stripping off diamond-coated accessories.
Finally, Ginger — Cin City Burlesque's founder — arrived on stage with a jaw-dropping Vegas showgirl act, which revealed, among other things, some of her beautiful tattoo work.
As the final Cin City act ended, Sunny returned to the stage to tell the crowd there was something she needed to say about taking pictures at the show. The room's disappointment was palpable, many in the crowd assuming she was going to say pictures were not allowed. 
"You all look disappointed," Sunny said. "What if I told you to take as many f—ing pictures as you want?"
The only condition, she explained, was for crowd members to post those pictures everywhere with the hashtag #BlackheartBurlesque.
Can she be in my study group @SuicideGirls #blackheartburlesque pic.twitter.com/5yKFM93WOu

— Hogan Charters (@kicharters) October 6, 2015
The crowd cheered in gleeful agreement and the SuicideGirls' headlining act began.
The performers of the Blackheart Burlesque encompassed a wide array of alternative styles. Almost every performer was decked out in tattoos and had bright, colorful hair, bringing an air of self-confidence and sensuality to the stage.
The Blackheart Burlesque acts were all based around pop culture references, featuring dances centered around things like "Adventure Time," "Donnie Darko" and "The Legend of Zelda."
Penelope Suicide's solo dance as slave Leia from "Star Wars" was one of the highlights of the night. The performance began slow and atmospheric, building into something with much more punch as her body mirrored the ever-increasing bass.
The set based around "50 Shades of Gray" was sensual and heavy, showcasing three dancers in leather bondage and another brandishing a whip.
Every couple acts Sunny would return to the stage to interact with the crowd, or sing a solo which expressed SuicideGirls' vision of sexual expression.
The interactions with the crowd proved to be some of the most fun parts of the show.
During one intermission, Sunny brought up a couple from the crowd and showed them the five steps to giving a great lap dance. She then asked the couple to show her how it was done, but with a role-reversing twist, asked the man to perform the dance.
The man then kicked off his flip flops and gave an absolutely wonderful and hilarious lap dance, earning the couple a free year-long subscription to SuicideGirls' website.
"Every single guy we get up there at these shows goes nuts," Sunshine said.
Toward the show's end, Sunny invited girls who wanted to dance with her onto the stage, explaining that she got her job with SuicideGirls at a Blackheart Burlesque in New York when she got completely naked on stage during a dance contest.
One of the eight girls who got on stage and danced with Sunny to Major Lazer's "Bubble Butt" was Hunter Dykes, a wildlife conservationist who works with bats at Mammoth Caves. Dykes said she was attending the show with her husband, Tom.
"Did I enjoy dancing on stage? F— yeah," Dykes said. "My favorite part was when I figured out I could have gotten completely naked, but it was already time to leave the stage."
Dykes said she had been a huge SuicideGirls fan for years, but this was her first Blackheart Burlesque. She was rewarded for her dancing participation with a free SuicideGirls T-shirt after the show.
The final act of the Blackheart Burlesque saw the whole troop doing a "Star Wars"-themed dance wearing storm trooper helmets and sporting laser guns.
After the final set, Sunny thanked Cincinnati for hosting them and the dancers all stood on stage in nothing but underwear and pasties while the crowd erupted in applause.
Finishing up edits from tonight's show. Amazing performance #suicidegirls! #blackheartburlesque… https://t.co/LBDHjIAs5i

— Nathan Daulbaugh (@NAStudios) October 5, 2015
The beautiful women of the Blackheart Burlesque succeed in promoting alternative allure and bold sexuality through the recognizable pride and respect they have for their own bodies.
Performing a show almost every night through August, they showcase intense dedication and an impressive variety of talents in their acts including dance, gymnastics and singing.
"The show is all about empowerment and empowering women, not degrading them in any way," Sunshine said.