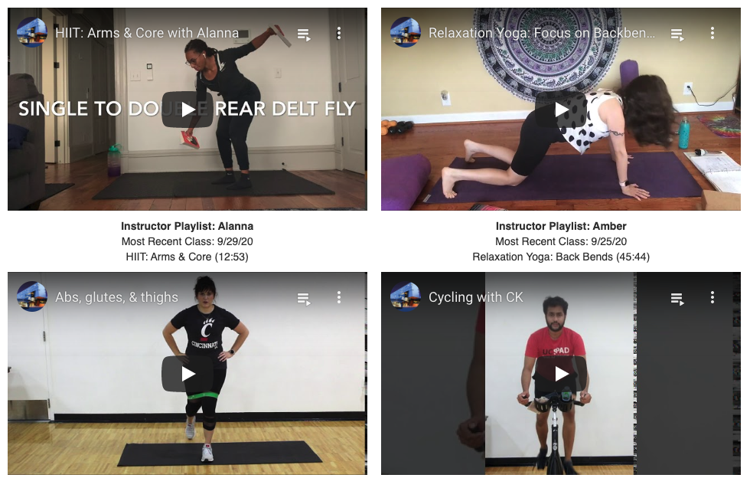 As the winter months approach and the pandemic rages on, staying active is exceedingly beneficial for your mind and body. UC's Campus Recreation Center is making sure that students have ways to stay healthy whether they are on campus or off, inside or outside, a morning person or a night owl. 
This year, Campus Rec is promoting virtual group fitness classes, which are available through their YouTube page. The playlist of videos includes classes ranging from 15 – 45 minutes, featuring various workout styles to ensure that there is something for almost everyone. Workouts range from "transformative yoga" to "Werk & Twerk" to "Bootcamp Abs" and HIIT (high-intensity interval training) challenges. 
Campus Rec will be uploading new videos to the page every week, with workouts lead by their group fitness instructors and personal trainers. 
If live classes are more your style, @UCCampusRec will be offering Instagram live classes starting Oct. 1. 
Still itching to get moving? Anyone with a university email address can access the 2020 Campus Recreation Movement. This is a vast online library of prerecorded and live-streamed workout programs from almost 100 colleges and universities throughout the US. You can even track your minutes for friendly competition against other schools.
The best thing about virtual fitness classes is participating from wherever is most comfortable for you. If you are a fan of exercising in the fresh air, both Sigma Sigma Commons and Sheakley Lawn have been painted with socially distant circles to offer outdoor personal exercise bubbles. Exercising in public isn't for everyone, so the virtual classes are designed to be taken in small spaces like a dorm room, using only equipment that would be available to the average student (ex. the 6 Minute Towel HIIT Workout with Anna). 
Campus Rec plans to offer virtual options for the foreseeable future, possibly implementing them as a permanent option. 
"The flexibility of online classes allows us to reach a larger part of the campus community," said Autumn Cleverley, coordinator of Aquatics & Group Fitness. "We are always looking to better serve our membership and campus community and will adapt to meet demand when possible."
As some people who are using this resource may be new to practicing at-home or solo fitness, it is important to participate safely and within your limits. 
"University of Cincinnati group fitness instructors will often offer modifications during the workouts. These modifications work the same muscle group but with less or more intensity. 
Individuals can also lower the weight or do the exercises with body weight," said Cleverley. "This allows everyone to modify their workout to fit their needs, whether they are just starting their fitness journey or have been working out for years. They can also go at their own pace and pause the video to get a drink of water or take a break."
If you have any questions, concerns or a request for a specific type of class, reach out to autumn.cleverley@uc.edu or DM @UCCampusRec on Twitter or Instagram.