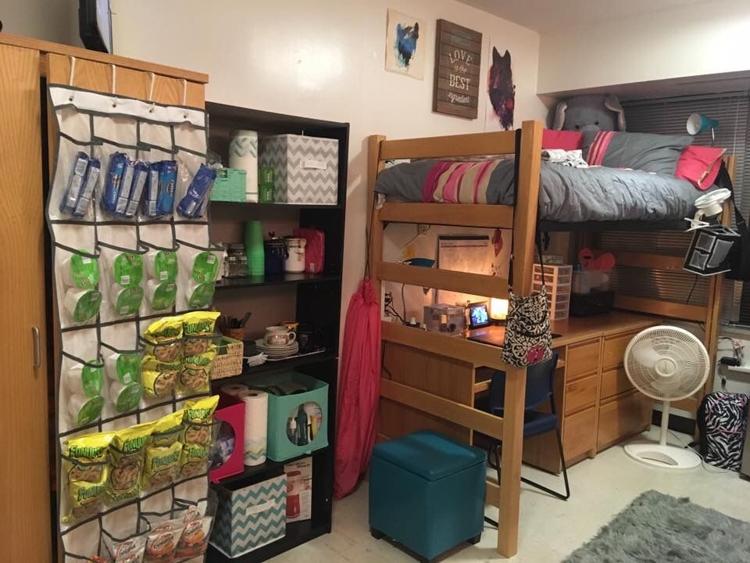 Thanks to the coronavirus, many students living on campus this semester are spending more time in their dorm rooms. Staying indoors more often can cause some unexpected problems, like finding where to store the plethora of snacks you bought from Target or how to fit the mountain of clothes you acquired on Amazon into your wardrobe. Fear not, here are six ways to maximize the space in your dorm room.  
---
Bookcase 
Never mind saving the best for last, you need to know the difference a bookcase can make in your life as soon as possible. Imagine this: There's a fully lofted bed with a desk and a small dresser underneath it, and next to that is a wardrobe. For most dorm rooms, that leaves at least one bookcase-sized space left. A five-shelf bookcase can serve as a pantry, medicine cabinet, TV stand and even a dresser simultaneously. The possibilities for what it can hold are only limited to the user's imagination… and their dorm's policies.
---
Over the door hanging organizer  
I know what you're thinking: I don't have enough shoes to fill one of those things. But hear me out; each pocket of the organizer can be filled with snacks, toiletries, socks and anything else you can think of. This allows you to organize a portion of your room and hang it from the back of your wardrobe or front door.  
---
Hanging laundry bag 
Good news: This tip can make you feel like Santa Claus any time you do laundry. Having a giant laundry sack instead of a basket means you can hang it from just about anywhere. Want to shoot hoops? Tie that bad boy to the ceiling, bundle up some dirty clothes and start practicing free-throws. Have a lofted bed and no floor space? Hook it around one of the poles that are on each corner of the bedframe. Once it's full, sling it onto your back and carry it to the community laundry room — you might even start to empathize with Kris Kringle after a few loads.  
---
Storage ottoman
Getting onto lofted or partially lofted beds can be a pain for even the tallest student. Luckily, there is a solution for this: a storage ottoman. It takes care of two birds with one stone, providing storage and helping you get into bed, which is pretty much the end goal of any college student on a daily basis. One important note: make sure that the ottoman you buy is not foldable. For this tip to work, the ottoman needs to have sturdy support beams that will be able to bear your weight. 
---
Drawer dividers 
Throwing clothes into a random drawer seems like a good idea until you're scrambling the next day to find a specific shirt or pair of fuzzy socks. With a set of drawer dividers, one drawer can hold socks, underwear and T-shirts without the threat of a giant whirlpool of clothes forming.
---
Velvet hangers 
These hangers can be a game-changer when it comes to storing an obscene amount of clothes in a wardrobe. They are thinner than their plastic counterparts, meaning as long as all your clothes aren't too bulky, you can probably go buy that oversized sweatshirt you've been wanting. They also come in a wide range of colors for those who would like their hangers to follow their dorm décor's color scheme.