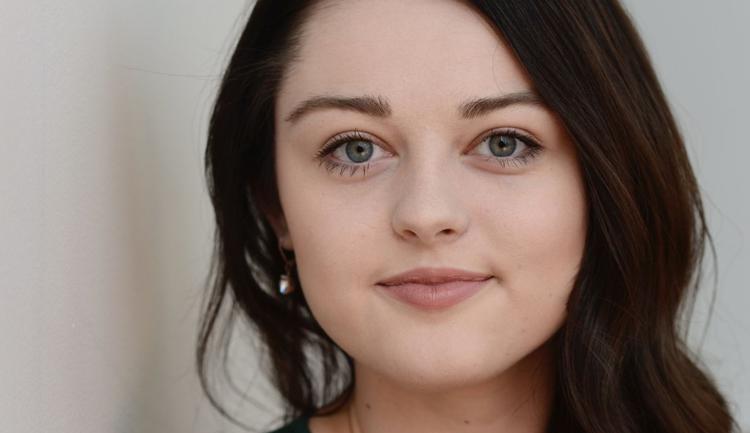 Senior musical theatre major Bailee Endebrock will tap her way into audiences' hearts as Peggy Sawyer in the classic Broadway musical "42nd Street" at the University of Cincinnati College-Conservatory of Music's Corbett Auditorium Oct. 24-27.
We talked to Endebrock about her character, what the rehearsal process has been like and how her training is paying off. 
---
Simendinger: You are playing such an iconic Broadway leading lady, Peggy Sawyer. For those who don't know, can you tell us a little bit about Peggy and her journey through the show?
Endebrock: Peggy Sawyer is a young woman who arrives in New York from Allentown, Pennsylvania, with big dreams and a lot of natural talent. She has some good luck and lands a really big job dancing in Julian Marsh's next Broadway musical. After the star, Dorothy Brock cannot continue performing her role and Peggy steps in to save the show.
Simendinger: Being a senior and getting ready to step into the "real world" of theater, much like Peggy in the beginning of the musical, have you noticed some similarities between the two of you?
Endebrock: Absolutely — Peggy is so eager and has such big dreams when she arrives in New York, and I see a lot of that in myself. I've been performing since I was a little girl and now, as a senior, finally making that move to New York is such a huge step in my life. I absolutely can relate to what Peggy is feeling, and I share many of her big dreams.
Simendinger: How has the rehearsal process been working on a big, traditional Broadway musical like 42nd Street? What's been the highlight? Any difficulties?
Endebrock: Working on a big, classic Broadway musical such as 42nd Street is so much fun for us as students. It's our bread and butter, and to feel like we understand this genre of the industry is so important to many of us. So many alums make a career for themselves in this type of classic musical theater. The challenge of working on a show such as this in an educational setting is to learn to portray characters from such a specific time period. Working to be stylistically correct and finding that style amongst a group of 20-year-olds in 2019 is a fun challenge. The highlight of working on big, traditional musicals at CCM is that we are so fortunate to have a team in all areas that are on the top of their game. The shows always look and sound stunning. So many of these classic musicals are about the big production numbers and extravagant sets and costumes and orchestrations, etc., which I think the team has done so brilliantly with this production.
Simendinger: How have you found your training from these past 3.5 years at CCM to be helpful and showcased in this show?
Endebrock: My tap training has really been put to the test in this show. I am grateful to have received really amazing tap training in my time at CCM, and I would never have been able to do these dance numbers when I first arrived here at school. I think overall, my training has led me to be unapologetic, to be bold and not to be fearless — but to have courage in the face of fear. I've grown so much as an artist, but also as a person, which has given me the confidence to put my all into this show.
Simendinger: Do you have a favorite number or scene in the show? 
Endebrock: My favorite number is the ballet at the end of act two. It's roughly 10 minutes of tap dancing, and it's so astounding to watch. It is a thrill to dance the remarkable choreography of Gower Champion and Randy Skinner, and it's hard not to feel amazing in that blue sequined dress.
Simendinger: A slightly more fun question. If you had be thrown into the lead role of any Broadway show with less than two days of rehearsal, who would it be and why?
Endebrock: I would love to be thrown into "Waitress." It would be so hard learning all the pie-ography, but it would be fun to jump into that show and sing that score.
Simendinger: What do you hope the audience takes away from 42nd Street?
Endebrock: I hope the audience takes away a little bit of Broadway magic and a catchy tune to hum the rest of the evening. 
For more information and tickets to "42nd Street," click or tap here.