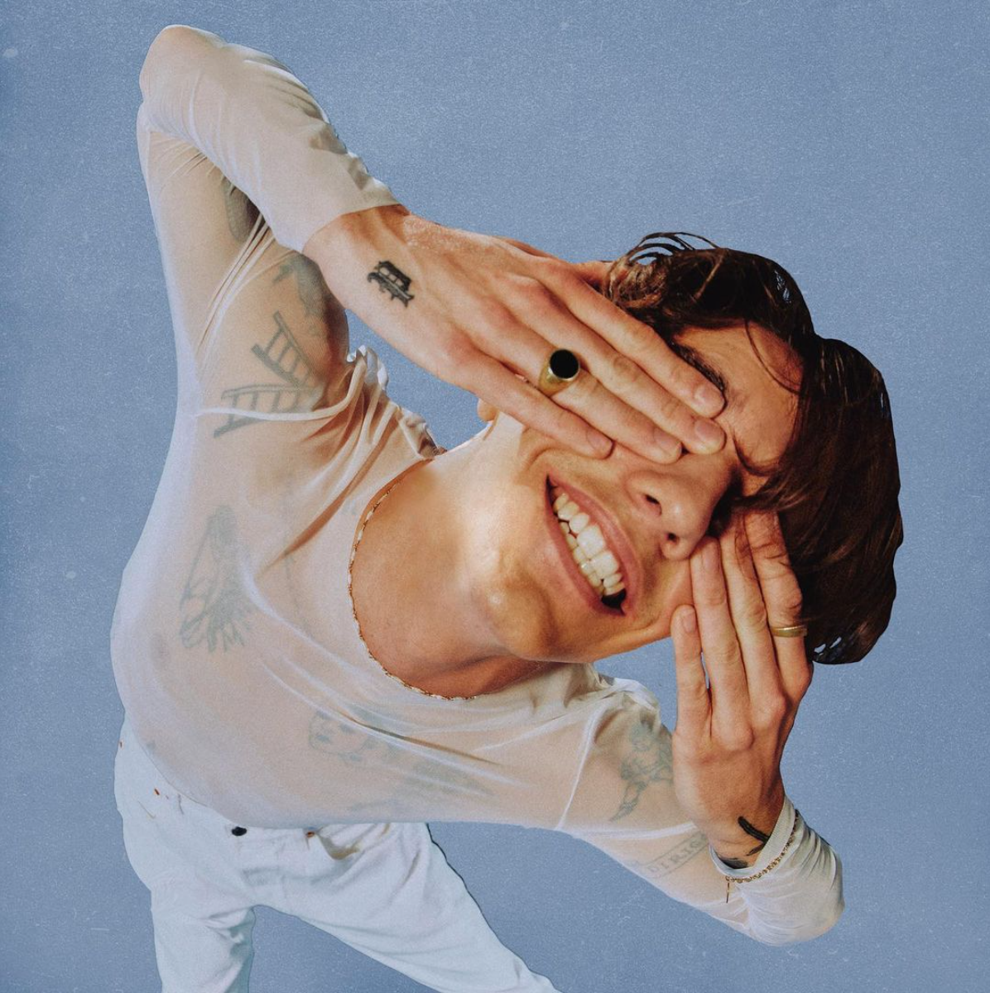 The University of Cincinnati (UC) Programs and Activities Council (PAC) hosted a virtual concert for pop singer Role Model on Wednesday night. 
Role Model, who first came to light as a singer in late 2017, writes music that depicts the idea of finding beauty in pain. His songs are often preppy and upbeat, the type that's easy to dance to with your friends or that makes you want to scream-sing out of a speeding car's window.
The deeper meaning, however, conveys darker themes. His lyrics are often emotional, reflecting off of experiences with depression and other negative emotions that can consume one at a young age. The drastic discrepancy between the light-heartedness of the music and the song's darker tone has sensationalized him over the past few years.
The show itself took place over Zoom, in which over 70 students attended. On Role Model's screen, singer Tucker Pillsbury was seated on a black stool in a dark room, giving the impression that he was floating in midair with his knees pulled nearly up to his chest. It was an odd scene, to see him curled up on top of a stool with nobody else but a guitarist sat to the left. The emptiness of the set let you know that the show would feel organic, testing the abilities of his natural talent. 
Role Model started with his hit song, "hello!" His voice rasped into the microphone and the chat blew up with fans fawning over the music. While his released songs feature synthesizers, an array of instruments, and likely the assistance of autotune, this show felt more acoustic and personal, which is by no means a bad thing.
It was strange not to hear the voices of the tons of students that showed up singing right alongside him as you would in a normal concert, but you could easily guess that behind their screens, they were doing just that.
As he moved from one song to the next, he'd occasionally take a few moments to break the fourth wall. "Cincinnati! What's up!" he'd yell into the microphone after every few songs. The resulting silence was deafening. "I'd like to ask you all how you're doing but I can't see you, so we're going to keep doing more songs," he continued instead.
By the time Role Model started singing "notice me," his fourth song in the set, he seemed more relaxed and comfortable with the novelty of this new concert format. He swayed along to the beat of his music and smiled cheekily off camera. Although he kept his knees pulled towards his chest for the entirety of the show, he still seemed loosened up and genuinely happy to be performing, even if he couldn't see his audience.
His viewers, on the other hand, were delighted to be seeing him. The chat exploded with messages when he called them "Cincinnati baddies." The name was heartfelt, sure, but felt somewhat like a mid-40's mom trying to fit in with the kids. Fans loved it regardless.
Before starting his song "blind," Role Model took a moment to address the audience with a request. "I'd love it if you'd sing to your computer screen for me," he said to the camera before crooning the slow, gentle notes of another one of his more popular songs. If this were an in-person concert, fans would have whipped out their cell phone flashlights and begun waving them back and forth over their heads. 
Much to viewers' dismay, it wasn't long after that the music cut out and Role Model's show had ended. "Thank you so much for watching," he said. The entire show lasted roughly half an hour; he'd sung seven songs.
There is no virtual concert that could ever replicate the mania or energy of an in-person one, but in times like this, we must take what we can get, and PAC's ability to entertain UC students could not go unnoticed. Something that will never change from one concert to the next, no matter the format, will be the singer's talent or the adoration of the fans, and that in itself is what can be said to make a concert great. Role Model, singing his heart out over a screen to our very own university students, is no exception.