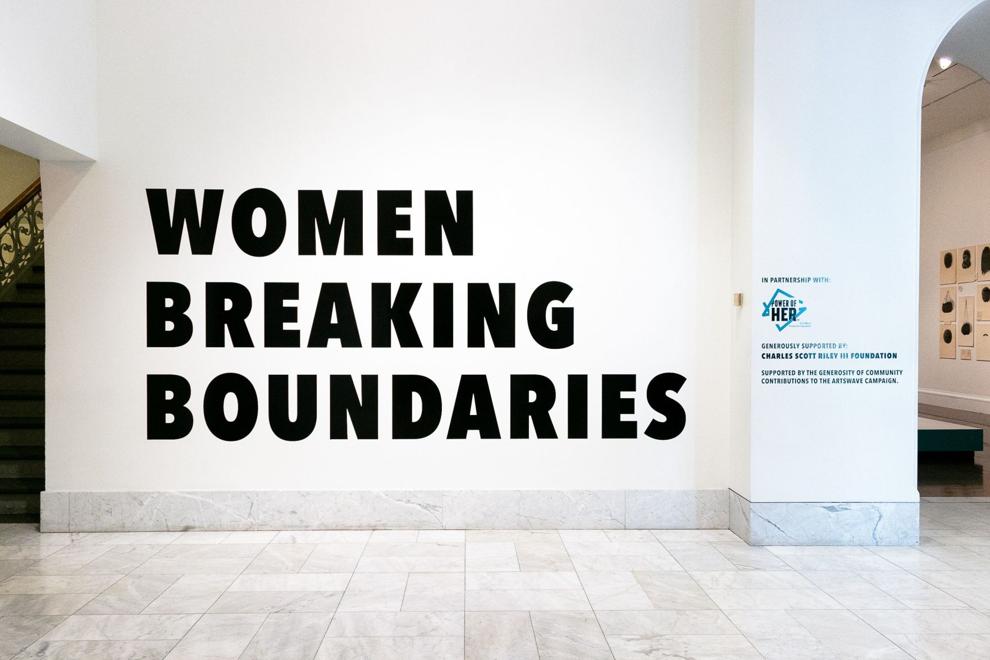 With a title like "Women Breaking Boundaries," my expectations for one of the Cincinnati Art Museum's newer exhibits were shamelessly high. My enthusiasm lay in hopes of seeing works illustrating the advancement of women in every aspect, depicted from artists whose minds truly believed in the power behind every female.
I feel confident in saying that my expectations were exceeded because while a simple glance around the exhibition told a mighty narrative on its own, the backstories behind each individual piece and its artist exemplified how every single boundary a woman couldbreak was being shattered completely.
Walking in, my attention was directed from one corner of the room to the next, my gaze caught by vivid colors, breathtaking design and the unique application of every possible medium one could work with. Each piece demanded my fullest attention; one massive print screamed its message at me in bold font across a stark black-and-white image, impossible to glance over.
"My face is your fortune," read the untitled print by Barbara Kruger. It depicts a woman splashing a handful of water into her face and seemed to speak to the frequent monetization of the female face and body — plus the notion that pursuing sex appeal to advertise a product leads to profitability. Other artworks reflected a similar, yet subtler message.
Other pieces displayed the sheer ability of women in other walks of life. Dorothea Lange, a printer, encapsulated her experiences witnessing human suffering and created a special call to attention to the injustices she observed, particularly in one of her prints, "Once a Missouri farmer, now a migratory farm laborer on the Pacific Coast. California." A lower-class couple made the best of their living conditions in a grayscale photograph, and Lange used her potential to highlight the dire situation of the pairing, and all those in the same circumstances.
Meanwhile, some of the original garments of CoCo Chanel adorned the center of the room, calling for attention with their unique shapes and styles. Gabrielle "CoCo" Chanel aimed to find a compromise in women's clothing that combined modern style with practicality, hence creating an outstanding integration of femininity and power to reflect the spirit of the independent woman.
In the end, no two works of art were the same. They each had a different statement to make, and yet they ultimately came together into one gorgeous collection. "Women Breaking Boundaries" accurately conveyed the beauty and novelty of independence, community, the female body, the kindred spirit and the intelligent mind. It preached ideas of empowerment and broke through societal standards placed upon women at various points in time, reflecting on years far in the past and continuing to the present.
I left with a new perspective on the female identity that completely disregarded conventional stereotypes, instead acknowledging the standards each woman sets for herself. These artists recognized that femininity is not interchangeable with power and any woman can be both in whatever ratio she chooses, exemplifying her ability to leave an impact on this world.