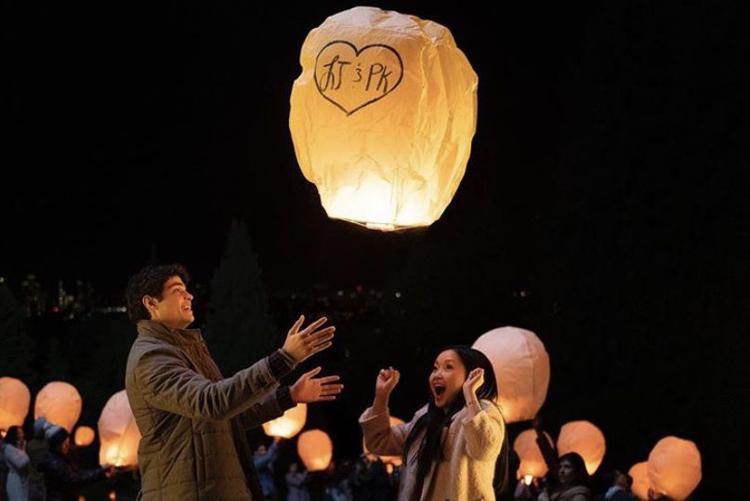 Looking for a cheesy, aesthetically pleasing, romantic comedy with a killer soundtrack and a remarkably stunning cast? Log onto your Netflix account and turn on the "To All The Boys I've Loved Before" sequel, "PS I Still Love You."
In case you missed the first film, let me catch you up "Kitty Song Covey style." The film's protagonist, 16-year-old Lara Jean Covey writes letters to her crushes when they get too intense to control. After the she writes the letter, they go into her late mother's hat box and that's the end. At least that's what she thought. What happens when all five of the letters get sent out (Thanks, Kitty) and one happens to land in her arch nemesis's newly ex-boyfriend, the one and only Peter Kavinsky's hand? They start a fake relationship to make the other's love interests jealous, duh. However, when developing a really convincing fake relationship, those feelings are bound to become real. And they do.
The sequel picks up with Lara Jean and Peter's first date as a real couple, and the same sparks that flew in the first film remain. Valentine's Day rolls around and everything is heart balloons and rainbows, except Lara Jean's growing insecurity in her relationship with Peter. With every new thing that Peter does for Lara Jean, she can't help but think about how he also did these things with his ex-girlfriend Gen. To make matters more complex, one of the other recipients of Lara Jean's love letters, John Ambrose McClaren from Model UN has re-entered Lara Jean's life. Will Lara Jean overcome her insecurities in Peter's past relationships and stay with him? Will the feelings for her sixth grade crush resurface with John Ambrose?
Lana Condor continues to stun the masses as the adorable Lara Jean Covey. The film opens with a music video sequence as Lara Jean dances around her room in various outfits to "Then He Kissed Me" by The Crystals. If anyone else had done this, I would not have been a fan of the overly cheesy beginning, but this fits perfectly with both Condor and her portrayal of Lara Jean. Condor brings such joyful, youthful yet emotionally mature energy to the protagonist, and you cannot help but root for her through everything.
If you were concerned that the chemistry between Lara Jean and Peter (teen heartthrob Noah Centineo) would be different after taking a break between filming the first and the second film, you are correct. It's unclear whether the chemistry change is due to the break since they have both aged, or if it's because of the writing and their new relationship status. In a way, they seem like the kind of couple that is extra in love and likes everyone to know how in love they are by holding hands in the hallway and other public displays of affection that are nauseating. Whatever the case, it's not so bad that you can't watch it. Especially since someone new and arguably better enters the scene.
Jordan Fisher is the newcomer to the "To All The Boys I've Loved Before" franchise, and is by far the best casting decision the creative team has ever made. Fisher's portrayal of the nerdy yet suave John Ambrose is absolutely delightful. His smile alone could heal my skin, raise my grades and potentially bring world peace. Okay, that might be too far, but light beams from Fisher in every scene which totally fits the character. John Ambrose has entered back into Lara Jean's life by volunteering at the same retirement home as her, and it's all too fun to watch the old ladies flirt with him and ignore Lara Jean. Lara Jean doesn't tell John Ambrose about her and Peter's relationship initially, so John Ambrose interprets this as a greenlight to pursue a relationship with her. Fisher's John Ambrose has these protective, loyal and caring qualities that make him all the more desirable and hard to turn down. Fisher tweeted the day of the film's release that the piano scene was all improvised, which sent numerous hearts a-flutter, and makes that scene all the more enjoyable and special. I think I speak for the entire "To All The Boys" fandom when I say, Lara Jean, please remember that John Ambrose is the marrying type, and you will be thankful for this advice when you are a jaded single junior like myself.
If you are feeling down and out this winter and in need of a pick me up with some beautiful humans and a cutesy story, take an hour and 45 minutes out of your day to watch "P.S. I Still Love You."