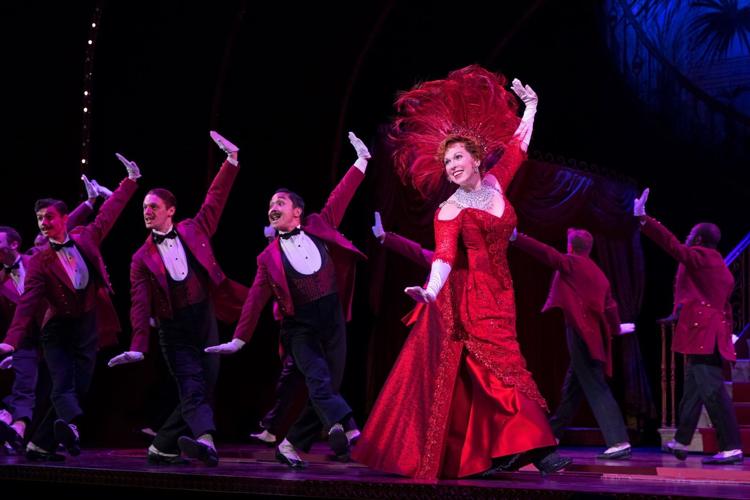 From the moment the overture swelled over the Aronoff Center, I knew the national tour of "Hello, Dolly!" had captured by heart. "Hello, Dolly!" has everything you could ever want in a golden-age musical. With a joyful score by Jerry Herman, a hilarious book by Michael Stewart and brilliant direction by Jerry Zaks making the production feel as fresh as ever, this musical has such a solid foundation that is only elevated by the show-stopping cast.
"Hello, Dolly!" centers on widowed matchmaker and jack of all trades, Dolly Gallagher Levi, as she sets out to help a young man marry the wealthy Horace Vandergelder's niece Ermengarde.  Dolly prides herself on her ability to "put her hand in" other people's business, and while ensuring that Ermengarde marries Ambrose Kemper, she sets up two other couples in order to keep in motion her secret mission of persuading Horace to marry her.
It's only fitting that one of the most legendary roles in musical theatre history is played by a living legend of Broadway, the one and only Carolee Carmello. Carmello is giving nothing short of a Tony Award worthy performance as Dolly Gallagher Levi. From her comedic timing to her vocal range, she has it all. There are a solid five minutes where Carmello is directed to sit and inhale a meal in the most exaggerated way possible. Usually, if I saw anyone else doing that, I would have to look away to keep from getting ill. However, when she did it, I leaned forward to figure out exactly how she was able to navigate this blocking so intelligently and laughed harder than I have in a long time. That's simply one example of the incredible brilliance that Carmello is serving eight times a week.
While Dolly spends the majority of the show as a playful and almost whimsical woman, there are also some serious, breathtakingly quiet moments as she begs for a sign from her late husband to move on in her life. There could not have been a dry eye in the house as Carmello sang the Act 1 finale, "Before the Parade Passes By." In this moment, Dolly decides to rejoin society in the way that she did before her husband had passed. The song begins with Carmello standing by herself on a dark stage with the silhouette of her late husband's store behind her, after delivering one of the most powerful monologues in musical theatre history. In just one song, you see the entire character arc of Dolly play out in the most elegant way. Words truly don't do it justice. 
Carmello is joined by numerous stellar talents including John Bolton, playing opposite her as Horace Vandergelder. While Horace spends the majority of the show in a seemingly curmudgeonly state, there is something about him that you can't help but enjoy about him. Bolton, last seen in Broadway's Anastasia, is undoubtably a charmer and has one of the most magnetic stage presences. His chemistry with Carmello is truly delightful. There is a scene in Act 2 where Horace is refusing to ever even have the idea of marrying Dolly, and Dolly is egging him on by saying that's never something she would want as she's coddling him over dinner by cutting his food for him, ordering for him, etc. Watching this felt like watching an old married couple in that their chemistry was so believable and honest, especially through the comedy.
From the mind-blowing performances by the entire company to the technical elements of the costuming and the scenic design, you are not going to want to miss this "elegance" happening at the Aronoff Center.
Go see the national tour of "Hello, Dolly!" at the Aronoff Center "before the parade passes by" on Dec. 15. Students, teachers, seniors, current/former members of the military (and families), as well as first responders are eligible to purchase half-priced tickets two hours before curtain for any of the remaining performances by showing their ID in person at the box office. For tickets and more information, click or tap here.