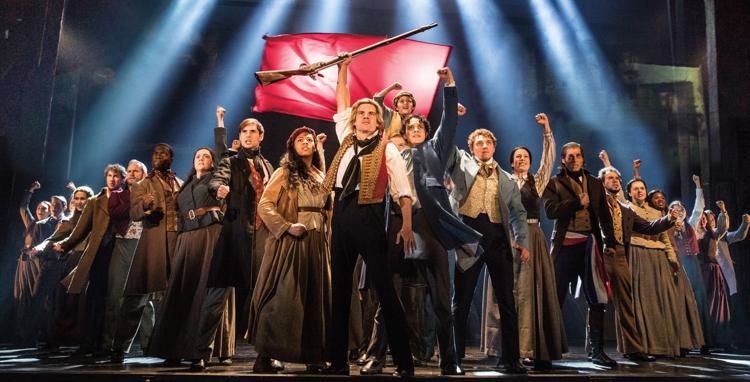 I was either the worst person to be assigned this review or the best — I haven't decided yet. This was approximately my 10th time seeing "Les Misérables" (and no, watching the movie doesn't count), and my billionth time hearing all of the music in the show.
While this is by far my favorite show, this was not my favorite rendition of it.
To be clear, this production was incredible. Under the direction of Laurence Connor and James Powell, the cast brought to life Victor Hugo's heart wrenching and thought-provoking story of downtrodden people striving for better lives.
For the first time in my life, I fell in love with the character of Cosette. Jillian Butler is the most perfectly cast performer I have ever seen in the role. The innocence, earnest curiosity and compassion and crystal-clear soprano she brought to the role filled my heart with joy (and surprise because I usually think Cosette is a spoiled brat, unworthy of love).
More joy was invoked by Matt Shingledecker as Enjolras, but more specifically, his costuming. Every time he stepped on stage his (incredible) voice was just slightly overshadowed by his incredible pants. It was as unnecessary as it was thrilling.
One thing that didn't sit quite right with me in this production was the inconsistency of accents between characters. I would understand differentiating social class through the use of different accents, but that was not the case. To put it simply, half the cast sounded like they were from downtown London, and half sounded like they came straight out of Cincinnati. It took me until deep into the show to put my finger on what was bothering me about the dialects, so maybe I'm just being a picky former theatre kid, but once I noticed it, I couldn't think of anything else.
The only other aspect that wasn't up to par with other productions I've seen of "Les Misérables" was the stage fighting. This show has a fair amount of punches and tackles and whatnot, and not a single one of them had any ounce of energy behind them. Maybe it was my angle, maybe they lacked energy because it was a Wednesday night; however, every fight scene failed to pack a punch — pun totally intended.
I, of course, cannot end this review without a shout out to the child actors of the show, specifically Parker Dzuba and Patrick Scott Mcdermont who shared the role of Gavroche and brought more exuberance to the stage than the rest of the cast combined.
All in all, I've never seen a production of "Les Misérables" that I wasn't obsessed with. Some are better than others, but I always leave feeling emotionally wrecked and satisfied. This production was no exception.