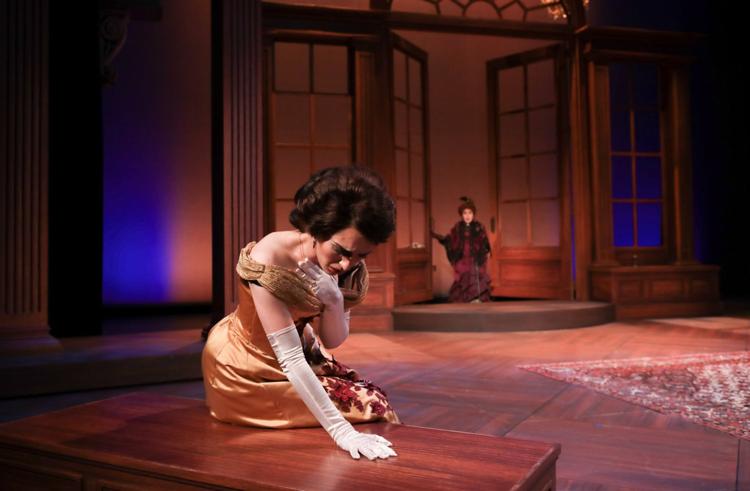 From the title, one might never guess how entertaining and thought-provoking "Lady Windermere's Fan," CCM's first major play of the year, could be to watch. The title makes the play sound seemingly stuffy and like a rather boring and long play that you would only go to if it was required for school credit. I'm here to tell you to erase those pre-conceived notions, and that instead, this was a show of satire, feminism, luxury and laughter.
The play opens on the day of Lady Windermere's 21st birthday party. She will be holding a ball for all the dignified friends of her's, and upon her husband's demand, a "friend" of his who Lady Windermere has been told could potentially be his lover. As guests arrive, and Lady Windermere watches how the woman and her husband interact, she starts to feel faint and confides in her friend, Lord Darlington. The catch? Lord Darlington is head over heels in love with Lady Windermere and wants her to run away with him. He believes she deserves better than to be with a man who loves someone in addition to her, and promises her the world. Is the other woman actually her husband's lover? Will Lady Windermere go with Lord Darlington, even though her husband has assured her that he is not seeing this other woman? Questions of morality, loyalty and love are all discussed and answered throughout.
An uproarious round of applause goes to Zoe Cotzias for her performance as Lady Windermere. While the dialects in the college's performances are always sharp, I don't know if I've ever heard such a clear, crisp and convincing English accent on a CCM stage. Cotzias carries herself with such poise and grace. She's easily believable as a person of nobility, and her chemistry with every actor that she plays against onstage is divine. Lady Windermere delivers many soliloquies and monologues in the play, and with each one her objectives and tactics are so dynamic. You simply can't take your eyes off of her when she's present on stage.
The other highlight of the night was Cotzias' costar, Olivia Buss as Mrs. Erlynne, Windermere's suspected "lover." Buss has arguably the most challenging role in the play, and seems to navigate it with such ease. Her comedic timing is impeccable, yet she also draws the audience in during her pleading monologue in Act 2 where you see her character suddenly tear all the walls she has built up over the years.
I'd be remiss to not mention the stunning costumes designed by Christa Hanks. These gorgeous 19th-century costumes had me swooning and dying to try one on. Lady Windermere's ballgown was reminiscent of Belle from Disney's Beauty and the Beast with its off the shoulder, golden glamour. The tuxes on the men were so dashing and paired well with the women's gowns, which gives a bit more subtlety to let the gowns take center stage.