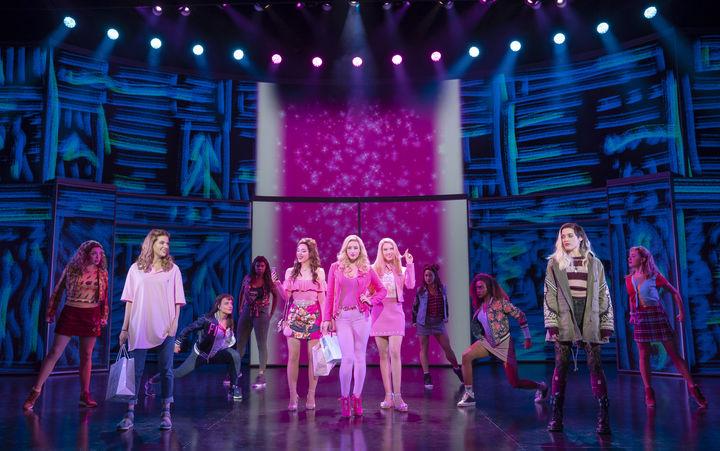 Based on Tina Fey's 2004 film, "Mean Girls" tells the story of Cady Heron, a teenager who left her home in Africa to explore the depths of a new jungle — high school in Illinois.
With the help of her new friends and resident school weirdos Janis and Damian, Heron goes incognito to bring the school queen bees — Regina George, Gretchen Wieners and Karen Smith — to their demise. Also known as "The Plastics," George and company reign over the school with their looks, money and manipulation.
In a bright, modern production, this version of "Mean Girls" stays true to the story of the original movie while representing the present-day high school experience filled with romance, insecurities, drama and social media. Using a screen that fills the entirety of the stage, the musical explores many different locations familiar in the everyday high schooler's life. Embracing technology on the stage allows for this production to fulfill the drama-filled fantasy many of us imagine. 
When comparing the two, most notably is the reinvention of everyone's favorite edgy artist, Janis Sarkisian, played by Mary Kate Morrissey. Quite possibly the epitome of the early 2000s goth girl, this version's Janis has been updated to match the nuances and trends of the late 2010s.
The hilarity and instant audience connection with the character of Janis cannot be done without Morrissey's undeniable talent and comedic timing. Fresh off the national tour of "Wicked" as green leading lady Elphaba, Morrissey has a powerhouse voice that provides the rage and confidence that can stand up to even the toughest high school bullies. A direct victim of "The Plastics," Janis is a character many can see themselves represented in and has a lot more heart than she is given credit.
An enemy of Janis since the eighth grade, Regina George, played by Mariah Rose Faith, is a delightful contrast to the seemingly dark Janis. Faith perfectly captures the unfortunate stereotypical high school snob who cannot get enough of herself.
Of course, the revolution against Regina George cannot be done without Cady Heron, played by Danielle Wade. Wade has the right spunk and quirkiness to play the relatable math-geek that faces the difficult balance of fitting in and finding yourself.
Bringing a perfect energy that is "too gay to function" is Damian Hubbard, played by University of Cincinnati College-Conservatory of Music alum, Eric Huffman. Huffman brings the sprit, sarcasm and overwhelming support of any gay best friend, while having a hypnotic voice that brings down the high school cafeteria.
This fresh take on "Mean Girls" brings the cult classic story to the modern day while taking each character beyond the movie and fleshing them out further to tell a story of self-love and acceptance. For those who love contemporary theater, "Mean Girls" will certainly make you laugh and appreciate the differences in everyone around you.
The touring production of "Mean Girls" runs at the Aronoff Center from Nov. 5-17.