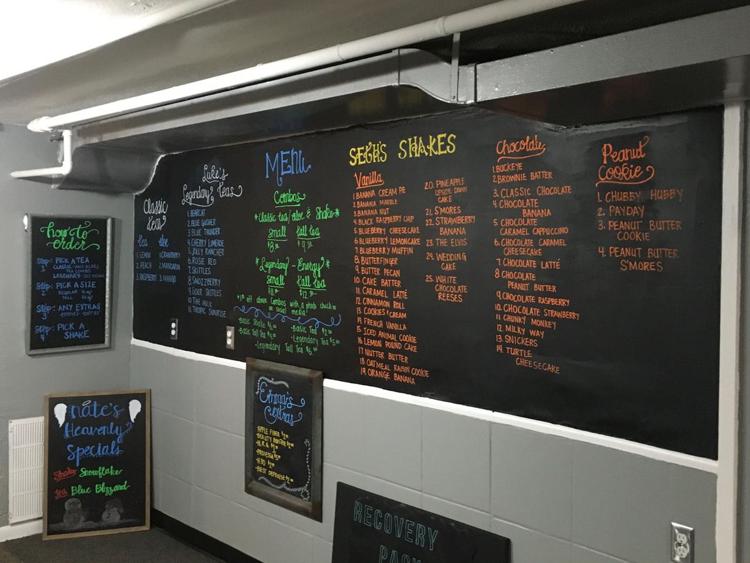 At quick glance, the storefront could be mistaken for a quaint science supply store with blue and orange atoms decorating the sign. However, inside Insanity Nutrition, blenders are whirring up tasty meal-replacement shakes for health-conscious students at the University of Cincinnati.
Mylissa Johnson, the owner of Insanity Nutrition, opened the nutrition club in honor of her late son, with the hope of giving UC students a healthy hang-out spot. Located across from Panera Bread at 129 Calhoun St., Insanity Nutrition crafts meal-replacement shakes that only contain 200-250 calories and keep you full for over three hours.
Since opening in December, the shop has been doing "really great," said Johnson, with student athletes as its biggest customers.
Johnson was a surgical assistant at UC Health for over 15 years, before following her dream of keeping her son's memory alive through a business. The extensive menu, with nods to each of her four children, consists of "Nate's Heavenly Specials," "Luke's Legendary Teas," "Seth's Shakes" and "Emma's Extras."
With 25 vanilla-based shakes, 14 chocolate varieties and four peanut butter, there's a shake that meets everyone's preference — especially with both vegan and gluten-free options available. The most popular flavors, according to Johnson, are cake batter, iced animal cookie and brownie batter.
The teas, which come in various fruity flavors, are just as energizing as a cup of coffee. The classic selection offers flavors like lemon and peach, while the legendary teas kick it up a notch, with flavors like Jolly Rancher and Blue Gusher.
"Emma's Extras" offers shake additives for additional charges, like apple fiber — which is linked to lower cholesterol — and Prolessa, to help control hunger.
Johnson's son, Nate, was a science major at UC. Nods to Nate are found throughout the décor inside Insanity Nutrition, from the massive periodic table hanging across from the kitchen to the giant, cartoonish cut-out of Albert Einstein standing proudly in the front window.
"[Nate] loved his coffee and he loved his books," Johnson said.
But Johnson isn't the biggest fan of coffee, and with the intention of providing a healthier option, she found that meal-replacement shakes and energizing teas were just the things she wanted to sell.
The front of the store holds couches and tables for students to study over shakes, using the free Wi-Fi, or to pick a board game off the shelf. The back houses a drink bar with all the ingredients necessary for the shakes and teas, and just beyond that sits the oxygen recovery room.
While working at UC Health, Johnson befriended nurse Lydia Shivers, who now offers recreational oxygen to relieve headaches, fatigue, and most notably, hangovers. The recovery room allows customers to relax in a massage chair with their drink as oxygen is delivered via a cannula.
Customers can either buy just one drink — shakes are $6, basic teas are $2.50 and legendary teas are $5 — or they can choose to do a combo with both a shake and a tea for $8-$13.
Pop over to Insanity Nutrition Jan. 29 for an "Office"-themed trivia night. There's room for five groups of four and a $15 cover fee provides each person with a reserved spot as well as a shake and a tea.
With its convenient location, Insanity Nutrition's shakes and teas are perfect for those looking for a healthier option to boost study sessions. Insanity Nutrition is open Monday through Friday from 6 a.m.-4 p.m., Saturdays from 9 a.m.-2 p.m. and Sundays from 10 a.m.-2 p.m.