Karamo Brown, a member of the Fab Five from Netflix's hit series "Queer Eye," paid a visit to campus Monday night in what felt like a large group-therapy session.
Brown graduated from Marjory Stoneman Douglas High School in Parkland, Florida, before receiving his degree at Florida A&M University. After college, he worked as a social worker and a psychotherapist before going on MTV's "The Real World: Philadelphia" in 2004. Years later, he joined Netflix's "Queer Eye" as a culture and lifestyle expert.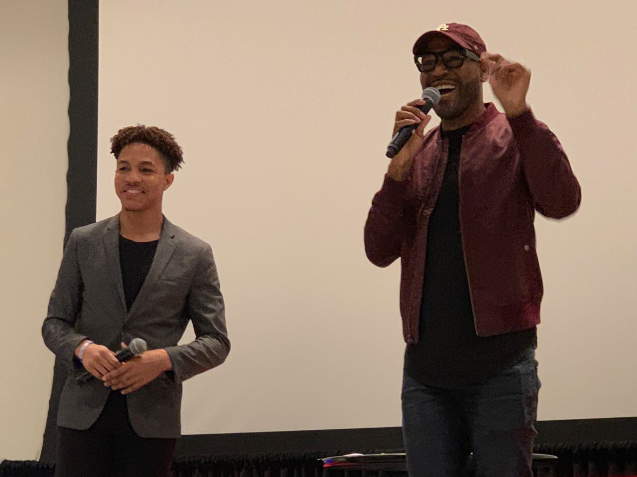 Alberto Jones, a fourth-year journalism student, emceed the event, which consisted of an interview between Jones and Brown followed by a Q&A with attendees.
Throughout the event, Brown stressed the importance of self-love, self-growth and identity.
"I am perfectly designed," Brown said. "In understanding that I am perfectly designed, I realized that there is no part of who I am that I should ever be ashamed of."
Throughout the night, Brown encouraged audience members to turn to the people next to them and repeat phrases like "I am perfectly designed," or "Today will be better than tomorrow." In doing so, Brown stressed the importance of leaning on peers and making positive thoughts come to life by verbalizing them.
"Karamo radiates positivity and truly wants to help others," said Molly Henderson, a fourth-year student.
The conversation became even more interactive when students were encouraged to ask their own questions to Brown. Audience members asked about self-confidence, personal growth, identity and diversity, including one or two "coming out" announcements. Brown answered each question with passion and certainty, complimenting each student as they approached the microphone.
When informed by a member of UC's Programs and Activities Committee that time had run out, Karamo wasn't ready. Instead of leaving, he continued to answer students' questions.
"I feel happy and empowered after hearing Karamo speak," said Staci Chynoweth, a third-year student.  "I loved hearing the personal questions people asked, learning more about how others identify and recognizing how important personal growth is."
Karamo ended the evening by encouraging audience members to be open to diversity and spread love and positivity to everyone.
The third season of "Queer Eye" is available on Netflix, and Karamo's new book, "My Story of Embracing Purpose, Healing, and Hope," is on sale now online and in select retail stores.