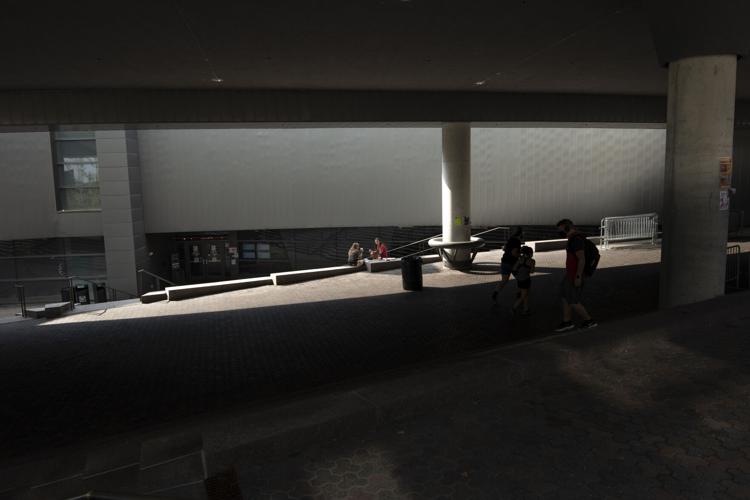 While students get accustomed to the social distancing guidelines on campus this semester, some are confronted with an even harsher reality as a consequence of the coronavirus. 
The Campus Recreation Center (CRC) and Schneider Hall are currently being used as housing for students living on-campus that are asked to quarantine or isolate from the rest of the university.
Students who have contracted the coronavirus are asked to either return home or take residency in the quarantine halls to isolate for ten days while they recover. Those who could have been exposed are asked to quarantine in the same way for up to 14 days. 
Roommates and second-year students at UC, Justin Kros, Joshua Wise and Logan Gorka, were sent to CRC because of contact they'd made with the coronavirus. The News Record asked them about their experiences in isolation.
---
The News Record: How did you end up having to isolate in the CRC?
Kros: I was symptomatic on the 13th, I got a call from one of the doctors and she basically said, 'We're going to have you come in and get tested.' I was really symptomatic, so like a fever, headache, body aches, all of that, and they basically said, 'With all of your symptoms we're just going to send you to CRC because chances are you have it.' So that's what I did. I was there from the 14th to the 23rd.
Wise: I went in September 16th, and I guess because Justin tested positive, we had to go into the Hampton to self-isolate. I decided to get tested the next day, on the 17th, so I was in the Hampton for a few days while we were waiting for those test results. Our other roommate got tested that day too. My test came back positive. I never had any symptoms or anything, but as soon as it came back positive, they moved me to CRC.
TNR: Did the university help you with the move-in process?
Kros: University Health had called me and said, 'If you need the help, we can get you a golf cart and take you there. Pack for 10 days. If your test comes back negative, you can just leave.' So that's what I did, and my test came back positive the next day.
Wise: My [experience] was pretty similar. I got a call, and they said, 'I don't know if you know, but your roommate has gone into self-isolation… so you have to go into self-quarantine in the Hampton.' And then, because the rest of the roommates were going all at the same time, they sent a bus over, and picked us up outside the apartment.
TNR: UC's website states that students who have meal plans will be delivered meals if they are isolated. How did the food delivery work?
Gorka: They emailed us this survey at the beginning of the week for breakfast, lunch and dinner, and they had different options for each one of those. They bring us food around 8 a.m., around 11 they would bring us more food, at five they would bring dinner, and that was it. So if you were hungry around the rest of the day you pretty much had to wait. The first two meals are so close to each other and they're during classes, so when I didn't grab my breakfast because I had class, they took the breakfast one away when lunch came and left the lunch one.
Kros: We got three hot meals a day. I think they say you're going to be allowed to do takeout, GrubHub, whatever, but once you got there, they specifically say not to do that. It might have been one of my symptoms, [although] I never lost my sense of taste or smell, but everything had this one distinct smell. It was weird.
Wise: If you didn't have a meal plan, they'd essentially charge you, but they were being weird about it. They didn't have a flat rate or anything like that. [The food] would be super soggy for me. The bottom used to get so wet, it would be seeping out. It was so gross. Now it's a little bit better, but everything's still soggy. I had issues with certain days too. For instance, two days ago, I got no food at all, throughout the entire day. 
TNR: As far as the living situation, did they have you rooming together? Did they tell you what you should bring?
Kros: Everyone's by themselves, everyone has their own room. So, no roommates, no nothing. In the package of linens they give you, there is a fitted sheet, a top sheet and a pillowcase, but they don't give you a pillow.
Wise: I packed for a place that had pillows and soap and shampoo and stuff, but then I move here, obviously they have none of that stuff. I brought two blankets, so I'm using one blanket as a pillow, and I always bring little hand things of soap and shampoo, so I was fine on that, but if I didn't, that probably would have been bad.
Gorka: They didn't really give us an understanding of what we should bring, they just kind of said, 'Move in. Have fun. We'll give you an hour. We'll send a bus.'
TNR: Did they have any specific rules for being in isolation?
Kros: No packages. One person does laundry at a time. No takeout.
Gorka: We could leave our rooms whenever we wanted, they weren't going to have us in a prison, but they strongly advised us against it. The only time I left was to go get tested.
TNR: Did the University stay in contact with you regularly while you were isolated?
Gorka: They sent me this survey every day, and I had to fill it out saying what my temperature was and what my symptoms are. I didn't know how long I would be in there. They told [me I'd be there] until the 25th, but then the Ohio Department of Health called me and said until the 30th, so I had no idea. They didn't communicate at all.
Kros: I was in contact with University Health, or University Housing or a doctor, multiple times a day. The first couple of days, when I was still running a fever and feeling terrible, I would have over-the-phone visits with a doctor on campus, and he'd walk me through what symptoms I have and what I can do to get better. By the time they track your symptoms, they basically decide what you're allowed to do. If you test positive, you have mandatory 10 days [in isolation] after the start of your symptoms, and you have to show no fever or symptoms for 24 hours before you're let out after that.
TNR: Since students were already socially distant on campus anyway, did you notice a pretty big difference in your social life? Did it get lonely?
Gorka: I would FaceTime people, but that was pretty much it. Being isolated in a room, compared to being in an apartment with other people, was a big change. I felt like I was going crazy the first two days. I would leave the windows open, but I couldn't get fresh air or really get any sun either. The only sun I got was when I went to go get tested.
TNR: Did you notice some changes in your mood or did your mental health seem to decline at all?
Kros: A little bit. I was okay when I was getting calls from my parents and aunts and uncles, just making sure I was okay. It was nice to know they were thinking about that. 
Gorka: My mood was only down the first two days. I guess I just kind of accepted my situation. I still hated it the whole time, but I guess I was just accepting.
Wise: The biggest thing for me is just not being able to go outside.
TNR: As far as schoolwork goes, did you find it more difficult to get it done? Did it take more effort to stay focused?
Wise: It was a bit weird trying to stay motivated because it'd be like, 'Oh my God, I'm doing nothing for however long.'
Kros: I was better because I was put in a room that had two bedrooms, even though it was just me. One of the bedrooms I would sleep in and in the other I would set up my laptop. It was better since I had that separation.
TNR: What did you do to keep yourself entertained in isolation?
Wise: Work stuff, shows or movies, reading. I got stuff on my phone that I can read. Games, like video games. I've been looking at a screen way too much. I alternate between lying on my bed to sitting here at the desk, and that's about it. 
Gorka: I was basically on my laptop and my phone the whole time. That, or I was taking a nap.
TNR: Did the University help you out with the move-out process?
Gorka: It was very confusing on my part. For transportation, I had to provide my own, because they didn't mention it. They didn't talk about how to get us back to campus. Unless you email them, they were probably just going to leave you to figure it out for yourself. 
TNR: Is there anything else you want to mention about isolation, or to let others know about being in quarantine?
Kros: Keep social distancing, COVID is hell.
Gorka: You're not going to have fun. We saw people out today, and they have no idea what's coming.