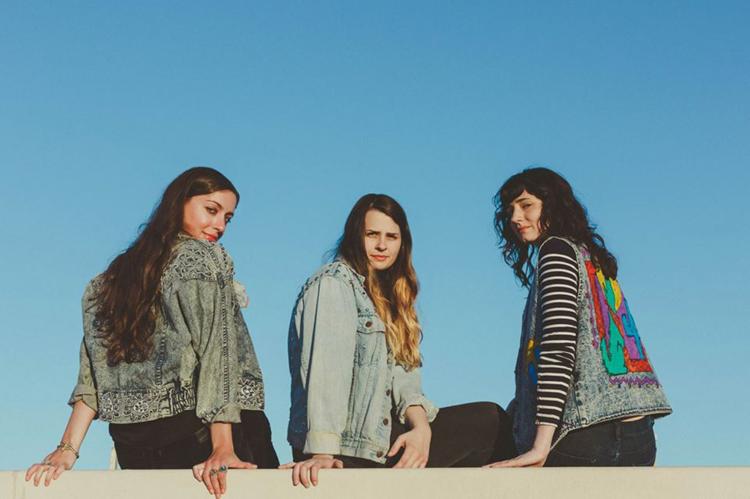 Philadelphia-based band Queen of Jeans released their debut album Jan 21., gaining attention around the Internet for its psychedelic, dream pop-inspired waves of sound.
The band — Miriam Devora (vocals), Matheson Glass (guitar), Nina Scotto (bass) and Patrick Wall (drums) — labeled themselves as denimcore and "estrogen on ice" on their social media profiles, thoroughly amusing and confusing anyone trying to pinpoint their genre.
Devora spoke with TNR about the background of the band, her process when writing music and those interesting and fun genre labels. 
The News Record: What are the members of the band's musical backgrounds, and how did you all meet? 
Miri Devora: We've all been playing music since adolescence and have been in several bands leading up to this one, and actually, all met on the premise of playing music together.
First Mattie and Nina met, then Mattie met me, and finally we all met Patrick just this year when we were searching for a drummer for Queen of Jeans. 
TNR: How long have you been a band? 
MD: We just celebrated our one-year anniversary on New Years.
TNR: What musicians and ideas do you draw inspiration from?
MD: Our music library is as eclectic as Peyton Sawyer's in "One Tree Hill," honestly. But to name a few: Dusty Springfield, Roy Orbison, Camera Obscura, Warpaint, Lana Del Rey, B52s, and Cocteau Twins. 
TNR: What is your process like when writing music?
MD: I tend to wait until everyone has left the apartment and then I sit down with my guitar and some coffee and start working things out. 
Throughout the years my writing process has changed a bunch, but typically I get a melody going in my head, craft the chords around it and then write a bunch of vocal harmonies along with that.
TNR: Can you talk a little bit about the name Queen of Jeans? On your Soundcloud, you are listed as denimcore. Does that relate to your name at all?
MD: Queen of Jeans is a homage to "King of Jeans", an old warehouse that used to sit on Passyunk Avenue, right about where we live in South Philly. 
The day that iconic, slightly suggestive sign for the store came down, it was a huge topic around town. Nina came up with the idea of using that name, but changing the focus. 
"Denimcore" is a hashtag I used when we were first starting to post our music and photographs to social media. It was just my silly take on a category for what I imagined a denim-influenced band might fall under. 
TNR: Follow-up to that one, how would you define denimcore?
MD: Badass chicks plus Patrick causing a ruckus, or maybe just sending you to sleep with angelic three-part harmonies.
TNR: Did you coin the term "estrogen on ice"? Queen of Jeans is the first result on Google if you search that. 
MD: That is incredible. Our buddy from Work Drugs should be credited for that one. 
It got started one night when we were all hanging out after a show. He was just spitballing ideas for us for our Internet presence, and that one has always stuck out in our mind because it's quite out there and fun.