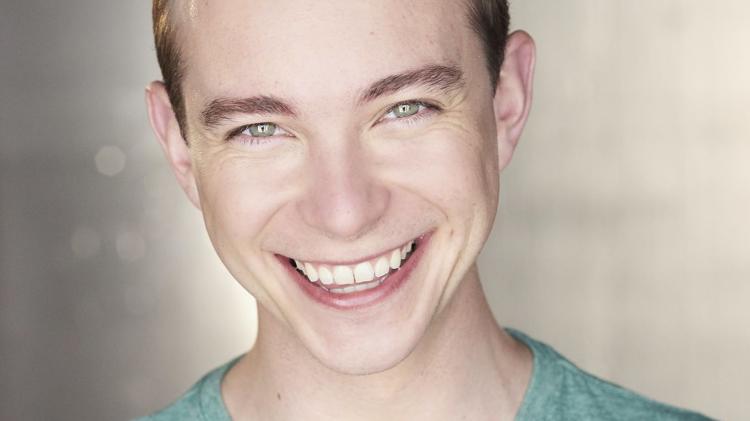 Four for you, Eric Huffman! You go, Eric Huffman!
"Mean Girls" — the hit Broadway musical based on the Tina Fey box office sensation — is coming to the Aronoff Center Nov. 5-17. Among the talented touring company is College-Conservatory of Music alumnus Eric Huffman, starring as Damian Hubbard.
Huffman was last seen touring around the country ringing doorbells in the original "Jumamosi" company of "Book of Mormon," as well as playing keyboard in the pit of the Broadway company.
Check out our interview to learn about tour life, what he took away from his time at CCM and how this experience differs from "Mormon." 
---
Simendinger: You just started your tour journey with the first national tour "Mean Girls." Can you tell us a little bit about your character, Damian, and what you found to be the "most fetch" thing about tour so far?
Huffman: Damian is on the student activities committee, so he kind of knows what's up with everyone but he doesn't play the social game like all the other characters do. He doesn't play the clique game. He and Janis kind of stay outside and observe. So, when Cady shows up, they're like, 'hm… maybe she can do it for us,' which is fun. And touring, I love seeing all the new cities and seeing their different personalities, because this country's really diverse, and it's kind of cool to get to firsthand interact with people in every city.
Simendinger: This isn't your first tour, as you toured before with "Book of Mormon," so how does this experience differ from "Mormon"?
Huffman: Oh, that's a good question. From a marketing perspective alone, it's a very different piece to come into, and I think that's made all the difference. Both shows have a very young cast, most of us it's our first or second show which is really cool. Both shows are big comedies written by famous comedians; one is the creator of "South Park" and the other is Tina Fey, so they're similar in vein. But I think the difference is with "Mormon," nobody expected stage musicals from Trey [Parker] and Matt [Stone] necessarily. So, they went in with more of an open mind. Whereas with "Mean Girls," everyone knows that movie, especially our generation knows that movie pretty cold, like we know all the scenes and all the lines. To go in and have to adapt it for the stage was kind of scary for Tina in a way. She had to really approach that material carefully to make sure that everyone still got what they wanted from the movie while making it work in a totally different medium. In "Mormon" we could really do whatever we wanted with the material; we could kind of take it wherever we wanted. But [in "Mean Girls"] we have to go back and look at it and think, 'Wait a sec. What is the essence of this moment that we can't lose?' Even if we're changing the dialogue, we have to keep the theme true. It's interesting.
Simendinger: Branching off that in terms of the rehearsal process, you guys are the first national tour, so you got to basically recreate the show from ground up.
Huffman: We really did.
Simendinger: What was the highlight of that?
Huffman: I loved it. It was the healthiest rehearsal process I've ever been a part of because the expectation was no longer there. They had done they're out of town try out. They had opened their show on Broadway and had Tony season, and all the critics and reviews and everything. All that was done, and the show has been well received and is selling. There was no pressure on us in the room. We all came in and just had fun every day. We said, "Okay, let's work on these scenes," and if something wasn't working, Tina would get up and say, "Let's rewrite it. Let's figure it out." We were laughing the whole time. They canceled rehearsal a couple times, and we would go out to dinner instead because it was just so low stakes in the most refreshing way. It felt like we were creating a show in our living room, and it just happened to be with these famous people. I loved it so much, and I think this version of the show really reflects that. It's kind of infectious how much we all love each other on stage, and that's something that you can't teach or direct. We just really love each other. Also, since the show already been running for a year on Broadway, they kind of already knew what they wanted to touch, which was pretty cool.
Simendinger: You are a CCM grad, so if you had to pick one thing from your training here that you take with you to every job, whether it be touring with "Book of Mormon," playing keyboard in the pit for "Book of Mormon" on Broadway or touring with "Mean Girls?"
Huffman: Oh, that's a good question because there's like 10 things I took with me. There's so many things! I think one of the most valuable lessons I learned was when someone said this in a masterclass, and I loved it. It was about auditioning people get scared of auditioning, and tired of it very quickly because it's exhausting to go on 60 auditions in a month and not get a single callback, but that happens. How do you approach that? This person said that the three minutes you're in the room are the three minutes you get that day to be on stage performing for an audience, and anything else that happens after that is just a bonus. I love that mindset. Yeah, this is a hard business, and yeah, you got to pay bills and things. But you get those three minutes in front of people that are watching you, and you get to perform. That's what we love. We love performing, so use it.
That's one thing, but I also love this simple moment that happened. A group of us went to go see one of the plays that the drama department had put on. It was a very difficult drama and they'd done a really good job with it, but it was one of those discussion type shows afterwards. We were discussing it in the halls walking back to Siddall, and people started kind of tearing down some of the directing choices and things in a way that wasn't really fair, I thought. One of the guys in our group—this was freshman year and I'll never forget it—he said, 'Okay, even if you disagree with the show, can't you just sit in a theater for two hours to listen to someone else's point of view?' That's powerful. I still I go into theater with such an open mind because of that specific production. You know what, I might not necessarily agree with everything that's happening, but it's still happening, and that's the beauty of theater. Everyone gets their own voice on stage. That's really, really powerful.
Simendinger: Since you know Cincinnati, are there any places that you are excited to revisit?
Huffman: I mean, Graeters, obviously. It's my favorite. I don't know, all the restaurants and things are all new around UC. It's so funny. I went back two years ago and thought, 'These kids have no idea how lucky they are.' We had like two restaurants at a gas station.
Simendinger: I think the gas station is still here though, don't you worry.
Huffman: I can't say I'm going to visit it. I also am one of the few people that doesn't like Skyline Chili. I don't understand it.
Simendinger: Your character, Damian, sings a song, "Where Do You Belong," about where everyone sits in the North Shore cafeteria. Where do you think you would belong in the cafeteria?
Huffman: Well, in my real-life high school, I sat with the choir kids because we always had lunch between choir classes. So that was cute. But honestly, I was totally a math nerd. That was my world, which is so funny with this show! There's a math competition at the end of the show, and I even went through and tried to solve all of the problems that they do in the show. The things that you do when you're bored in tech rehearsal!
Simendinger: So finally, what is one thing that excites you the most about telling the story every night, and what do you hope the Cincy audiences will take away from it?
Huffman: You know what's fun is the movie is so iconic because it's really funny and has that appeal, but it really does speak especially to a young teenage audience, male and female, in a way that—it's so cheesy to say—but it really is timeless. I knew people in their 20s and early 30s that grew up with this movie would love the show, but coming to the stage door every night and seeing 50 young kids—not even kids—young teens, between like 10 and 16 that are just loving this show and this message is so empowering. We all hope with theater that we're making a difference in the world and saying things. Sometimes you do a comedy and think, "Is this really helping?" And then you go to the stage door and see that, and you see that actually, yes. We are talking to a group that needs to hear these things. It's really powerful.
---
For tickets and more information about "Mean Girls," click or tap here.