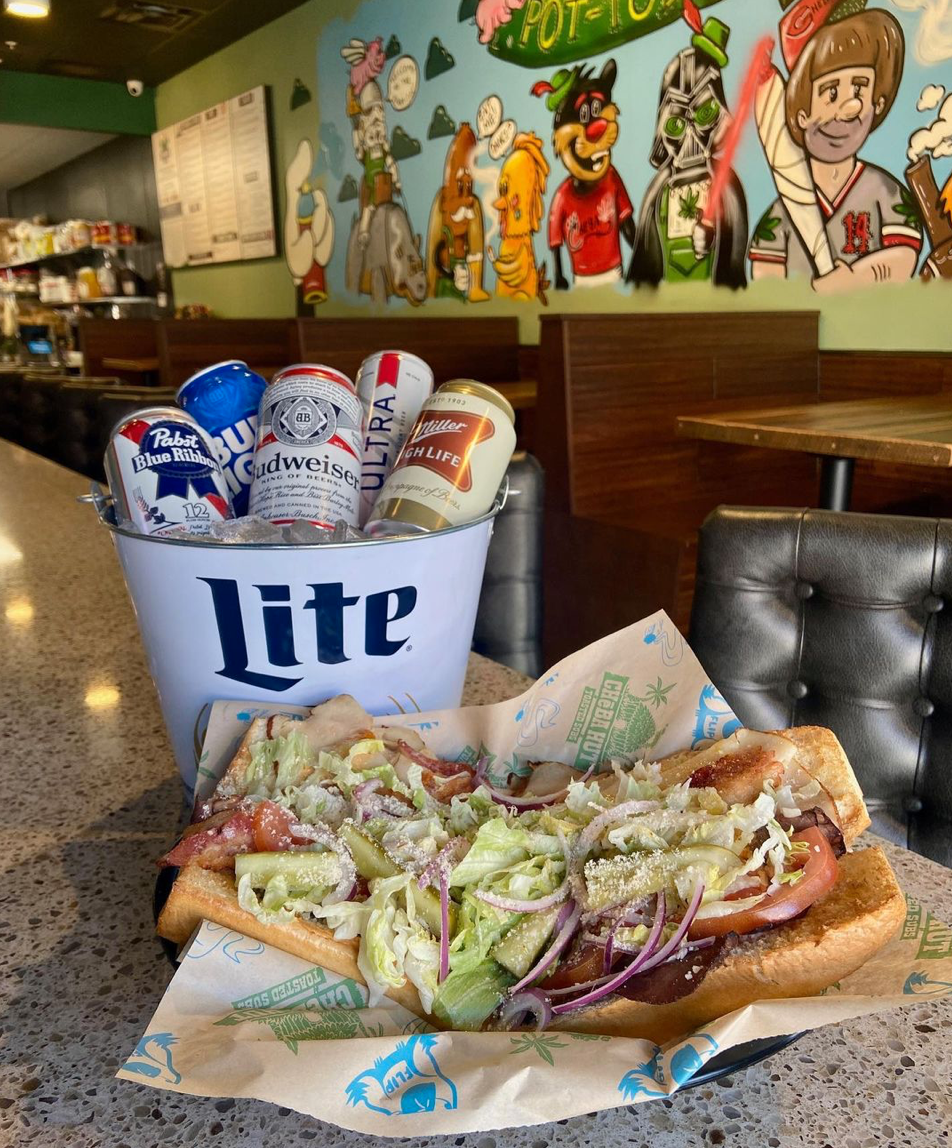 After opening earlier this month, Cheba Hut is the newest restaurant to join Short Vine. With an aesthetic and menu based entirely around marijuana, Cheba Hut pays careful attention to pair their food well with the "munchies" sensation commonly experienced with marijuana.
Their menu includes toasted subs, over-the-top rice crispy treats, salads, various appetizers, desserts and an assortment of beer. Their restaurant is all about creating a relaxed environment where customers can "escape the established." 
Cheba Hut's interior promises to do that for you right away. Upon entering, one of the first things customers are greeted with is a surreal wall mural depicting the Bearcat mascot sporting a shirt with a marijuana leaf on it. Around the store are marijuana-themed stickers, posters and art pieces. They make it incredibly clear what they are going for in design, creating a unique dining experience not replicated anywhere in Clifton. 
Their menu works expertly to accompany their design. The star of the menu is their toasted sub sandwiches. They carry a vast number of meat- and veggie-based options. Some of their signatures include the Jamaican Red - a spicy chicken sub with peppers, jalapeños, black olives and cheddar cheese. Another store favorite is the Silver Haze, a hummus-based sandwich with various veggie toppings, swiss cheese and their house dressing. Cheba Hut also offers a rotating limited-time sub. Currently, it is the Sensi Kush, a honey-sriracha glazed BLT. 
Another menu highlight is their "munchies" section, filled with classics such as their "Loaded Not'chos," a hummus platter and pretzel nuggets. 
One can't forget to check out their sweet-tooth options as well. They have chocolate chip cookies and brownies baked in-house. Their decked-out rice crispy treats definitely aren't comparable to your mom's recipe; their signature "Goo Ball" comes mixed with peanut butter, honey and cocoa. You can also opt for the plain classic, chocolate or fruity pebble flavors.
Staying true to their theme, Cheba Hut has cleverly labeled their beverages as "Cotton Mouth Cures." They carry an assortment of beers both on tap and canned. You can find crowd favorite Rhinegeist in cans currently, but they are working towards incorporating more local beers on tap in the future. They also carry Kool-Aid, iced tea, soda and Red Bulls.
Cheba Hut's menu boasts incredibly affordable options for students. Items such as their house-made rice crispy treats start at $2.79, and most of their subs go for $5.89 for their 4-inch and $11.50 for their 12-inch. The restaurant is also open till midnight on weekends, making for a great late-night bite.
With their unique ambiance and promise to deliver an eating experience unlike any other, Cheba Hut is stepping up to become a new crowd favorite among students. Whether you're craving something light, sweet, salty, or anything in between, Cheba Hut is sure to have something you'll enjoy at a reasonable price.