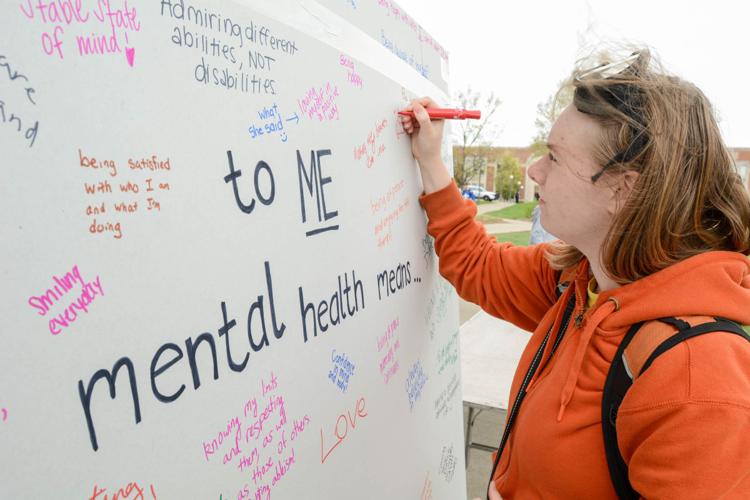 The world around us is constantly changing. Staying six feet apart from our loved ones, remembering to bring a mask to class and adjusting to classes mostly online is the new normal, but hopefully not permanent. However, despite the outside world feeling chaotic and uncertain, the University of Cincinnati has many resources available to help their students get through these uncomfortable and confusing times.
A few of these resources can be found through Counseling and Psychological Services (CAPS), Therapy Assistance Online (TAO), LGBTQ Center, Bearcat Support Network (BSN) and Sky@UC.
---
Let's Talk
CAPS is available to all University of Cincinnati students and everyone else who is a part of the UC community. Due to the pandemic, in-person services are currently closed, but phone and online services are available. CAPS provides "A free virtual consultation program" called Let's Talk, where students can speak with a counselor online. This online session is available to all University of Cincinnati students across the country who might benefit from having the opportunity to have a counselor walk them through a specific problem. Use CampusLink to sign up for a Let's Talk session.
Let's Talk can be accessed by phone or through Zoom via Therapy Assistance Online (TAO) video. For any questions or concerns about Let's Talk, contact Julie Lineburgh M.Ed.,LPCC-S at (513) 556-0648. The CAPS office can be contacted at (513) 556-0648. Their business hours are 9 a.m. to 12 p.m. and 1 p.m. to 4 p.m. Monday through Friday, but they are available to provide 24/7 mental health crisis care outside of business hours.
---
Therapy Assistance Online (TAO)
TAO is "an interactive, web-based self-help program that provides online and mobile tools to help you overcome the day to day challenges around stressors like anxiety, depression, or other concerns," according to the CAPS website. TAO is accessible through computers, phones and tablets, providing free, interactive educational modules, assessments that provide behavioral health screenings, and practice tools that include daily journaling. TAO also provides a mindfulness library that can help students improve mindfulness and meditation. It is important to note that TAO is a self-help program. It does not replace treatment.
---
Racial Trauma
Racial Trauma Resources, compiled by CAPS, provide "a collection of information and campus and community resources for students who have experienced race-based stress and trauma." Some of these resources include a "Black Lives Matter Meditation for Healing Racial Trauma" and a guide to "Emotionally Restorative Self-Care: People of Color," among several others.
---
Reach Out
Tech savvy? Reach Out is a free UC app that provides information on mental health and suicide prevention. This app also provides helpful tips on how to talk to your peers about mental health and emergency contact information for crisis services.
---
The LGBTQ Center
The LGBTQ center is another supportive resource provided by UC. According to the LGBTQ center website, their purpose is to "enhance the campus community for LGBTQ students and their allies through intentional advocacy, proving safe space, intersectional programing, and access to culturally relevant resources." This center can usually be found on the 5th floor of Steger Student Life Center. The LGBTQ Center is not providing in-person services currently due to the pandemic.
---
Bearcat Support Network (BSN)
The BSN's goal is to take away the false narrative that surrounds mental health while providing a "network that is supportive, loving, and inclusive through peer to peer support groups and monthly events," states CAPS. Although BSN will also no longer have in person peer groups, they are currently working on providing other alternatives this fall.
---
Sky@UC
When in need of a different approach to handling the pandemic, the University also provides Sky@UC, which encourages using yoga and meditation to reduce stress. Sky@UC focuses on students being able to "develop and maintain a relaxed and stress-free mind," by providing free, online, guided mediation sessions every Monday at 6 p.m. Sky@UC also provides "Beyond Breath" on Wednesdays at 5:30 p.m., which helps students focus on breathing and meditation.
This will be a strange semester for us all, and we encourage everyone to pay attention to their mental health and seek help as needed. As a community we can work towards destigmatizing mental health issues by participating in open conversation and continuing to offer and use supportive resources. Stay healthy this semester, and don't be afraid to take care of your mind as well as your body.