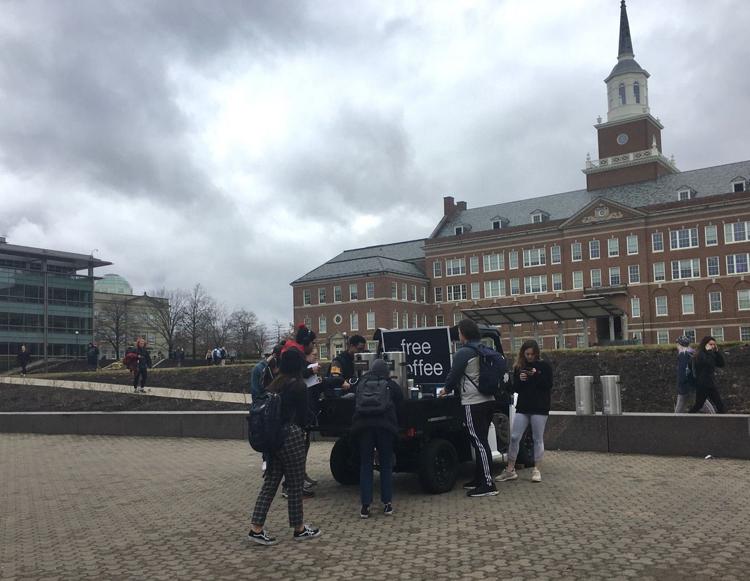 Before quarantine forced everyone inside, chances are you saw the golf cart that sits between McMicken Hall and Tangeman University Center, doling out cups upon cups of free coffee.
The cart, belonging to Crossroads Uptown, next to Corry Garage at 42 Calhoun St., can be found on Tuesday, Wednesday and Thursday serving coffee and hot chocolate to anyone who walks up — during a normal academic year, that is. No matter what time they open, they always stay until they run out of coffee.
"It's a really fun thing for us," said Alexa Handelsman, Crossroads' college director. "And it's an easy way for us to be out on campus more and serve students in a way that maybe brightens their day or gives them extra caffeine for the rest of their classes."
Last semester, Crossroads gave out over 8,000 cups of just coffee, not counting the hot chocolate they now offer. Overall, Handelsman estimates a total of 10,000 Crossroads cups were given out last semester on UC's campus alone.
"It's always been a staple [at Crossroads] and we know people like coffee, and everybody likes stuff that's free," said Handelsman. "There's a whole campus of 40-plus thousand students, and they're here for four years. There's so much opportunity right here on this one block of land [that] it's just like 'Oh, let's go do coffee on campus.'"
Always on offer at Crossroads is the Nicaraguan blend, which points back to where the beans are grown.
"There's not a lot of fair-trade in the coffee business right now," said Handelsman. But Carabello Coffee in Newport, where Crossroads gets its coffee from, makes a point to brew only equitably sourced beans. The coffee Crossroads uses is sourced from farms in the Nueva Segovia region of Nicaragua belonging to Luis Alberto Balladarez, a man who strongly believes in giving back to the community around him.
Justin and Emily Carabello, who started Carabello Coffee in their garage in 2009, stumbled upon Balladarez while ordering coffee online.
"[The website] said how he won third place in the Cup of Excellence in 2010, and after the sale of that coffee — which was about $25,000 — [Luis] took all that money and gave it to a local non-profit that builds houses for the poor in his community," said Justin Carabello. "I just thought that's pretty exceptional. He seemed like the kind of person I'd want to be able to work with."
When the Carabellos met Balladarez, they were still a tiny coffee business, roasting only 3,000 pounds of beans a year. After Justin shared his vision to leverage Americans love of coffee as a way to fund works of compassion in Nicaragua, Balladarez told him they had the same heart and desire and gifted the Carabellos with 1,500 pounds of his best coffee for free — under the instruction that they use the profits and invest it into whatever God told them to put it into.
When Crossroads approached Carabello Coffee and wanted to impact the Nicaraguan community through their coffee program, "There was no one from my standpoint better suited to work with them than Luis," said Justin.
Crossroads, who was already sponsoring 6,500 Nicaraguan children through Compassion International, wanted to know who was supplying their coffee so they could have a very targeted impact.
Not only is the coffee from Crossroads free, but each cup benefits Balladarez and the operation of his coffee farms in Nicaragua.
The Crossroads Coffee Cart can be found during the midday class rush at 11 a.m. on Tuesdays and Thursdays and 9 a.m. on Wednesday, during normal academic semesters.