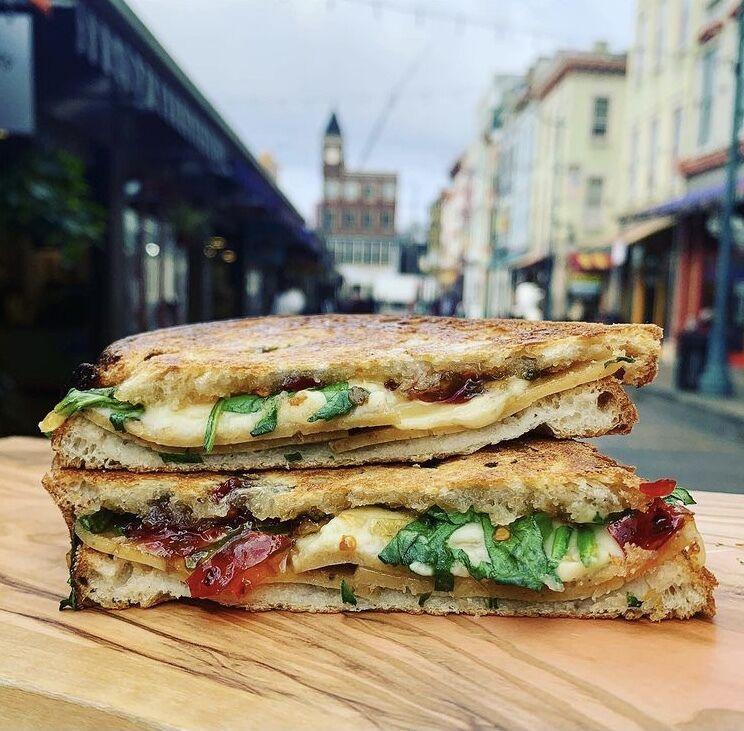 As the share of the U.S. population that is vegan increases, cities across the country are seeing a rise in the number of plant-based restaurants, and Cincinnati is no different. Many of these restaurants that The Queen City boasts are close to the University of Cincinnati. This extensive list of vegan spots take on various cuisines; whether students are looking for vegan barbecue or plant-based deli meat, these local restaurants have them covered. 
Harmony Plant Fare
Harmony Plant Fare, a vegan New York City inspired deli, offers a wide selection of plant-based meats and cheeses. Located in Findlay Market, the deli specializes in seitan, a vegan meat of Chinese origin that's made of high protein flour, beans and spices and mimics the taste and texture of animal-based meat. Harmony Plant Fair, which sells their meat and cheeses by the pound from the counter, also supplies customers with an extensive menu of sandwiches, ready-to-go dishes, dips and desserts, all of which are vegan. Additionally, those looking to make their own vegan meal at home can shop the store's stock of plant-based groceries.  
Hours vary. 1801 Race Street. 
Herban Vegans
Located across Findlay Market is another vegan spot, Herban Vegans. With a goal to "showcase how tastier & healthier pan-cultural homestyle vegan cuisine can be," according to the restaurant's site, Herban Vegan serves a diverse lineup of vegan dishes inspired by various cuisines, with everything from Mexican-inspired tacos to a Southern-style platter to even a cajun jambalaya. 
Hours vary. 1809 Elm St. 
Essen Kitchen
Serving up breakfast, lunch and dinner, Essen Kitchen has been providing Over-the-Rhine with one of the city's most expansive vegan menus. Founded by mother-daughter duo Patricia Bittner and Lida Bilokur, Essen Kitchen offers classics like biscuits and gravy, Belgium waffles for breakfast and hamburgers and chili for lunch. For dinner, customers can find jackfruit barbecue and comfort food plates. In addition to its mission to provide an expansive vegan menu, Essen Kitchen accepts donations to help fund its efforts to supply vegan meals to local shelters.
Open Tuesday – Thursday, 9 a.m. – 2 p.m. and 5 p.m. – 9 p.m. 1 Findlay St. 
Happy Chicks Baker
Just an eight-minute drive from campus is the Northside's Happy Chicks Bakery, a locally and independently owned bakery that exclusively serves vegan bakes. The shop, which seeks to "combine creativity, irresistibility, kindness and sustainability," is available to bake a myriad of plant-based treats. These treats include extravagant, large-scale bakes like personalized birthday cakes, but also smaller treats like cookies and cupcakes that customers can stop in and pick up. In addition to serving desserts, Happy Chicks Bakery also offers savory items like quiches and empanadas.
Hours vary. 4035 Hamilton Ave. 
Whole Bowl
Whole Bowl, a walk-up window in the Gaslight District, specializes in Buddha Bowls that can be ordered vegan. In addition to all of the bowls being vegan upon request, Whole Bowl's entire menu is also nut, gluten, and wheat-free. Although the shop only offers three menu items, the big bowl, the bambino bowl and the instatija bowl, Whole Bowl's 11 national locations and its founder Tali Ovadia has been recognized by publications like The Guardian and The New York Times. Additionally, Whole Bowl's secret Tali sauce allows the restaurant to put a unique twist on their Buddha bowls and has won several accolades since the early 2000s, according to Whole Bowl's site.
Open Monday – Saturday, 11 a.m. – 9 p.m. 364 Ludlow Ave