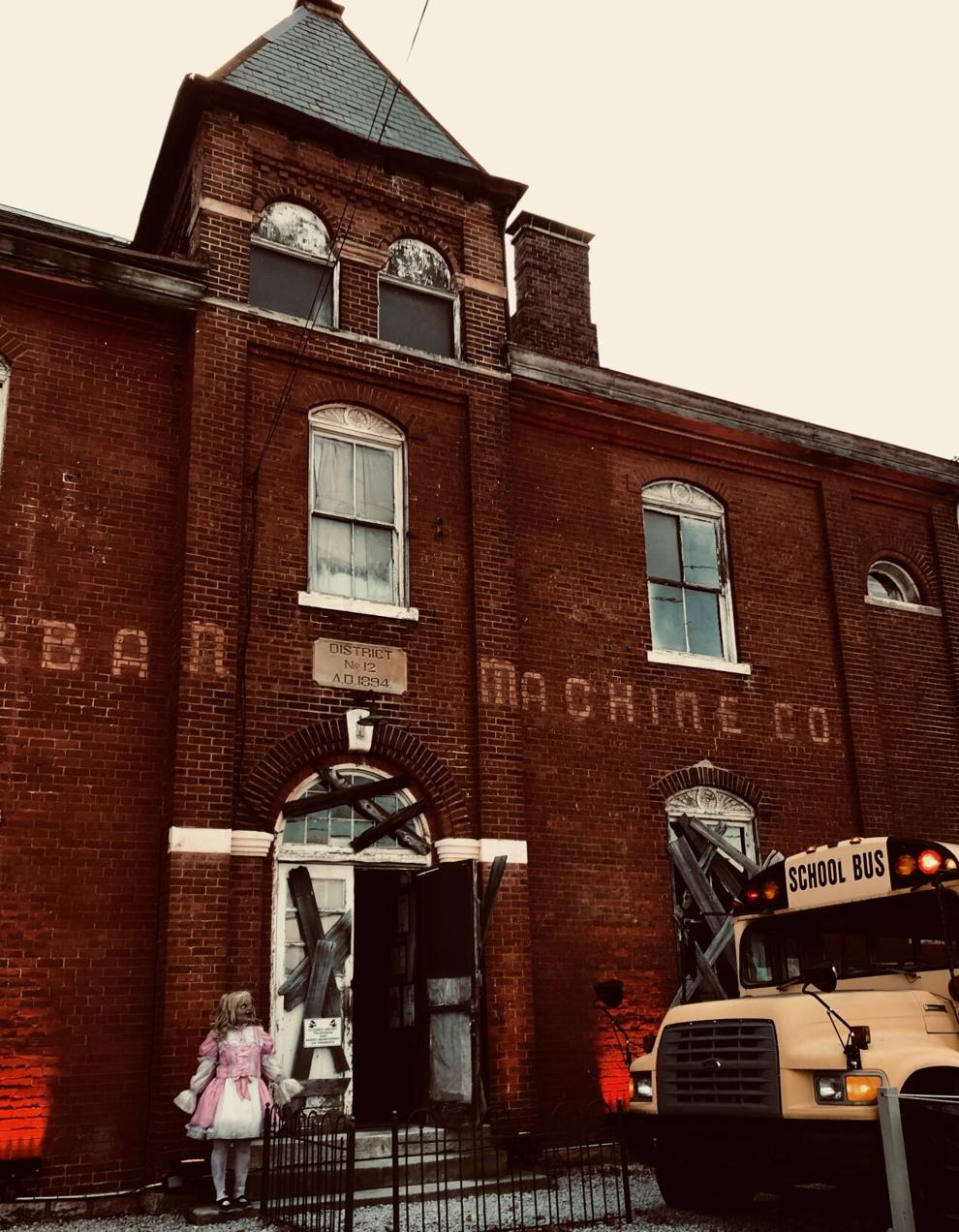 Halloween is just around the corner and that means haunted houses all over the Cincinnati area are opening up, providing a fun and frightful way to celebrate the upcoming holiday. Here is a list of haunted houses to visit this October. 
The Dent Schoolhouse 
Perhaps the most popular haunted house on this list, The Dent Schoolhouse is a Cincinnati classic that has been listed as one of the best haunted attractions in the country, including USA Today, Oprah Magazine and CNN. Visitors sometimes wait hours in line to walk through the school from which dozens of children supposedly went missing in the 1940s and 50s before their bodies were found in its basement. The site also offers a ghost tour without actors every Wednesday in October for those looking for a more authentic scare.
Prices and hours vary. Open Thursday – Saturday, through Nov. 6. 5963 Harrison Ave.
USS Nightmare
The USS Nightmare, located in Newport, allows guests to tour the William S. Mitchell dredge boat listed on the National Register of Historic Places. The boat is supposedly where 112 people died during its 45 years of operation. At over 30 minutes long, the USS Nightmare is one of the longest haunted houses in the area and offers two levels of frights for visitors to find their way through. 
Price and hours vary. 101 Riverboat Row, Newport.
Mt. Healthy Haunted Hall
The Mt. Healthy Haunted Hall, which has been in operation since 1990, invites visitors to come explore over 20 frightful scenes through the house, four tents, backyard areas and a "giant vortex." Guests will be scared by classic Halloween figures such as the Wolf Man and Frankenstein in addition to some of the Haunted Hall's original monsters such as "Bug Boy" and "Reverend Emmett Rotts."
$10, cash only. Hours vary. Open Friday – Sunday, through Oct. 30. 7700 Seward Ave.
Sedamsville Rectory
The Sedamsville Rectory sets itself apart from the others because this haunted attraction forgets the actors and decorations and offers tours of the home that was abandoned in 1989. The current owners claim to hear disembodied voices and see furniture moving all on its own and the Travel Channel's "Ghost Adventurers" have even filmed an episode at the rectory. Visitors are invited to come and see for themselves in tours that operate through the middle of the night. 
$29. 8 p.m. – 6 a.m. 639 Steiner Ave.
Halloween Haunt: Kings Island
Every autumn, Kings Island hosts their "Halloween Haunt'' event. The event has been voted 2021's "Best Theme Park Halloween Event" in the country by USA Today's reader's choice awards. In addition to the roller coasters and rides offered all year round, the park opens five haunted houses and two Halloween-themed shows. The park is also full of creatures waiting to scare guests when they least expect it.
Prices vary. 6 p.m. – 12 a.m. Open Friday and Saturday, through Oct. 30. 6300 Kings Island Dr., Mason.
Sandyland Acres 
Sandyland Acres, a farm located across the river in Petersburg, Kentucky, is opening for its 16th year this fall. The site offers two attractions: the haunted hayride and the haunted barn. The hayride takes guests through the farm's cornfields, where various creatures attack the wagon, and has won several awards over its 16 years of operation.
Prices vary, cash only. 8 p.m. – 12 a.m. Open every Friday and Saturday, through Oct. 30. 4172 Belleview Rd., Petersburg.