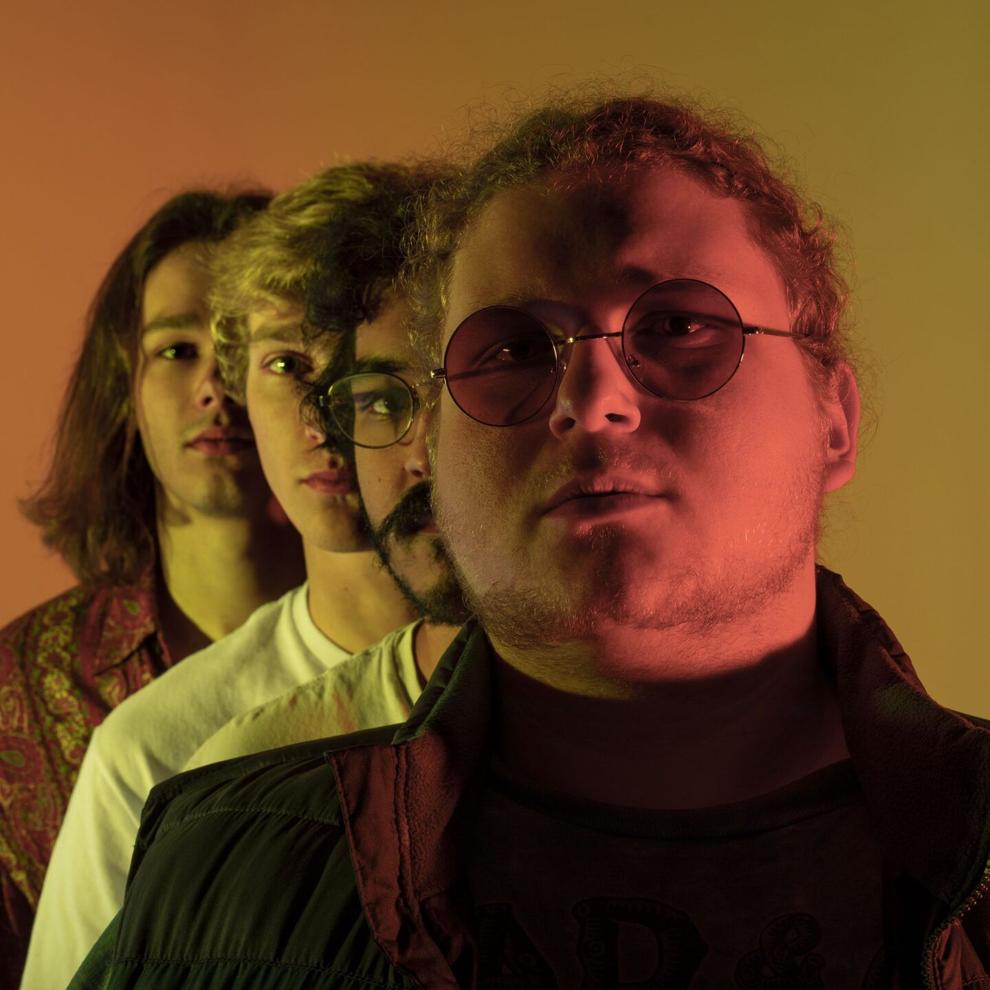 Featuring guitarist Frank Cassidy, bassist and keyboardist Hunter Brookbank, drummer Karthik Raturi and guitarist and lead vocalist Sam Smith, local Cincinnati band TasteFull is made up of University of Cincinnati (UC) students. While balancing school, the group released their debut studio album, "Radha," on April 9.
TasteFull started working on "Radha" around the same time that the COVID-19 pandemic began, causing them to halt the creation process. The pandemic presented numerous challenges for the band, which led Smith and Cassidy to take semesters off school to focus on their music. 
"I'm just taking some time, I can't stand COVID," said Smith. "I'm in music and sound production [at UC], and I lost a lot of access to all the UC labs, and that stuff really frustrated me a lot." 
These issues meant the album had to be recorded over a long period of time. 
"The actual recording process took quite a while, we started recording in November 2019, and we released the first single, "Oxygen" in April of 2020," Raturi said. "Obviously, after that, COVID hit and everything kind of hit the fan. A whole year later, we finally come around to releasing the album, but during that span, we spent a lot of time taking the tracks and trying to make the most of what we could." 
The band credits their chemistry for how they were able to overcome these obstacles in the album's development. Their bond has been present since the initial creation of TasteFull.
"In the summer of 2018, we got invited to a jam session Sam was hosting," Cassidy said. "We had a PA system, didn't know these guys at all, but we got invited because we had a PA. All four of us met, and we played for like, three, four hours straight, having never known each other."
After meeting one another, the band cycled through many potential names before settling with the name "TasteFull." 
"All these names we tossed around, we kept asking ourselves, how are we going to succeed as a band with these names? and then Karthik said, 'we needed something tasteful.' And we were like, TasteFull, that's it," Cassidy said.
As TasteFull is a local group, they have been performing at various locations around the Cincinnati area. The band credits these shows for helping them grow in their profession. 
"We've really been trying to mix ourselves in with a lot of other bands," Brookbank said. "We're surrounded by a lot of great influences that we've had the opportunity to play with in the past." 
"We're really finding an outlet in Cincinnati breweries because they're one of the first things to open back up," Cassidy said. "They're gonna have a lot of people that are young, into the art scene. They're willing to spend money on local stuff, which in this case, is beer." 
When it comes to influences, the band uses the music itself to continue their long-lasting bond.
"It's about making music. Music succeeds best when it's in a group setting. Bands don't succeed unless they all support each other," Cassidy said. "There are certain pockets of music that emerge out of certain regions, and we want there to be a Midwest rock scene." 
There is no stopping now for TasteFull as they look to grow their audience and emerge as a part of the Midwestern rock scene. 
"Our goals short-term is really contributing to the Cincy scene. Then we want to play festivals, go on tour and spread our reach beyond Cincinnati," Cassidy said. "We're currently writing our second album, and we have no shortage of content. We have a YouTube channel coming up, clothing on its way. We want to be a brand as much as a band." 
TasteFull's debut album "Radha" is available for streaming on all platforms now.