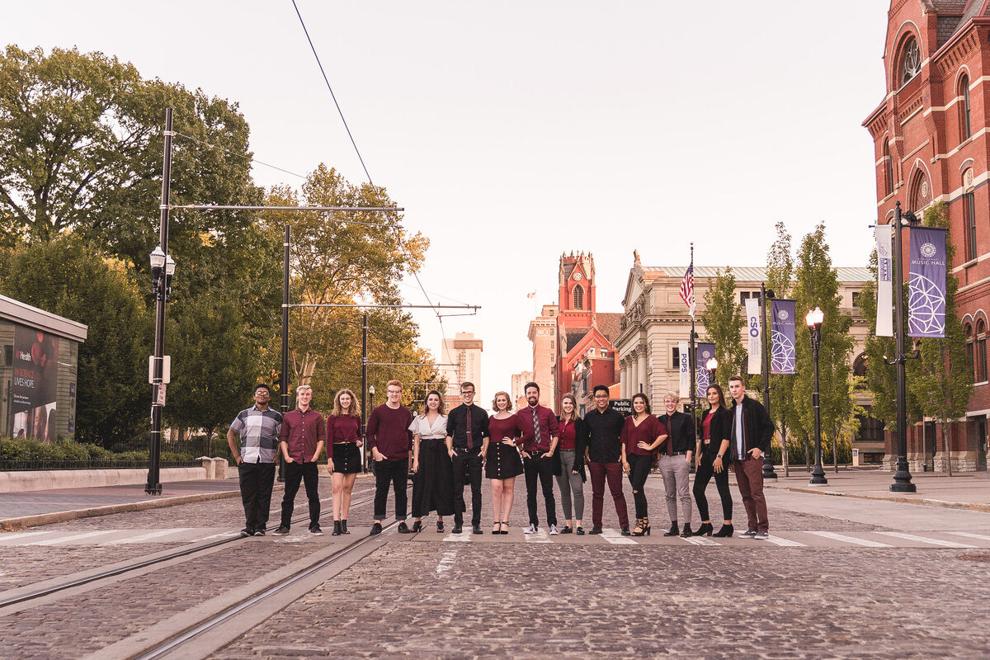 Founded in 2014, Vocaholics is a gender-inclusive, competitive pop acapella group at the University of Cincinnati (UC). Since then, they have had various members come and go due to graduation, but their value for a family-oriented atmosphere continues to permeate throughout each year of competing. 
Ruby Cimmarusti, a fourth-year marketing and business analytics student and the president of the Vocaholics, has been a part of the acapella group since her freshman year at UC. 
When she isn't handling her obligations as president, Cimmarusti can be found singing on stage as an alto. Aside from altos, Vocaholics a range of voices from sopranos to tenors and baritones and vocal percussionists, usually known as the beatboxer. 
"[Acapella is] just like Pitch Perfect," said Cimmarusti. "We actually compete in the same competition that they do in the movie. It's called the ICCA." 
Cimmarusti referred to The International Championship of Collegiate Acapella (ICCA), where the Vocaholics compete against other acapella groups in the spring. 
According to Cimmarusti, there are two main goals for Vocaholics. One of their goals includes emphasizing the group's professionalism. Whether they are performing at school or off campus, they focus on representing UC to the best of their ability. Their other goal is for everyone to enjoy doing what they love, surrounded by the people they love. 
Caleb Gringnon, a fourth-year nutrition and dietetics student, is a vocal percussionist and has been a part of Vocaholics since freshman year. 
He still remembers how nervous and anxious he was the day of auditions. "I was just this little kid who didn't put himself out there," he said.
He only knew that he loved show business due to being in show choir in high school. So, he thought that maybe he should give Vocaholics a try. 
"[I] definitely messed up a lot, but I was really excited to be a part of something like that," he said. 
Throughout his time being a part of the Vocaholics, he has many memories and many cherishable moments to choose from. Although Gringnon loves performing, some of his favorite moments aren't on the stage under the bright lights. 
One of his favorite activities with Vocaholics is going on a retreat. It's a small getaway for the group to get to know each other and maybe even rehearse a couple of songs. 
To Gringnon, there's something special about being able to build bonds with new people and continue to grow his current friendships while uniting through the power of music. 
"We're like a family, and every new member who's a part of it comes together," he said. "We all become really close, and it's just a great group and I love it," he said.
Cimmarusti would agree. "[It's] the best decision I've ever made," she said.  
Visit @vocaholicsuc on Instagram for more information.