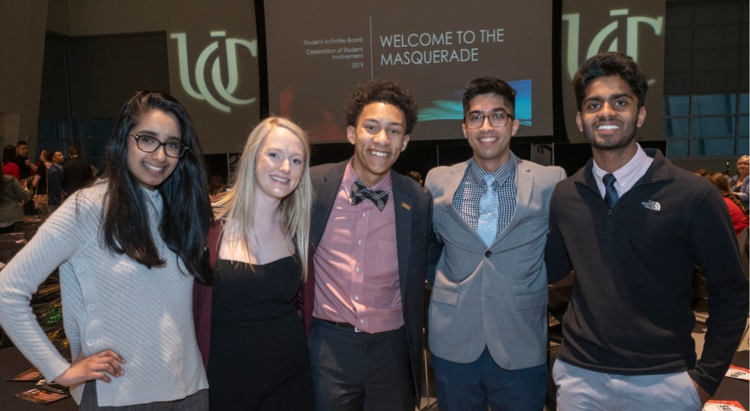 Clubs and organizations at the University of Cincinnati (UC) may function differently this semester, but groups are still managing to maintain their connection and dedication to students. Despite COVID-19 restrictions, UC activities and organizations are continuing to meet in whatever way they can. 
According to UC's Student Activities and Leadership Development office (SALD), student organizations are encouraged to have virtual meetings and only meet in person if it is essential to their organization while meeting campus requirements. Even if meeting in-person, all organizations should have online meeting options for those who do not feel comfortable with in-person contact. 
Organizations that have decided to hold in-person meetings must keep to 10 or fewer people. Participants must wear facial coverings and practice social distancing by keeping a distance of six feet. 
Because of these requirements, many organizations are sticking to online-only meetings for the rest of the semester. Senior Izzy Meltzer, the vice president of events for the College of Engineering and Applied Science Tribunal, says her group has decided to move to online-only meetings for the fall. 
"COVID has required us to move all our meetings online as well as figure out ways to maintain all [of our] events and activities," says Meltzer. "We are a team of about 32 executive members, and we have all been working diligently to figure out how to make this virtual semester the best it can be. It has been impressive to see the creativity soar." 
Senior Emely Casasola, co-president of UC's Society of Hispanic Professional Engineers, says the group will do its best to function as always even if they must now move online to meet. 
"We will be meeting like normal, just virtually, which does make it a different environment," said Casasola. "I'm pretty nervous about recruitment and retention because the social aspect is so new to us with everything being online and not in person." 
Like Casasola, Meltzer is worried their numbers might look different this year due to the virtual switch. 
"We have a very active and involved general student body," said Meltzer. "I do think our numbers for biweekly meetings will be going down. I'm hoping that as the semester continues, that number will increase." 
According to SALD's list of registered student organizations, over 250 different organizations have re-registered for the 2020 Fall semester. These organizations include Greek life, religious clubs, academic clubs and interest-based activities. 
Even though joining campus activities might not be the same as past semesters, the benefits are unchanged. 
"It is so important to continue club participation and involvement in a pandemic," said Meltzer. "In our virtual world where we have very limited person to person interaction, I sense that people will pull away and become increasingly antisocial. It may be uncomfortable or awkward to join a Zoom meeting for fun, but these clubs want new people and new faces." 
Casasola stresses that though times may be different, what people still gain from joining activities that interest them remains the same. 
"People get to give back through these clubs, get to learn new hobbies and new info, and people get to still explore their curiosities, which is awesome," she says. "If you are hesitant to join any UC organization, just go to the first meeting and email their board members to get involved the way you want to." 
For more information on UC clubs and student organizations, check out CampusLink for event listings and contact information.