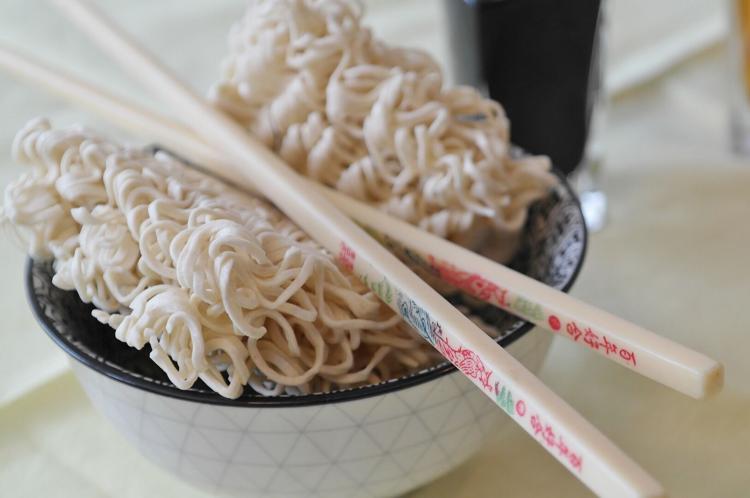 There's nothing better than waking to some carb-y cheesy goodness the morning after having a few too many drinks. Instead of reaching for the takeout menu, try these decadent hangover "cures" the next time you wake up still feeling a little buzzed. 
---
Easy Breakfast Burrito
Ingredients (serves 2)
Two large flour tortillas
One large Yukon gold potato
Four eggs
½ cup shredded cheddar
One avocado
Sriracha
Salt, pepper, garlic powder, and parsley to taste.
One tbsp butter (for cooking)
Instructions
Chop the potato evenly and sauté in butter on medium-low heat for 15 minutes, or until fork tender. Flip potatoes halfway.
Add the eggs and cheese to the skillet and scramble them with the potatoes.
Add the scrambled egg, cheese, and potato mixture to a heated tortilla. Top with avocado and sriracha.
---
Breakfast Top Ramen
Ingredients
One top ramen packet
One egg
Two slices bacon of your choosing
Freshly chopped scallions
Butter
Instructions
Bring two cups of water to a boil. Add seasoning packet, butter and a teaspoon of sriracha to the water and stir. Add the noodles and cook until softened.
Pour noodles in a separate bowl and top with a soft-boiled egg, bacon and fresh scallions.
---
Patty Melt (serves 2)
Ingredients
½ pound ground beef (This can be replaced with "impossible" or "beyond" vegetarian beef)
1 tsp salt
½ tsp garlic powder
½ tsp onion powder
Four slices sourdough or rye bread
Four slices American cheese
One large onion
Butter and vegetable oil for cooking
Instructions
Julienne one large onion and sauté in butter on low heat. Butter will burn, so frequently add water to the pan until onions are dark brown and caramelized.
Combine salt, garlic powder, and onion powder with ground beef and form two thin patties. Heat a skillet with vegetable oil and cook patties on medium-high for about two minutes each side.
Assemble your patty melt in this order: bread, cheese slice, beef patty, cheese slice, caramelized onions, bread. 
Heat butter in a skillet and toast both sides of your patty melt until the cheese is melted and the bread is toasted.