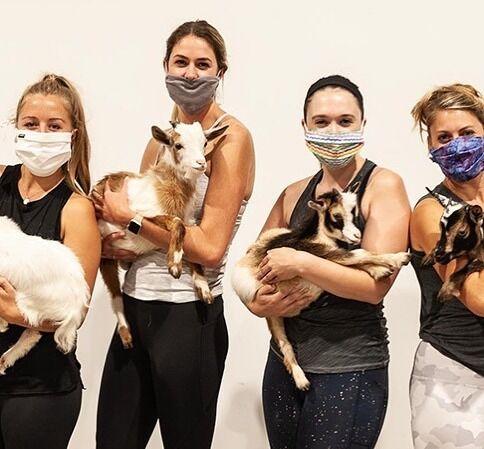 Don't let the final days of this summer blaze keep you indoors this weekend. Take a step out of the AC and stretch your legs, reach for the sun and take advantage of the outdoor activities that the last days of summer have to offer. 
---
Saturday, Sept. 12 
Goat Yoga
If you thought the twisting and stretching of yoga class was taxing enough already, consider how you'll manage with a goat running haphazardly around your mat. The Summit Hotel is making this dream a reality, offering 45-minute classes that lead the way through the basics of yoga and guide you through discovering your spirituality and recalibrating a positive headspace for your day. If that wasn't tempting enough already, consider this: Have you ever tried resting in tabletop with a goat on your back? 
9 a.m., 10 a.m. The Summit Hotel, 5345 Medpace Way. 
---
Sunday, Sept. 13 
Second Sunday OTR
In support of the eccentric array of businesses that line the streets of Over-the-Rhine, Second Sunday is hosting a market complete with pop-up shops, live music and delicious food. Take a walk and browse the locally-owned boutiques from block to block, shopping and giving back to the stores that contribute so much to the community. 
12-5 p.m. 12th & Main, Over-the-Rhine. 
---
Highlight | Krohn Conservatory
Outside of the geometric lines of Cincinnati's cityscape and the towering office buildings surrounded by bustling streets sits the lush paradise of greenery that is Krohn Conservatory. The facility has become a popular spot for people, acting as an escape from a fast-paced world and allowing visitors to understand nature as they never have before: as an art form and a lifeform.
The conservatory is home to over 3,500 different species of plants from countries around the world, offering incredible variety in shape and color that comes together to create spectacular displays. The popularity of its rare collection of orchids and its rainforest waterfall draws crowds of people every week that seek out the otherworldly, borderline-euphoric aesthetic that such a place provides.  
Beyond the everyday beauty within the conservatory's walls, they also host five floral shows a year. Ranging from seasonal events to holiday displays, their shows are well-loved, but none more so than the Butterfly Show, when thousands of live butterflies are released into the showroom and garden. Their vibrant colors light up the room no matter where you might look.  
From their gardens to their annual exhibitions, Krohn Conservatory has always offered something to appeal to their guests, earning it the title of a nationally recognized venue. Join your friends, invite your family or explore on your own to enjoy the displays, gardens and plethora of plants that you won't find anywhere else in the city.