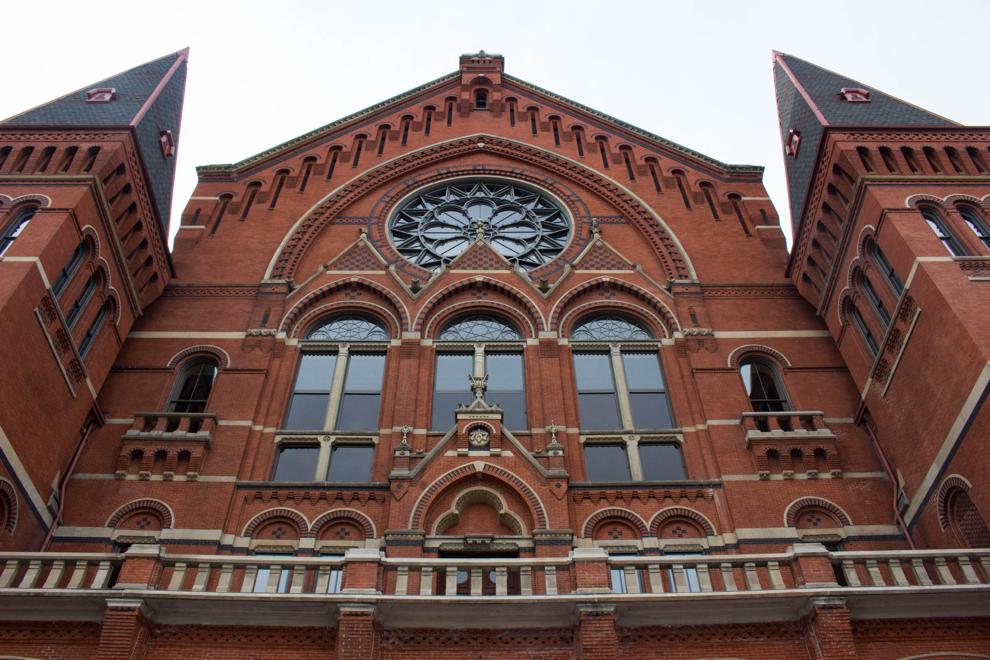 It's the week of Halloween, and Cincinnati has no lack of things to do to get you out of the house and out in the city. From holiday celebrations to live music to delicious, limited-time delicacies and more, there's plenty to do throughout this week.
---
Performances
Oct. 31: Live from Music Hall: Autumn Celebration
John Morris Russell conducts a special Halloween and autumn-themed concert including movie music from "Psycho," "Us" and a "Harry Potter" Suite.
Free, 8 p.m. Music Hall Digital Concert. Tickets here. 
---
Food
Oct. 31: Halloweentown Brunch
Keystone will be serving three specialty cocktails: Fang of a Vampire, Sweat of a Ghost and Hair of a Werewolf. A featured Kalabar's Revenge mac and cheese is available for one day only.
10 a.m. – 2 p.m. Keystone Bar & Grill, 249 Calhoun St. Information here. 
Nov. 1: Fire Lab Tapas Night
A fantastic nine course fire cooked tapas party at Mon n' 'em's beautiful patio. Fire Lab and Tony Ferrari will be cooking on the new wood fired kitchen.
$55, 3 – 9 p.m. Mom n''em's Coffee & Wine, 3128 Colerain Ave. Tickets here. 
---
Art
Oct. 30: Final Friday
Every month, artists and art galleries in the historic Over-the-Rhine district of Cincinnati open their doors for a special showing on the last Friday.
Free, 5 p.m. – 12 a.m. Over-the-Rhine district. Information here. 
---
School Events
Oct. 26: Total Body Tone Outdoor Fitness Class
This is a 45-minute limited body workout and will use body weights. No equipment needed.
Free, 3 – 3:45 p.m. Nippert Stadium. RSVP here.
Oct. 26: Virtual Game Night
Join to unwind and meet new people every Tuesday night for a virtual game night. Each week will have new games so make sure to come hangout and have fun.
Free, 8 – 9 p.m. Virtual. RSVP here. 
Oct. 28: Restorative Yoga Class
Participants will be introduced to restorative yoga as an ideal practice for self-care and managing stress, including race-based stress injury.
Free, 6 – 7:30 p.m. AACRC, 60 W Charlton St. RSVP here.
Oct. 29: Know Your Boo!
Couples or friends will be put to the test to see who really knows each other the best. Prizes will be awarded to winners. You will get extra points for coming in costumes.
Free, 7 – 8 p.m. Virtual. RSVP here.
Oct. 30: Netflix & Thrill: A Halloween Movie Night
Come watch "The Addams Family." You will need a Netflix account, Netflix Party and a computer to join.
Free, 9 – 10:45 p.m. Virtual. RSVP here. 
---
Bonus
Oct. 30: Halloween Maskerade at Palm Court
The spirit world has been contacted to summon resident ghost, The Lady in the Green Dress, for a special appearance. Reserve a table for you and your friend and join a fun night of music, specialty cocktails, sweets and treats, costumes and more.
$20, 7 – 11 p.m. Hilton Netherland Plaza, 35 W. 5th St. Information here. 
Oct. 31: Pearl's Halloween Party
Come out on Halloween night for Pearl's Boos & Brews party. They'll be giving out prizes for the best Halloween costumes you come rocking.
$15, 6 – 11 p.m. 3520 Eastern Ave. Tickets here.
Oct. 31: Halloween Ball and Costume Competition
Join the gang at Bircus Brewing co. in celebrating a socially-distanced Halloween Ball and costume competition. 4Reel will be providing the music and Circus Mojo will be performing live circus throughout the night.
$10 – 15, 8 – 11 p.m. Ludlow Theatre, 322 Elm St. Tickets here. 
Oct. 31: Howl-O-Ween Dog Costume Contest
It's Findlay Market's first ever costume contest for dogs. Each entry will receive a complementary treat from Pet Wants and the grand prize will receive free Pet Wants dog food for a whole year.
$5, 4 – 5 p.m. Findlay Market, 1801 Race St. Information here. 
Nov. 1: Crystals, Plants & Healing, Oh My!
Work with crystals, oils, herbs and other self-care items, as well as luscious plants and pots for care.
Free, 12 – 5 p.m. Simply Magic, 10921 Reed Hartman Hwy Suite 104 I. Information here.