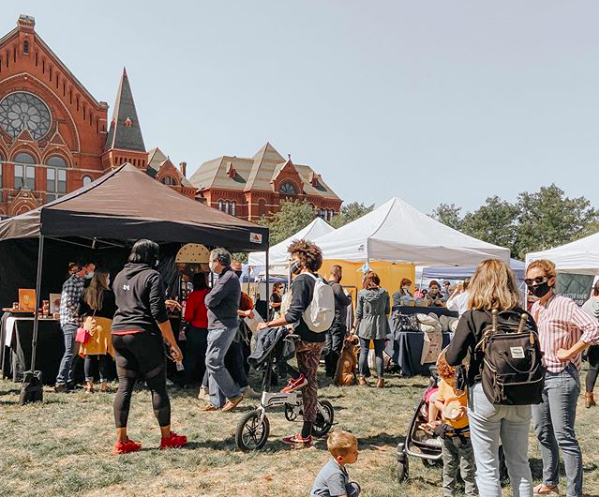 Like always, Cincinnati has maintained a hearty schedule of activities this weekend for students and the like to enjoy. Get a head start on some holiday shopping or indulge your cravings and treat yourself to some delicious food, a scenic art walk or a small gift to yourself just for getting through the week. After all, you deserve it.
---
Saturday, Oct. 17
City Flea
Once a month, Washington Park holds the City Flea. This urban flea market encourages small businesses' growth and promotion and a sense of unity within the Cincinnati community. The Flea has become a home to vendors of all sorts, "from vintage dealers to artisan pizza makers to plant studios." Its variety in product has made it a staple for local shoppers to browse during the weekends and has allowed small-business owners to gain traction and their up-and-coming shops to flourish. 
10 a.m. – 4 p.m. Washington Park, 1230 Elm St. 
---
Sunday, Oct. 18
Fall Food Fest
From freshly baked pies to hot and spicy beverages to every pumpkin flavored pastry you can eat, the Fall Fest at Findlay Market is here to provide the fall delicacies you love oh-so-much this season. Take a stroll through from shop to shop, checking out the limited-time goodies each business has to offer, amid live music and a flock of other market-goers looking to leave with their arms full of sweet and savory goodies. Make sure to purchase tickets beforehand so you don't miss out on the fall festivities at Findlay this weekend. 
10 a.m. – 4 p.m. Findlay Market, 1801 Race St. 
---
Highlight | Cincinnati Art Museum
Whether it be a rainy day to be spent inside, a sweet date for an artistically-minded couple, or simply a calming activity to pass the time, a day spent at the Cincinnati Art Museum is one that never disappoints. Most have made their way to the museum from every reach of the city one time after another to marvel at the "more than 67,000 works spanning 6,000 years," and limited-time exhibitions of different artists from across the globe. The best part is that general admission is entirely free to the public every day of the week. 
The museum features works created over an expansive time and from every reach of the Earth, possessing galleries hosting art from Africa, East Asia, 14th-20th century Europe, South Asia and the Near East, among an incredible variety of works from America as well. The flow from one gallery to the next is smooth, and each room offers something to learn about the kind of art created there. Even history buffs can find something to enjoy within the museum's walls, such as the previously-held perfectly-preserved sarcophagus, with a mummy still intact inside. 
Tickets can be reserved here and must be to accommodate their new guidelines under corona. Tickets to special exhibitions can be purchased as well. You can also check out other special events and programs that the museum hosts here.