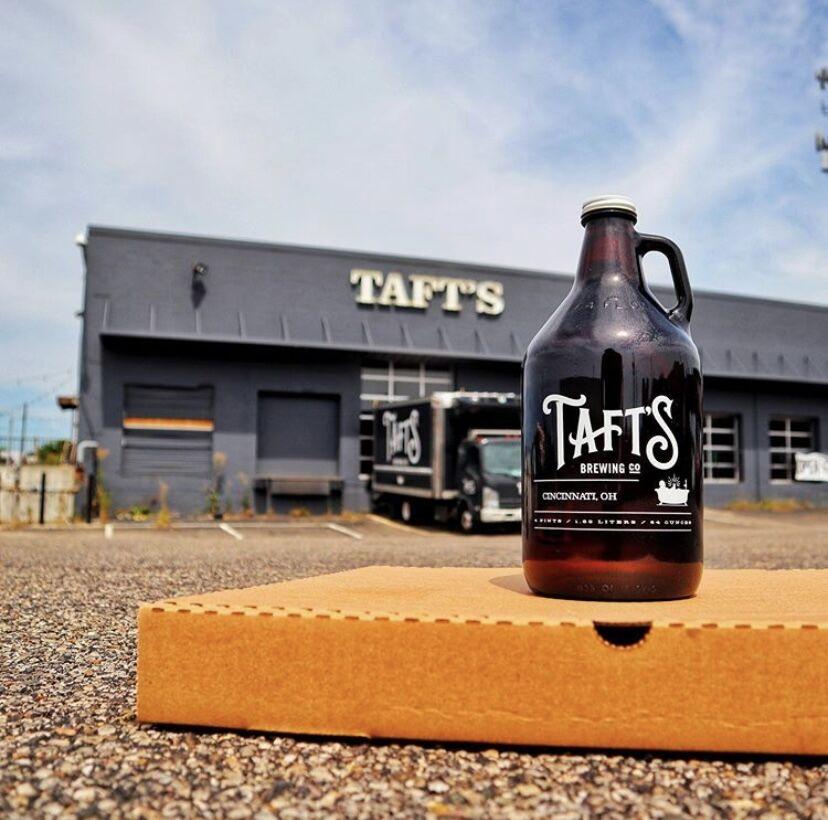 It's St. Patrick's Day week, which means it's time to gear up in your best green garments and get out in the warm spring weather for parties, feasts and more.  
---
Food & Drink 
Mar. 15 – 16: Cry Babies BBQ Pop-Up
We're teaming up with our local friends at Cry Babies BBQ for a two-night only pop-up event. Your ticket gets you free welcome beer and a guaranteed spot in Nellie's Taproom to enjoy some delectable dishes from Cry Babies.
$6, 5:45 – 9:15 p.m. Taft's Ale House, 1429 Race St. Tickets here.
Mar. 21: Yoga & Brunch
Nomaste? More like NOMaste. Come work your mind, body and palate. We're hosting a yoga class in the Brewpourium with a delicious brunch to follow – all you need is a mat. You'll receive a one-hour yoga class, a small breakfast pizza and a welcome beer.
$30, 11:30 a.m. – 2:30 p.m. Taft's Brewpourium, 4831 Spring Grove Ave. Tickets here.
---
Art
Mar. 20: Spring Equinox Fashion Show
Join us as we kick off spring with a day full of fun fashion and culture. We are celebrating the creatives in our community and we want to see you there. We have more than 10 designers, 40 models, a live DJ, live host, live performances and a Cash Bar.
$30 – $50, 5 – 8 p.m. SWITCH, 312 W 4th St. #2. Tickets here.
---
School Events
Mar. 15 – 21: Staycation Scavenger Hunt
The three students with the most points at the end of the week will win prizes and shoutouts on Instagram. Each prompt for the hunt is worth 10 points. You don't have to complete every prompt, but the more you do, the more points you will earn. 
Free. Information here.
Mar. 15: Art Works Mural Tour
Join the Center for Community Engagement to experience OTR through at an artistic lens. Meet at A&S commons to catch a free shuttle to the Art Works Headquarters and go on a one-mile self-guided tour. Make sure to hit all the spots.
Free, 10 a.m. – 2 p.m. A&S Commons, 2600 Clifton Ave. Information here.
Mar. 18: Succulent Farm
In-person event on Campus Green / Sigma Sigma Commons. Come grab a free succulent or a bouquet. Event ends when all of the succulents and bouquets are gone.
Free, 11 a.m. Campus Green / Sigma Sigma Commons. Information here.
Mar. 18: Gaymers Gathering: Pokemon GO Outing
Join the LGBTQ Center for a Pokemon GO outing across campus (weather depending). Limited space. Free collectible buttons for participants. RSVP, First come, first served. Meet in the Mews Gardens.
Free, 3-4:30 p.m. Mews Gardens, 2600 Clifton Ave. 565 Steger Student Life Center. Information here.
Mar. 18: Staycation Scattergories
Join the Student Wellness Center for a fun, competitive night of "staycation" themed Scattergories. Come alone or with a friend to the Zoom event. More explanation will be provided the night of the event. A few winners will receive prizes.
Free, 7 – 9 p.m. Virtual. Information here. 
---
Bonus
Mar. 17: St. Patricks' Day Celebration
Wear your green and join the fun. Live music, Irish beer and more. Performances by Joey Fulton, Sean Fitzpatric Trio and Dueling Pianos.
Free, noon. Cinci Tin Roof, 160 E. Freedom Way. Information here.
Mar 17: St. Patrick's Day at the Pub
Live music, Irish fare and drink specials. Live music and performances by bagpiper Robert Reid, the Cincinnati Highland Dancers and McGing Irish Dancers. 
Free with in-store purchases, 10 a.m. The Pub at Crestview Hills, 2863 Dixie Hwy. Information here.
Mar. 20– 2 1: Celebrating Women with Aerial Yoga
Join us as we celebrate Women's History Month, starting with two aerial yoga classes. After class, spend time sipping tea, enjoying light bites and engaging in conversation about the women who have impacted our lives for the better.
$20, 4 – 6 p.m. Hello Sunshine Yoga, 6211 Montgomery Rd. Tickets here.