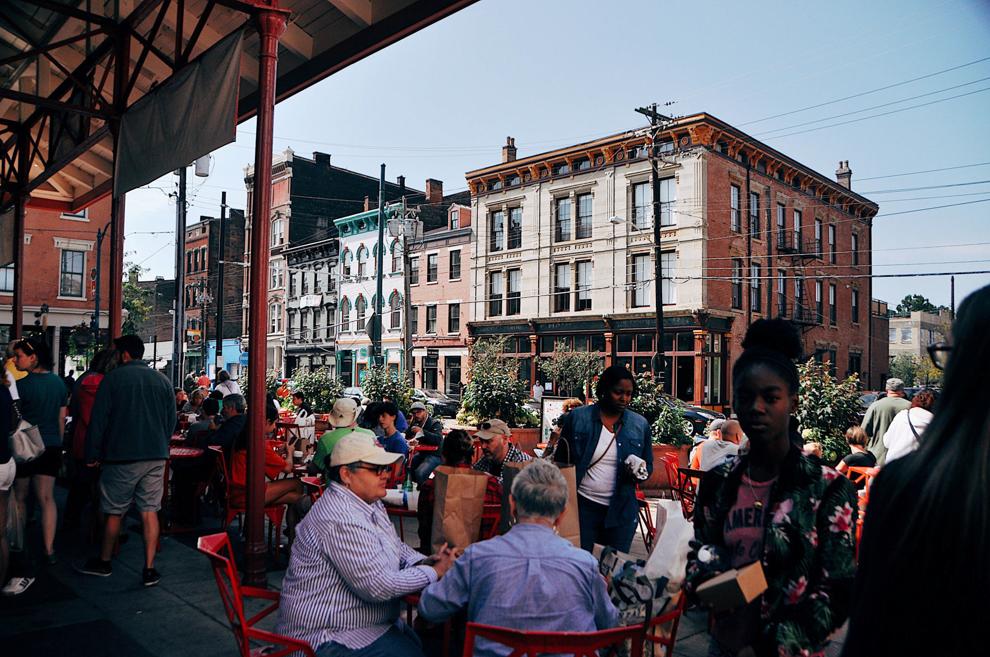 As the semester comes to close, don't forget to take a break from all the stress of classes wrapping up or celebrate the end of exams by getting out to some of these fun events this week.
---
Performances 
April 23: Dixon's Violin w/ Abby Vice
The world's premier visionary violinist, Dixon's life mission is to inspire people, and he has done so across North America. Join us for a rare opportunity to experience Dixon's mesmerizing music, as seen on TED.com, at Electric Forest and Burning Man.
$20, 6:30 p.m. Inwood Park, 2308 Vine St. Tickets here.
---
Food & Drink 
April 25: Findlay Kitchen 5-Year Anniversary Tasting Event
Join us in kicking off our year-long celebration of Findlay Kitchen and our passionate food entrepreneur community, by supporting them the best way we know how – through tasting the fruits of their labor and creativity at this tasting event. 
$15 – 28, 10 a.m. – 4 p.m. Findlay Market, 1801 Race St. Tickets here.
April 25: UDF Sunday Brunch
Taft's is celebrating their collaboration with UDF with a special, one-day only brunch. With your ticket comes your choice of a main brunch entree with a choice of tots or fruit on the side and a UDF Milkshake IPA pint, inspired by UDF breakfast items.
Tickets at door, 11:30 a.m. – 2:30 p.m. Taft's Ale House, 1429 Race St. Information here.
---
Art
April 25: Mojave Market
Mojave Market is an eclectic experience featuring a creatively curated list of some of Cincinnati's most unique vendors, live music, food and drink. Select from two time slots to shop local vendors, try some tasty food and drinks and listen to live music.
$5 – 15, 11 a.m. – 4 p.m. Mojave East, 7202 Main St. Tickets here.
---
School Events 
April 19: Meditation Mondays – Exam Week Special
A powerful guided session with practical tools that can help you relax, cope with anxiety, boost immunity and stay happy. Come join us to get rejuvenated through meditation and improve your concentration before your exams. No prior experience required.
Free, 6 – 6:45 p.m. Virtual. Information here.
April 23: Crafts for the Earth
Join us on Instagram Live to learn how to make a hanging planter. Pick up a free craft pack from the Student Wellness Center (675 Steger Student Life Center), containing paint, a paint brush, rope, seeds and dirt.
Free, 9 – 10 p.m. Virtual. Information here.
---
Bonus
April 21: Workout on the Green
Featuring an energizing HIIT class that will incorporate functional stretch, upper body, lower body, cardio and core movements to sculpt your body. Afterwards, there will be a zumba dance fitness class with the YMCA.
Free, 5:30 – 7:30 p.m. Washington Park, 1230 Elm St. Information here.
April 24: Epheremal Blooms in Burnet
Join the Lloyd Library and Museum and Dr. Rama Kasturi for a spring excursion in Burnet Woods. Dr. Kasturi will lead the group through the park and its trails identifying blooming flower species and trees and explaining the various healthful benefits of nature.
Free, 10 – 11 a.m. Burnet Woods, 3251 Brookline Ave. Information here.