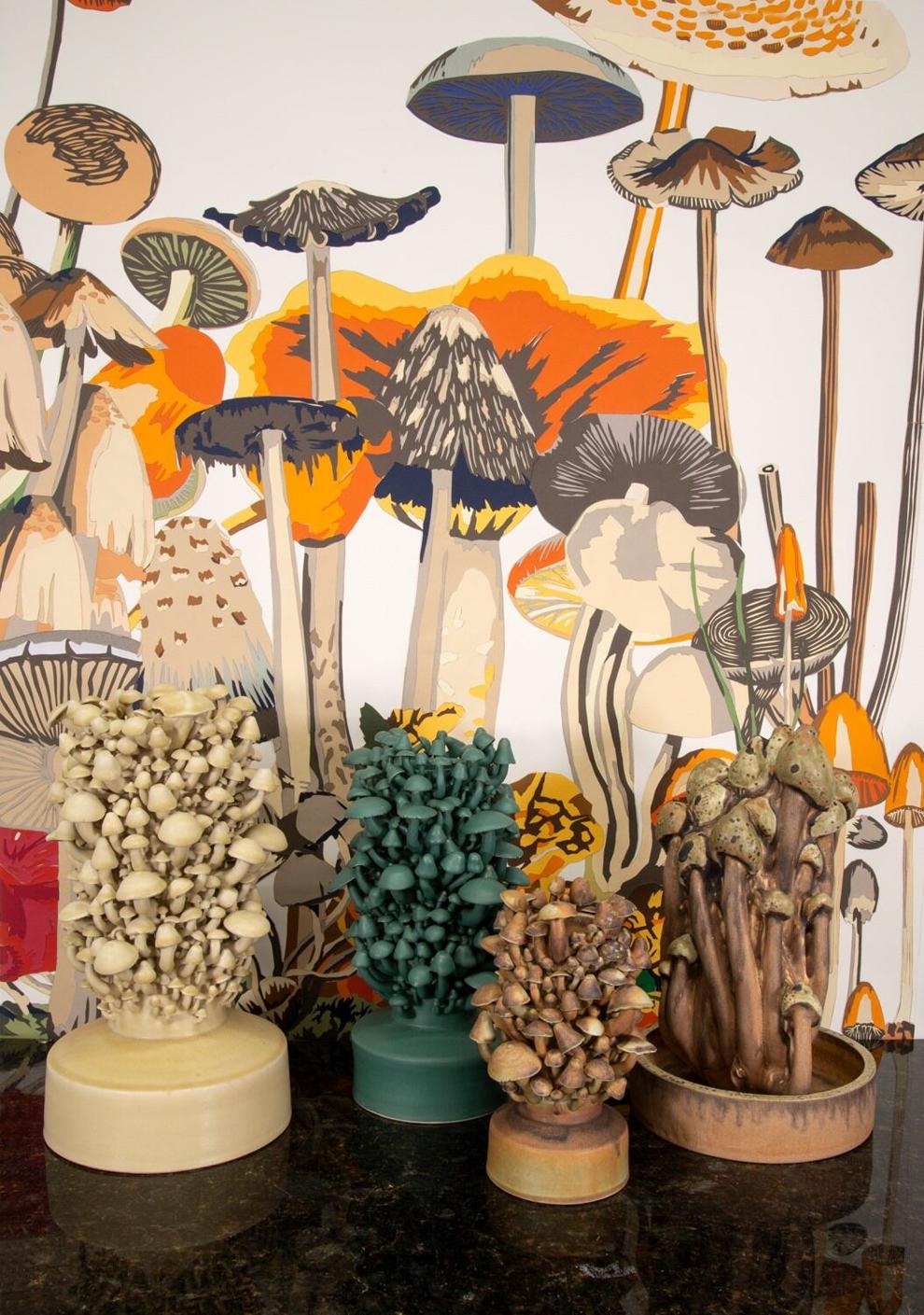 Katie Parker and Guy Michael Davis, a married couple who once worked as faculty at The University of Cincinnati's (UC) College of Design, Art, Architecture and Planning (DAAP), established a name for themselves as a studio collaboration in 2008: Future Retrieval. They have spent the past year creating works of art for their newest exhibition, "Close Parallel," which opened Feb. 26 at the Cincinnati Art Museum and will remain on view until Aug. 29. 
"Close Parallel" features historical objects from the eighteenth-to twentieth-centuries that the artists have hand-selected from the museum's archives alongside their own contemporary work. 
The dynamic between the pieces of the old and the new is uncanny yet eloquent in theme. A horde of porcelain mushrooms sits atop a gilded console table from 1740. A rhesus monkey peers into a mirror crafted from 1927 with a halo floating atop its head. The ways in which the historical pieces are displayed with the new creations makes the viewer perceive them in a completely new light than if they were featured with other objects from their century. Their age is what makes them so compelling when displayed in this exhibit because Future Retrieval is able to present them with an entirely new, modern story. 
"They liked this idea of making art that they would want to retrieve in the future, and kind of just playing with time and place," said Amy Dehan, the curator of decorative arts and design at the Cincinnati Art Museum.
For Future Retrieval, utilizing the resources of museums and their archives is fundamental to their creative process. The works of Parker and Davis frequently appropriate the characteristics and aesthetics of historical objects and pieces of art. The two "[combine] traditional processes and new technologies with media like cut paper backgrounds, ceramics, weaving, and lighting" to create a gallery that invites viewers to reconsider how they look at historical art.
Dehan says that the couple seemed to find an affinity for the subject of several historical objects when searching through the archives. They sought a message within different pieces that could be replicated in their own works.
She says that it was ironic that one of the pieces that they selected, a gold metal tripod from the nineteenth-century, was actually a copy of an eighteenth-century copy of a tripod found in the Temple of Isis in Pompeii when Mount Vesuvius erupted in 79 AD. The story behind the tripod was unbeknownst to the artists, yet fit in accurately with their collection theme.
The two say that while they do replicate some characteristics of historical objects in their pieces or imitate the processes, they still don't feel that they need to make an exact copy because it already exists. Instead, they intend to have their new works of art encourage one to look at the original in a new light.
"That's that parallel," said Davis in a conversation with the artist on the museum's website. "We have the original here and we have this quasi-replica that's barely a resemblance of the previous one but is also the same."
Davis and Parker are able to succeed in their work by building off of their years of experiences in exploring history and art. They did a residency at the Lloyd Library in 2019 and spent about time studying floral and botanical illustrations. You can see influences from that experience throughout "Close Parallel," illustrated by Parker's cut paper flower illustrations that act as a backdrop for pieces such as "Image of Order," carved out of aluminum in detailed floral silhouettes, and painted with glaze on porcelain plates.
"It's like this building of experiences and this collecting of experiences that is also really integral to what they do," said Dehan.
"Close Parallel" will be on display from Feb. 26 to Aug. 29 in the Vance Waddell and Mayerson Galleries (Galleries 124 and 125). There is also an ancillary exhibition titled "For Now or Future Retrieval" open in Gallery 150. Admission is free but requires advance registration.