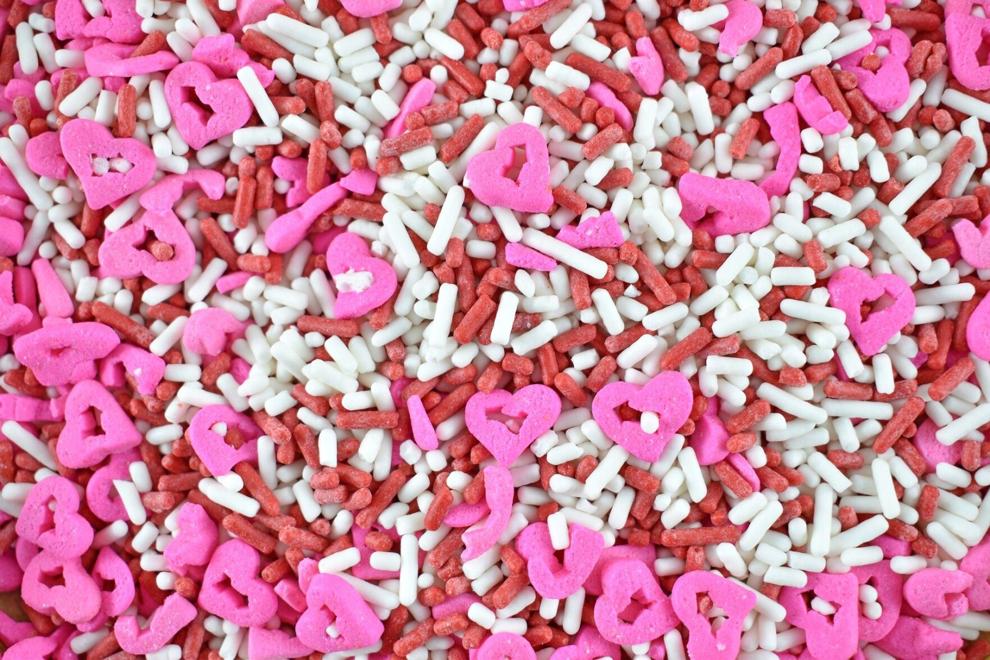 The COVID-19 pandemic may have changed a lot of Valentine's plans for this year, but even in times of crisis there is one thing we can always count on: delicious desserts. Whether you're baking up some treats for a romantic date with your significant other, a night in with your best friends or just to enjoy by yourself, these Valentine's treats are sure to show some love. 
---
Chocolate-covered strawberries
Chocolate covered strawberries are classic for a reason. Probably the dessert most associated with Valentine's Day, these fruit treats are easy to make.
Ingredients:
6 ounces semisweet chocolate chips
1 pound of strawberries (about 20 berries)
3 ounces white chocolate chips
Instructions:
Melt semisweet chocolate chips. You can do this on the stove by placing a heat-safe bowl over a saucepan of boiling water or you can simply put it in the microwave for one-minute intervals, stirring between until fully melted. 
Wash and dry strawberries and dip them into the chocolate by holding the stem. 
If you're trying to be extra fancy, melt white chocolate chips and use a fork to drizzle over the strawberries. 
Set aside for 30 minutes to let the chocolate harden then they are good to eat. 
---
Conversation heart chocolate bark
Want to upgrade your conversation hearts into something even better? Mix them into chocolate bark. 
Ingredients:
8 ounces dark chocolate melts
4 ounces pink chocolate melts
Box of conversation hearts
Other candies (optional)
Instructions:
Melt dark chocolate melts and pink chocolate melts separately.
Spread the dark chocolate onto parchment paper, then drizzle the pink chocolate over it.
Use a toothpick to gently swirl the chocolates together.
Drop conversation hearts over while chocolate is still wet.
Optional: drop other sweet candies such as M&Ms or sprinkles onto the wet chocolate.
Wait for it to harden before breaking into pieces.
---
Red velvet mug cake
If you're looking for a delicious dessert you don't have to share with anyone, try a red velvet mug cake. 
Ingredients:
6 tablespoons flour
2 tablespoons granulated sugar
1 tablespoon unsweetened cocoa powder
¼ teaspoon baking powder
1/8 teaspoon salt
1/3 cup whole milk
2 tablespoons melted butter
2 teaspoons vanilla extract
1 teaspoons red food coloring
3 tablespoons confectioners' sugar
1 tablespoon cream cheese
Instructions:
Take your favorite mug and mix together flour, granulated sugar, cocoa powder, baking powder, salt, milk, melted butter, extract and red food coloring. 
In a separate bowl mix together confectioners' sugar and cream cheese. 
Drop cream cheese mixture into the middle of your mug, then microwave for around 90 seconds. 
If you want, decorate your creation with strawberries, whipped cream or vanilla ice cream. 
---
Sweetheart churros
Nothing says love like heart-shaped, deep-fried desserts, which is why these churros are the perfect Valentine's gift. 
Ingredients:
1 cup water
1½ tablespoons sugar
½ teaspoon salt
2 tablespoons vegetable oil
1 cup flour
Sugar coating:
½ sugar
1 teaspoon cinnamon
Instructions:
Combine water, 1½ tablespoons of sugar, salt and vegetable oil in a pot. 
Bring the mixture to a boil then remove from heat and add flour. 
While you're waiting for it to cool down, create the coating out of ½ sugar and cinnamon. 
Pipe out six inches of dough and gently mold them into hearts. 
Fill a saucepan with frying oil, vegetable oil or peanut oil and when it is hot enough, carefully place your hearts in. 
After around two to four minutes, they should turn golden brown. Scoop them up and sprinkle your cinnamon sugar mixture onto them for a perfect and cute treat. 
---
Strawberry dipping sauce
For an extra sweet addition, make your own strawberry dipping sauce for your churros. 
Ingredients:
2 pints strawberries
3 tablespoons brown sugar
½ teaspoon vanilla extract
Instructions:
Wash, dry and hull strawberries. You can easily hull your fruit by using a knife or even a straw. 
Put the strawberries into a food processor until they are almost pureed then transfer into a saucepan for about 20 minutes on low heat. 
Add brown sugar and vanilla extract. The mixture should be slightly thick when it is done.