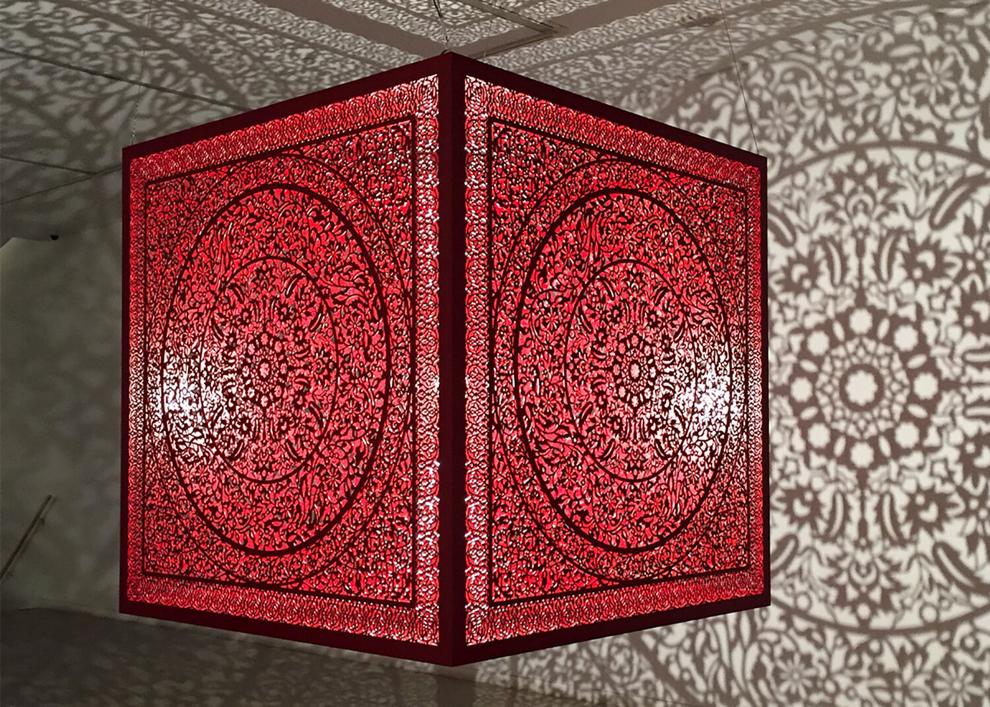 Anila Quayyum Agha's "All the Flowers are for Me (Red)" is returning to the Cincinnati Art Museum this winter. The sculpture first came to the museum in 2017 and was a very popular attraction. 
"Light emanates from the center of a five-foot laser-cut cube, enveloping the gallery in intricate shadows that ripple and change as you walk through the space," said a statement from Cincinnati Art Museum. 
A stunning work of art, the shadows cast on the walls and ceiling create a mosaic inspired by Islamic architecture that is almost interactive as you walk through it. The meaning the sculpture holds is just as beautiful and intriguing. 
"This piece was originally created in 2016, in part as a manifestation of [Agha's] personal grief after the death of her mother," said Dr. Ainsley M. Cameron, Curator of South Asian Art, Islamic Art & Antiquities at the Cincinnati Art Museum. "Now, only four years later, we receive this sculpture in a world that is experiencing a collective grief, as we continue to navigate a global pandemic and radical social change."
Agha's artist statement about her sculpture, Walking with My Mother's Shadow, is genuinely moving. "My current work reflects on the complexities of love, loss and gains I have experienced over the past year," she wrote. "It also attests to losses and gains experienced and endured by people across the world for many reasons, such as war, oppression and censorship."
The floral patterns seen in her work honor both her mother and the lives of others. "These patterns pay homage to the organic to which death is inevitably linked but from which new life also emerges," Agha wrote. 
Agha was born in Lahore, Pakistan, and incorporates her culture into her work in inspiring ways. In her artist's statement found on her website, she said, "Having lived on the boundaries of different faiths such as Islam and Christianity, and in cultures like Pakistan and the USA, my art is deeply influenced by the simultaneous sense of alienation and transience that informs the migrant experience."
Agha uses her personal experience as an immigrant in the United States in various mediums to capture "tensions and contradictions" of the human experience. 
According to the Cincinnati Art Museum, Agha was awarded the Schiele Prize by the museum in 2017. Cameron Kitchin, the Cincinnati Art Museum Louis, and Louise Dieterle Nippert Director awarded her the prize "for her dedication to creating culturally-relevant, conversation-starting art."
"We hope that the exhibition will provide our visitors with a moment of respite and reflection," said Dr. Cameron. The meaning that Agha's work carries, one of beauty, struggle, loss, love and gain, is truly inspiring and is one that visitors can appreciate and relate to. 
Her installation will be at the Cincinnati Art Museum from Dec. 5 to Feb. 7, 2021. The exhibition is free to the public, and the museum recommends registering in advance.