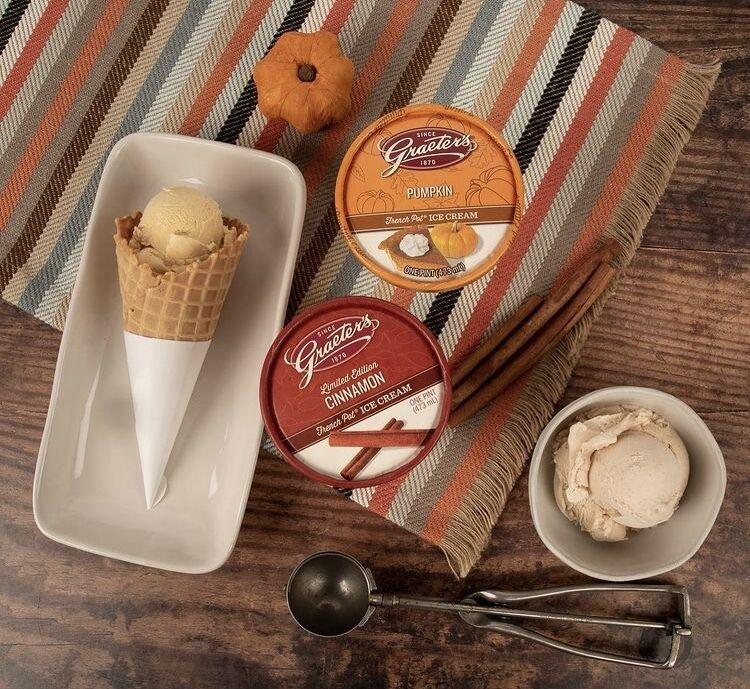 From pumpkin flavored treats to spiced beverages and more, there's no lack of fall treats available in and around campus for University of Cincinnati students to enjoy. Check out these festive favorites in the coming weeks before they disappear at the end of the season.
Graeter's pumpkin ice cream
Take a walk from campus down to Ludlow Avenue to try out a scoop of Graeter's pumpkin ice cream. This sweet pumpkin flavor mixes with the spices of cinnamon, nutmeg and ginger to make for a delicious fall treat. If you feel like going all out, ask for a scoop of cinnamon – another season favorite – alongside the pumpkin for the best mix of fall flavors, both available until the end of November. If you want to explore their other seasonal fare, try out the butter schnecken and pumpkin rolls, a fan favorite baked good available on Fridays.
Graeter's. 332 Ludlow Ave.
Taste of Belgium's pumpkin waffles
Taste of Belgium's four-pack of pumpkin waffles is a signature fall delicacy that you don't want to miss, especially if you are tired of the dining hall's breakfast foods. These waffles are the perfect "breakfast for the next day" kind of meal, providing the opportunity to layer with whipped cream, maple syrup, cinnamon or apples. Many other options are available at Taste of Belgium as well, such as their seasonal cheesecakes and pumpkin spice lattes, which can make great rewards after acing a test. 
Taste of Belgium, 2845 Short Vine St.
Deeper Roots Coffee's seasonal goodies
Deeper Roots Coffee serves up a few seasonal specialty drinks like their Autumn Latte (homemade syrup, ginger and mulling spices), Apple Pie (iced coffee or nitro coffee with apple cider reduction) and pastries from a local home baker. Pumpkin date muffins or apple cheese danishes are a few pastries that took over the menu this fall, all available until Thanksgiving before they switch over to winter flavors. Their year-round specialty drinks even complement seasonal fare like Honey Bear (a latte infused with local honey and cinnamon), Holy Moly (a mocha with cinnamon and a bit of cayenne to give it a bit of spice) and Maple Leaf (cocktail sized espresso with maple syrup and when they steam the milk, they add orange peel zest). 
Deeper Roots Coffee, 1814 Race St.
The Macaron Bar's pumpkin spiced macarons
Find delicate, lightly crunchy macarons from the Macaron Bar in Cincinnati's Over-the-Rhine neighborhood filled with smooth and creamy autumn flavors. Pumpkin spiced, caramel apple, dark chocolate espresso and apple pie are the season's bestsellers, and holiday flavors such as cinnamon and gingerbread will be joining the menu mid-November.
The Macaron Bar, 1206 Main St.
Café Mochiko's pastries
Café Mochiko, an Asian American restaurant serving coffee, pastries and Japanese café fare, has some special festive treats for you. Located in East Walnut Hills, they are well known for their mix of daytime and evening comfort foods. Amongst these, the Kabocha Cheesecake Danish and the seasonal Mooncakes made a popular debut on Instagram as customers loved the seasonal twist on Asian American cuisines. The Danish was especially popular this year for its hints of pumpkin.
Café Mochiko, 1524 Madison Rd.
Findlay Market's Dean's Mediterranean Imports
For a flavorful and healthful seasonal bite, head over to Findlay Market's Dean's Mediterranean Imports for their pumpkin hummus. This spread is perfect to serve with pita, carrots, or bell peppers on the side to make a perfect fall snack – the pumpkin adds a rich flavor to it. You can store it covered in a refrigerator for a couple of days, which makes it a great snack to have between study breaks. 
Dean's Mediterreanean Imports, 108 W Elder St.
Bouchards' pasta 
Run, don't walk, to Bouchards' pasta in Findlay Market, because they have absolutely everything fall festive. You could seriously cook an entire "Friendsgiving" from purchasing items from this one kiosk. Everything they sell is made fresh that day. The pumpkin sage pasta or pumpkin ravioli is an absolute must with any of their homemade sauces. One of the fall-time pasta sauce options they hold is pumpkin alfredo. Other items they have are mini pumpkin and pecan pies, pumpkin pecan chocolate chip cookies, bourbon chocolate chip cookies, pumpkin muffins and pumpkin chess bars. All these items will be available until after the holiday season. An insider tip – they stock up on Saturdays, so make sure to get there early before their most popular items sell out.
Bouchards, Findlay Market, 1801 Race St.