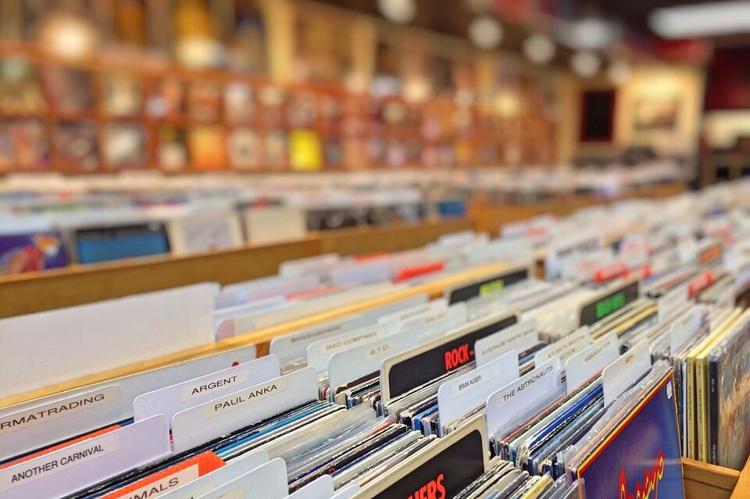 As the weather changes and the crisp cold of autumn takes the place of heavy summer humidity, you're likely making the transition from your preppy, sunny-day beats to the more gentle and relaxed melodies of the fall. We've gathered four incredible albums that should make an appearance on your playlist this season. 
---
"A Year in Your Garden" (2013) by Column 
"A Year in Your Garden" is a soft and stunning record, best for romanticizing pretty fall days. This album has so many comforting elements, such as warm melodies, small parts played on the piano and gentle vocals, almost whispering at times. The lyrics are hard to decode and serve the purpose of contributing to the overall soundscape. My favorite part about "A Year in Your Garden," though, is the songs' ability to flow so well into each other while still being individually distinct. This album is unique because you can put it on in the background, but you can also be completely immersed in it when you have the time to sit down and listen. Highlights include "A Year in Your Garden," "Scan" and "Fruit." 
---
"Faith" (1981) by The Cure
The cover art of "Faith" by The Cure is a photo of a church in England, almost entirely obscured by a heavy fog. The album itself makes you feel like you're inside with a handful of your punk friends who broke in to throw a party. "Faith" is one of the more gothic efforts in The Cure's discography while still containing plenty of pop elements. The guitar melodies are my favorite details of this album; they echo and warp through the tracks in eerie progressions. In my mind, synthesizers and cold weather go hand-in-hand, and there is plenty of 80s synth goodness to be found on "Faith." One of the major themes of this album is passing time, a concept that is more transparent while we can physically see weather changes, like colored leaves or the first frost of the season. Lyrics like "trust me through the closing years, perfect moments wait" and "if only we could stay" on the track "Faith" show vocalist Robert Smith making sense of nostalgia. Highlights include "All Cats are Grey," "Faith" and "Charlotte Sometimes." 
---
"Chelsea Girl" (1967) by Nico
Nico recorded "Chelsea Girl" when she was in her twenties, but her voice sounds like it comes from a wise old mystic. This album is undoubtedly full of fall whims, with classic, simplistic instrumentation that includes violins, cellos, flutes and acoustic guitar. In contrast with Nico's bleak voice, the folksy nature of the melodies is reminiscent of the transition from fall to winter. Some tracks verge entirely over into what I would call "winter territory." In "It Was A Pleasure Then," there are periods of dissonance where the instrumentation meets the same level of experimentation as Nico's voice, resulting in a whirlwind of noise that can be challenging, yet rewarding, to listen to. Overall, the best part of this album is Nico's tremendous vocals that manage to be comforting in their melancholy. Highlights include "The Fairest of the Seasons," "These Days" and "Wrap Your Troubles in Dreams."  
---
"The Raincoats" (1979) by The Raincoats
The Raincoats' self-titled is a patchwork quilt-like album. It is a post-punk release with an entirely homemade feel to it. The group utilized a wide array of instruments, and it's sometimes hard to pinpoint what exactly is being played. One consistency throughout the album, however, is the violin, which especially reminds me of fall. The percussion and rhythms on this album are unexpected and spastic in the best way; tracks like "You're a Million" and "Life on The Line" repeatedly rise and fall in tempo and intensity. Even though you likely won't be attending a Halloween party this year, "The Raincoats" is the perfect album for celebrating the best season by dancing around by yourself in your room. Highlights include "No Looking," "You're a Million" and "No Side to Fall In."