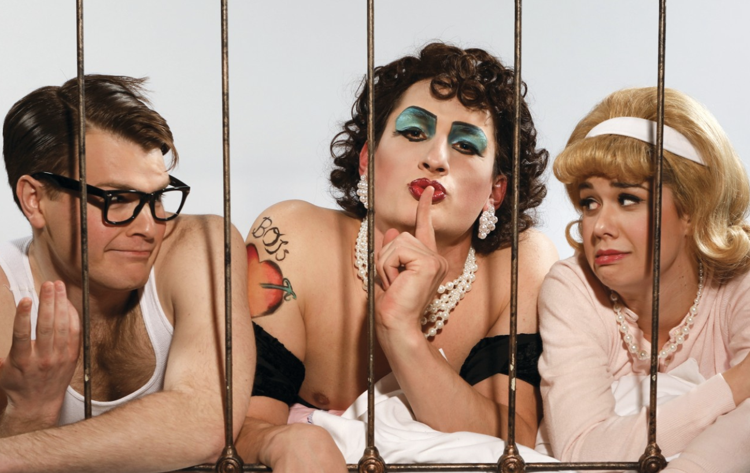 CCM's production of "The Rocky Horror Show" is the perfect way to mark the Halloween season.
True to the tradition of "Rocky Horror," this production was intimate with the audience, taking them on a wild ride through humor, raunchiness and delightful strangeness. The technical skills of the cast and crew give the audience a top-quality show that makes you forget everything else for a few hours.
From a production standpoint, the star of the show was the excellence in costuming and makeup. In a show where this aspect is absolutely essential, the show's edgy nature was not lost on the audience. It is true that the campy, "out there" costumes of characters such as Eddie and Dr. Frank-N-Furter were well done, but especially notable were the dark, revealing looks that the ensemble sported. The designs did not shy away from goth and androgynous themes that are so true to the heart of the show. No cast member was left behind in this case.
Ethan Zeph's performance as Dr. Frank-N-Furter and was particularly enticing. From the moment Zeph stepped out on stage as one of the most iconic characters in pop culture, he never once made the audience question the authenticity of his Dr. Frank-N-Furter. With confidence and charisma, you couldn't help but cheer for this sweet transvestite as he made his entrance and was able to keep up that endearing character. As for Janet Weiss and Brad Majors, Mikayla Renfrow and Jake Waford gave the audience a perfect show and complemented each other's performances quite well. Complete with spellbinding voices, Renfrow and Waford were more than convincing as naive newlyweds on a sexual journey. Their delivery of the hilarity that happens when you put an all-American couple in a countercultural heaven is perfect. 
The excellent performances and visuals of the show were certainly enhanced by the runway-style stage and the set design. The cast was able to get up close and personal with audience members as the debauchery unfolded. Though not a large performance space nor a particularly intricate design, every inch that they had was used intentionally. The space did not stifle the larger-than-life nature of the show and let the focus remain on performances of the cast.
Seeing this iconic show done so well was a true delight. If you're looking to be transported to a world where traditional notions of gender and sexuality are turned up on its head — or if you're just in the mood for a spooky show — make sure to catch "Rocky Horror" at CCM through Nov. 10. Be prepared to laugh, cheer, and do the Time-Warp.