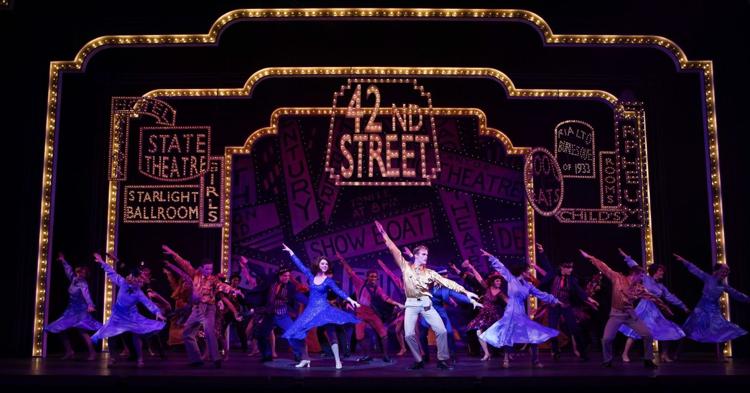 The University of Cincinnati College-Conservatory of Music's production of "42nd Street" is a comedic, fast-paced show that will knock your socks off. The classic musical shows off what Broadway is about — for better or for worse — through stellar acting, dancing and vocal performances from the cast.
At the start of the show, Peggy Sawyer (Bailee Endebrock) moves from Allentown, Pennsylvania to New York City in 1933 to pursue her dream of becoming a chorus girl on Broadway. She lands a job as a member of the ensemble in "Pretty Lady," a new Broadway show. The show's leading lady, Broadway star Dorothy Brock (Jamie Goodson), ends up with a broken ankle before the show opens, leaving the future of the show in limbo.
Diane Lala and Katie Johannigman, co-choreographers for the production, found inspiration for their work in the original Broadway production, choreographed by Gower Chapman and Randy Skinner, according to the program. CCM alumnus Lee Roy Reams, who originated the role of Billy Lawlor in the show's original cast, returned to the college to work with musical theatre students in a series of master classes. 
"42nd Street" honors Broadway and New York City through glitzy, elaborate set and costume design that bring certain aspects of the show to life that wouldn't be as impactful otherwise. This is exemplified during "We're in the Money," where costumes were covered with green sparkly sequins, accompanied by large faux coins used as small stages for the cast to tap on throughout the number. 
The vocal and dance talents of the cast made for a charming and inspiring performance. The tap dancing and tap solos in numbers such as "Go into Your Dance", "We're in the Money" and "Forty-Second Street" made the skill level of the choreography look as easy as reciting the alphabet. 
Nick Berninger (Julian Marsh) belted for his life in "Forty-Second Street (Reprise)." Jamie Goodson (Dorothy Brock) had multiple solos in which she was able to show off her range and power of her voice — such as in the act one finale, "Forty-Second Street", "You're Getting to Be a Habit With Me" and "About a Quarter to Nine." Bailee Endebrock (Peggy Sawyer) had the opportunity to highlight her vocal talents in the finale.
While "42nd Street" is a celebration of Broadway and those on and off-stage who make musical theater what it is, it also gives a needed spotlight to those in the ensemble and chorus line. Near the end of the show, Annie helps give inspiration to Peggy, saying she isn't just doing the show for the writers and people involved, but also to show audiences what ensemble and chorus members are capable of.
"You're not just Peggy Sawyer tonight, you're every girl who ever kicked up a heel in the chorus. Get out there in front, kid, and show us what we can do!"
"42nd Street" runs from Oct. 24-27, 2019 at Corbett Auditorium. Tickets are on sale now through the CCM Box Office.