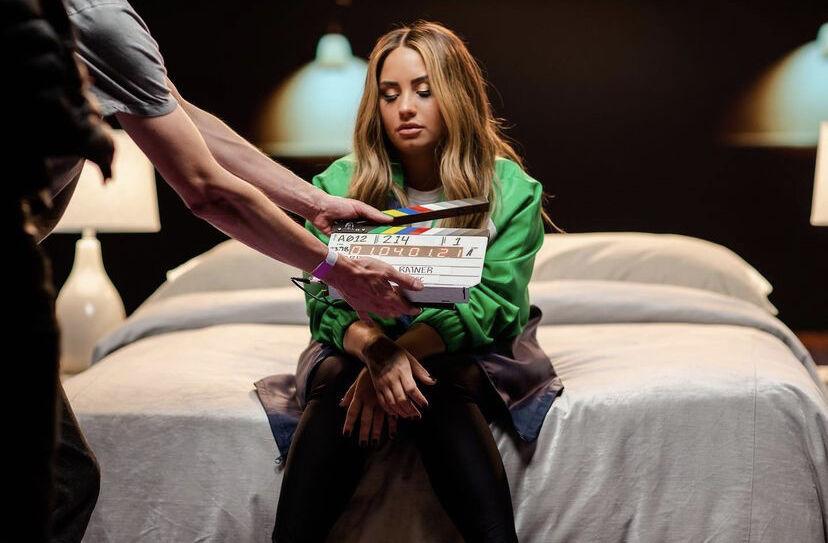 Demi Lovato, who had a near-fatal overdose in 2018, released her much-anticipated album "Dancing With The Devil... The Art of Starting Over," after sharing the darkest moments of her lowest point in a new YouTube docuseries. 
Lovato left nothing up to the imagination in her seventh studio album. The lyrics are incredibly blunt; the music video for "Dancing With The Devil" visually recounts the night she almost lost her life and the documentary fills the rest of the holes in the story. 
Listening to "Dancing With The Devil" – the first part of the album and also a lead single – is equal parts shocking and uncomfortable. The first track, "Anyone," which recounts Lovato's tailspin back into the use of drugs, feels so desolate as the Grammy-nominated singer belts, "Anyone/ Please send anyone/ Lord, is there anyone?/ I need someone." 
"Dancing With The Devil" feels less heavy, with more instrumentation, yet still tactfully takes listeners through the degression that led to her overdose. She starts with "a little red wine" that very soon turns into "a little white line" ending with "a little glass pipe."
"Thought I knew my limit, yeah/ I thought that I could quit it, yeah/ I thought that I could walk away easily," she sings in the bridge. 
Finally, "ICU (Madison's Lullabye)" relives the moment she woke up legally blind in the hospital, not being able to see her little sister, reaching rock bottom. Until this point, she never truly grasped how out of control she was, and neither did her family or friends, her YouTube docuseries revealed. In fact, Lovato did such a good job at hiding her addiction, her assistant assumed she was just tired when she wouldn't answer her bedroom door that morning.
After this brief prologue, she sheds the rigid organization, taking the listener through "The Art of Starting Over." It makes up the bulk of the 19-track record, detailing everything from Lovato regaining her mental health and learning more about herself, particularly her queerness, to her journey to sobriety. 
In "California Sober," she reveals that, though she has quit using hard drugs, she still consumes cannabis and alcohol in moderation. 
"Used to live in fear of always slipping/ But living for perfection isn't living," she sings.
Though she has found success with this form of recovery, her former assistant Jordan Jackson admitted to The Hollywood Reporter that she is scared "to know that [Lovato] isn't sober." But she adds in the song that being "California sober," doesn't "have to mean the growin' part is over."
She also includes three features on this album, including Ariana Grande on the track "Met Him Last Night," which is one of the stronger songs on the album. Lovato's strong, resonant voice couples perfectly with Grande's. 
That being said, Sam Fischer on "What Other People Say" and Noah Cyrus on "Easy" feel unnecessary. The album would have had the same impact without these tracks while cutting down on what, at times, feels like an incredibly long album. With as much recounting as Lovato does, it is hard to keep listeners fully focused for all 57 minutes. 
All in all, "Dancing With The Devil... The Art of Starting Over" is a wonderful record with exquisite storytelling. Though it occasionally rambles, it is still a brilliant piece of work that is well worth your time for a listen.