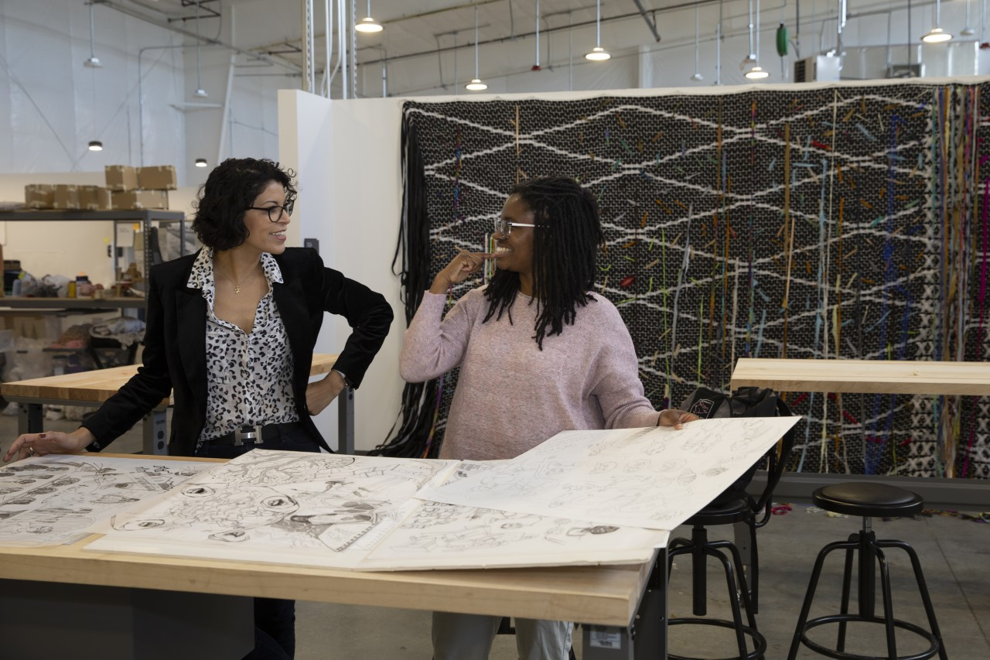 Students looking to pursue a career in art or art education at the University of Cincinnati now have a new way to get their degree meant to help working professionals. For the first time, the College of Design, Architecture, Art and Planning (DAAP) is offering a summer intensive Master of Arts in Art Education catered to working students and those already in the field.
The summer intensive consists of four semesters, including two summers of an eight-week program on campus, complemented by online courses. During the fall and spring semesters, they will take one or two courses and be taking a full course load during the summers. Since the program was created to help those who may be teaching professionals, the summer semesters are meant to accommodate students who may be teaching during other parts of the year.
Dani Clark, who is in her first semester of the master's program and is a graduate assistant under Director of Graduate Studies Flávia Bastos, believes that this program will help all kinds of students seeking their Masters in Art Education.
"I came at a time that the curriculum has shifted toward a new format which I think will be brilliant and great for most people entering the program," Clark said. "This is for people to become art educators in a multitude of environments, which is the best part. It's equipping a lot of different kinds of educators for a lot of different kinds of environments."
Even though the idea for the program was first created before the COVID-19 pandemic, this new situation has helped to shape it. 
"The role that COVID has to play in this inaugural summer is that it changed the theme to be lessons and courses that would specifically help aid teachers who are trying to teach within a mostly virtual environment or who might have to again in the future," Clark said. "It's a program that really wants to stay relevant to the issues that teachers or educators are facing, within typical public education systems, but also just in our communities. COVID plays a big role in how the courses and theme were selected."
The program was created with three principles in mind: making, connecting and leading. Making includes a "process that involves conceptualizing ideas, creating meaningful art, designing learning experiences, and establishing transformative relationships."
Students are encouraged to create connections and strategic partnerships. After the program, students have a better understanding of how art education works in today's field and how to connect with people and connect ideas and concepts to create and teach art.
In addition to learning about art and art education, students will become leaders who can help change the future of art learning by providing exciting and creative ideas to the field. 
By focusing on these three values to help students, the summer intensive program is a unique opportunity for those in the art field to expand their education and experiences.
"The making portion of it is really important, at least it was for me and my exploration as someone who came later into visual arts," Clark said. "The program is really focused on encouraging students to deepen their personal art practice. You can customize it according to your needs, and that's the best. [This program is perfect] for people who want to teach art in whatever capacity."