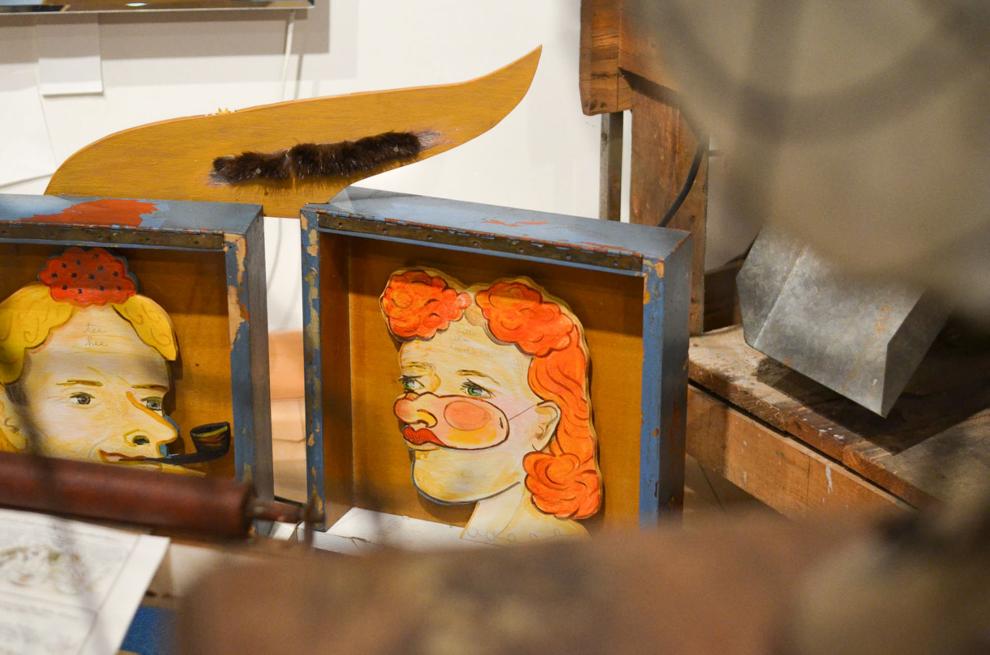 Award-winning cartoonist and University of Cincinnati professor Carol Tyler — an artist acclaimed for her autobiographical artwork and stories — leads viewers even deeper into her life with DAAP Galleries' newest exhibit "Carol Tyler: Pages and Progress." 
The two rooms in DAAP's Myers Gallery serve different functions for this exhibit. Half introduces viewers to Tyler's art and some of her most defining works. The other half brings viewers into a museum of Tyler's creative consciousness, showcasing her history, process and behind-the-scenes work. 
The opening room's walls are lined with art representing Tyler's overall body of work. High above on clothes lines are pages upon pages of other comics she created. 
To represent her work, the gallery displays an autobiographical comic about Tyler's fascination with her lost brother when she was a child. The story is written with simplicity, but progresses into a deep and heartfelt piece about motherhood and loss. This style of storytelling is common in Tyler's repertoire, which digs into lessons and stories she experienced during her life. 
Another series of 96 panels, titled "S/SGT Charles W. Tyler ETO Tour of Duty WWII," charts Tyler's father's World War II tour of duty through illustrations and stories her father told her.
Pieces titled "My American Labels" shows Tyler's American artwork roots. She created nine can labels with titles representing her own American icons and values accompanied with journal-like entries that read like short stream of consciousness poems. These labels are displayed both in frames and wrapped around actual cans. 
One labels, headed with "Wall of Corn," is accompanied by the snippet, "Sometimes I find myself standing too close to a wall of corn. It's a metaphor for life in America. Obscene abundance brimming with promise that also feels stuffy and myopic. I'd like to reach out and grab some of those ears for myself, but the crop doesn't belong to me."
Viewers can walk into the second room of the exhibit through a huge wooden face which encompasses the doorway and enter a rendition of Tyler's own art room and workshop.
A written and visual timeline spans one wall — written entries of her ascent into illustration, accompanied by artworks and sketches from throughout her career. 
Tyler's art desk is on display in all of its glory, with mugs full of pencils, paintbrushes, pens and nibs. Bottles and bottles of beautiful Higgins ink litter the workspace. 
More eclectic 3-D creations are on display in this room. A flashing, multicolored light inside of a star rotates along one wall. An interactive piece called the "Ego-Meter" asks viewers to pull a string that raises a wooden face up the meter. A creepy baby doll spins around on a stick. 
These crazy, quirky creations help flesh out Tyler's unique sense of humor. 
Tyler's workbench for 3-D creations and assorted sources of inspiration fill the rest of the room, including stacks of old books, a note that reads "#1. What are you trying to say? #2. Finish the goddamn book" and antique tool displays.
"Carol Tyler: Pages and Progress" does an excellent job of showcasing an inspirational artist and professor at UC, as well as the interesting origins of her work. 
"Carol Tyler: Pages and Progress" is on display at DAAP's Myers Gallery through March 13.