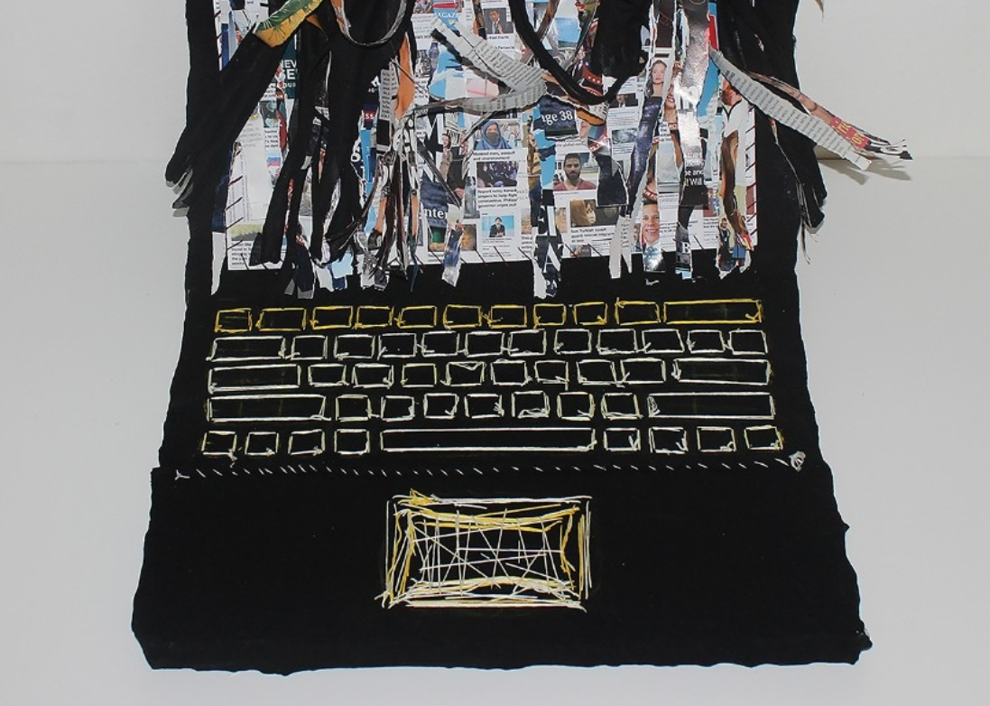 "Continuum," the new student exhibition at the DAAP Meyers Gallery in the Steger Student Life Center, recently opened on Sept. 7. The exhibition features work of all mediums by students of Assistant Professor of Art Lorena Molina and graduate teaching assistant Kyle Angel's 2020 sophomore research studio.
The 18 featured artists, now third-year fine arts majors, were chosen by the fine arts department's faculty from a pool of hundreds of students based on their work from their first year. 
Because all DAAP's programs were virtual last year due to the pandemic, the class was taught completely online. As a result, the exhibit is a mix of all art forms: videos, digital prints, collage and even clothing.
"[Because] we met online and everybody had different modes of making their work, I think it pushed a lot of them to be creative," said Molina. "I think it was very much about adapting to the spaces that they had, the studios that they had, what they had access to and knowing that whatever tool they had, as long as they're thinking critically about how they're using it, was going to work fine."
One of the exhibition's featured artists is Sam Edwards. His piece, "Pseudo," ridicules materialism and features homemade clothing items bearing the logos of high-end fashion brands such as Louis Vuitton and Gucci.
Edwards mentioned that the process of working from home was more difficult than what he was used to, specifically naming the difficulties he found in translating physical art to a digital world. 
"I had to find a way to make my physical products presentable in a digital world and that was definitely difficult because you can't ever see something in the gallery the same way you'll see it online," he said. "So, I'm really glad that even though [the gallery] was delayed, we still got to put it up."
Similar to Edwards, Kendall Matsey, whose digital collage series and accompanying journal entries, "Journaling as Collective," saw the pandemic affect her creative process, saying "I'm typically not a digital artist, but I recently have been getting into photography. I found out how to layer photos in a certain way and create another type of collage that I had never explored before."
She continued by saying "this was definitely purposeful because I was working from home, I was short on supplies so it was going to be easiest for me to use Photoshop."
The pandemic not only changed the way the artists turned their ideas into realities, but also how those ideas were conceived in the first place. 
In addition to the pandemic allowing her to explore a new medium, Matsey cited the loneliness of social distancing and lockdowns as inspiration for her work. 
"In our times of being in COVID, I felt disconnected from people and wanted to open a conversation about pretty much anything, so I had a couple of prompts that I gave to friends and family," she said. 
Although the gallery varies in the mediums and themes of the pieces on display, each piece acts as a platform for the artist to share their perspectives, emotions and critiques, unifying the exhibit.
"This is how I speak and this is the easiest way I can get my message across," said Kara Yeomans, another of the student artists included in the exhibit. "I'm not a loud person, but I feel like I invite others to contemplate on their own time. Instead of you speaking to them, they have time to kind of mull over, look at it and figure out how they feel."
Her work included two digital paintings from her series. "Yellow Face" is an "examination of beauty trends that are aimed towards Asian women, in particular Chinese women and seeing the implications that they have, based on their historical racial and societal context," as she described the series.
"I'm just really proud of them," Molina said of her students. "I think they had a really beautiful, important and brilliant exhibition. I'm just really excited to see what they continue doing."