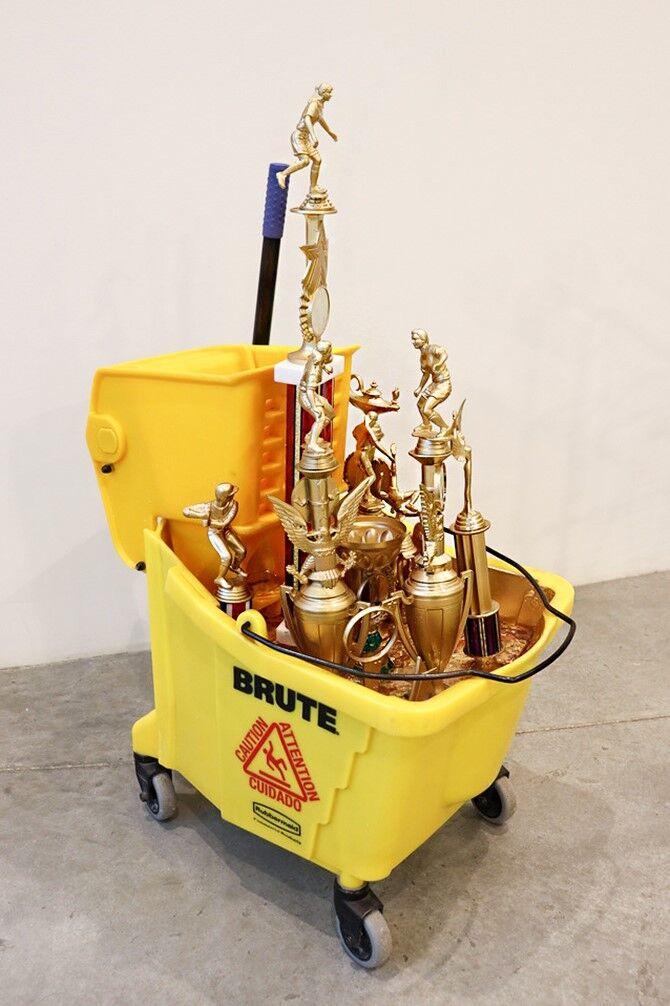 Growing up in rural Appalachia, Rachel Linnemann, a recent graduate of the University of Cincinnati's (UC) master of fine arts program, never thought that being an artist was a viable career. 
"I cried when I changed my major to art," she said. "I thought that it meant that I was going to be a failure in society." 
Several months after graduating, Linnemann won Miami University's Young Sculptors Competition along with the prestigious Yeck award and a $10,000 prize.
Her winning sculpture, "We Are The Champions," was part of her graduate thesis, which focused on how art reflects the COVID-19 pandemic. The piece features a mop bucket with trophies that appear as emerging from a bucket full of gold, inspired by the term "essential worker." 
"I had a big problem with the term essential worker," said Linnemann. "I felt like all of a sudden certain people were being deemed necessary and others weren't, and so [for my thesis], I started interviewing various essential workers, so naturally a lot of healthcare workers." 
While interviewing these healthcare workers, Linnemann noticed the widespread appreciation for the janitorial staff at the hospitals. 
"In order to get their paycheck, in order to just keep afloat during the pandemic, they had to go to a hospital," Linnemann said. "The most dangerous place during a pandemic." 
For Linnemann, creating this piece wasn't just to honor janitorial workers— it was also personal. Because of where she's from, Linnemann has been subject to stereotypes that deem people from Appalachia as uneducated and uncouth. Therefore, classicism is a theme throughout her art. 
"[My art] focuses on the essential and blue-collar workers, which taps into my Appalachian identity as well," Linnemann said. 
For Linnemann, by using a mop bucket alongside gold leaf, she was able to ennoble an object that people often associate with being dirty and less than. 
"[There is] this kind of classist mindset and reaction to [mop buckets]," said Linnemann. "So, when I realized that I could elevate something that people tend to look down on, I found that pretty exciting and that was my motivating force for working with it."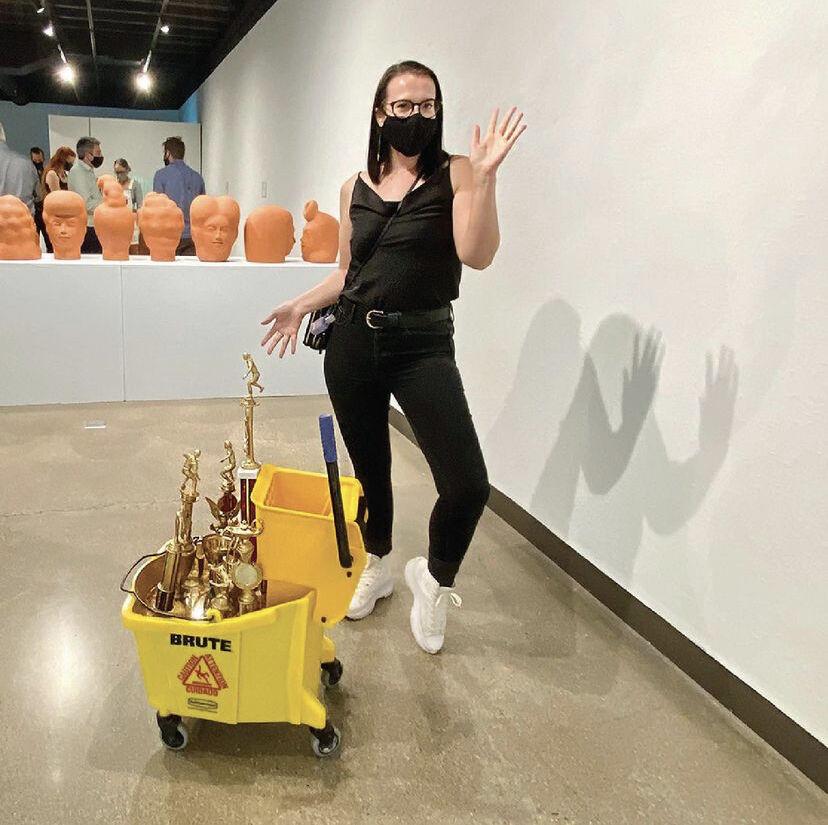 In addition to the idea for the sculpture being inspired by her Appalachian roots, so was the creation process. As an artist who mainly works in foundry, the pandemic complicated Linnemann's artistic process as items such as copper and aluminum were not easily accessible.
"I found myself gravitating towards everyday objects, which really connected back to how I was raised," Linnemann said. "My entire life, I saw objects being reused in unconventional ways to make repairs purely out of necessity. Sometimes financial necessity, sometimes necessity because we were 30 minutes from a store." 
After conceiving the idea, Linnemann spent nearly a month and a half creating the sculpture before it was displayed at the Contemporary Arts Center downtown as a part of her thesis show. 
Then, after overcoming some fears about entering the competition, Linnemann decided to submit her work to the Young Sculptures Competition at Miami University. 
"I felt like it was the best representation of my core beliefs as an artist," Linnemann said. "I thought it was a strong representation of how I work."
Eventually, Linnemann received news that she was a top 10 finalist for the competition, saying she was "shocked and honored" when she received the email. 
Being a top 10 finalist, Linnemann was invited to have "We Are The Champions" displayed at Miami University's Hiestand Galleries. After some time on display, Linnemann was announced as the winner. 
"I was very humbled that it was a piece that was highlighting essential workers and highlighting janitors [that won]," Linnemann said. "It felt really moving to me. It felt like there was a place in the art world where you could talk about things that people didn't want to talk about. Not a lot of people want to discuss classism."
Since winning, Linnemann has noticed a shift in the way people view her pieces, saying that the monetary value placed on the piece has made people view it more positively. This, Linnemann says, feeds into the classicism that she sought to challenge. As a result, Linnemann finds herself trying to balance being grateful for the award while also reminding people that her work is a celebration of blue-collar and hourly-wage workers. 
That being said, Linnemann has also expressed gratitude that her art, a piece that challenges social hierarchies, has been received so warmly. She was particularly pleased that the judge of the completion, Conceptual Artist Mark Dion, "truly made me feel understood," Linnemann said. 
Linnemann tries to embrace both types of these reactions. She says that monetary value changing public opinion is something that every artist faces and only reminds her that more work is to be done. 
"It gives me more fuel for making art," said Linnemann. "I have like five projects going right now and I feel very motivated to continue this conversation."